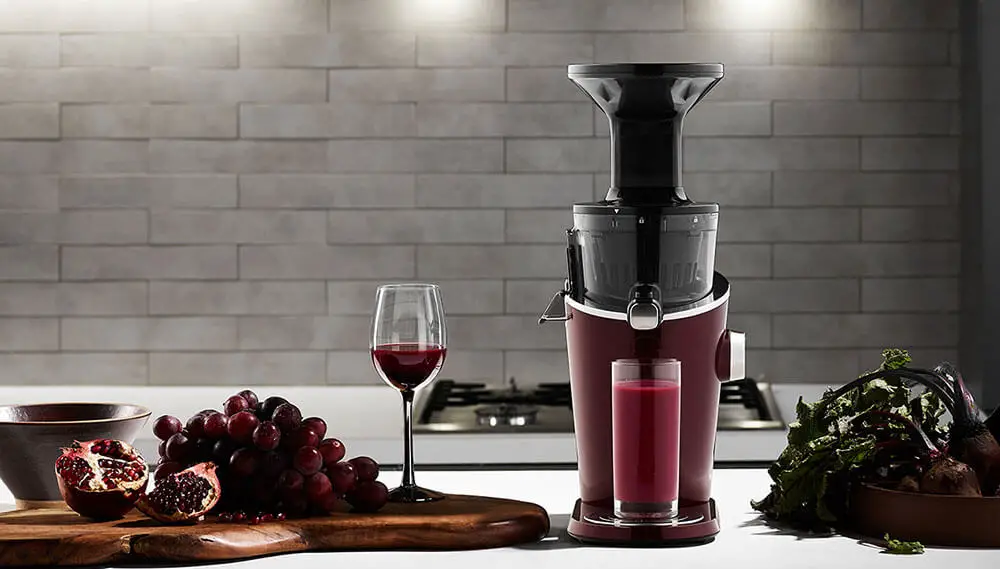 If you're looking to buy a juicer, not just any appliance will do. You'll want the best juicer that you can afford. While best if often a subjective term, my juicer reviews will help you out.
Throughout this article, you'll find reviews of six top-rated juicers. I have assigned each model status as the best for different
circumstances. With this information, you can choose the best home juicer for you and your family.
Pick of the Best Juicer Extractor of 2020
Types of Juicer
It's very important to know that there are two primary types of juicers available.
Centrifugal Juicers work quickly and are cheap to purchase. These juicers run hot, though. You will sacrifice some nutrition from your ingredients.
Masticated Juicers are also known as cold press juicers. These appliances are more elaborate to assemble and work slower. They produce amazingly high yields, though.
Different types of juicers will be ideal for different needs. You need to know what kind of appliance will serve you best.
If you are mainly looking for citrus juice at breakfast time, a centrifugal juicer is fine.
If you are juicing to lose weight, or improve your health, consider a masticating juicer. You will obtain more nutrition.
For more information on what type of juicer is best for you, click here.
What Should I Look for in a Juicer?
So, you have decided to invest in a juicer. You've made a great decision. The hard work starts now, though. You will need to think about what model of juicer is best for you.
There are juicers to suit every need. Juicers come in all shapes and sizes. Some are expensive, some are more budget-friendly. Some are complex, some are simple to operate. Some are basic, others are versatile and offer different functions.
Before you go any further in your search for a juicer, stop and think. What is important to you? Just some of the factors that I recommend you take into consideration are:
Price
Cost is always a pivotal factor. The best juicer is not always the most expensive, and budget models can be great. Consider price but look beyond it.
Noise
Some juicers can be extremely noisy when in use. That will quickly become frustrating. Look for an appliance with a quiet engine.
Ease of Use
If you are new to juicing, it can seem overwhelming. Find a juicer that's simple and intuitive.
Nutritional Yield
Juicing can be great for your health. Ensure your appliance is extracting the maximum possible nutrition from your ingredients.
Versatility
You may eventually grow bored of plain juicer. Some appliances offer additional services, making milk, butter, and desserts.
Ease of Cleaning
Some juicers are a pain to clean. Find an appliance that requires limited upkeep. Be sure to check my guide to cleaning a juicer, too.
Size and Shape
Think about the space that you have to spare in your kitchen. Some juicers can be large and cumbersome. Find an appliance that fits.
Color
It may sound superficial, but color can be important. Juicers can get messy, and stain. If you're clumsy, a white appliance may not be ideal.
Warranty
Finally, look at the appliance's warranty. A juicer can be an expensive investment. You'd like some cover if something goes wrong.
Before you start shopping for a juicer, sit and make a list. Write down everything important to you in an appliance. You can then prioritize these, and find the perfect juicer.
What is the Best Juicer on the Market?
You're here to learn the top-rated juicer in my eyes. Well, without further ado, I'll tell you. I consider this to be the greatest home juicer available today.
Omega NC900HDC Juicer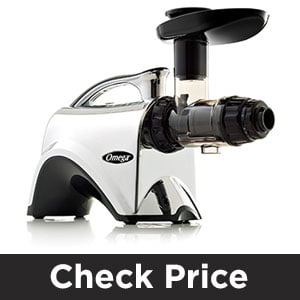 Ah, the Omega NC900HDC, how I love thee. Let me count the
ways.
I'll be honest from the outset – this is my favorite juicer,
period. I have used a great many juicers over the years, but this is the one
that I always return to. It has pride of place in my kitchen.
The main reason for this is the flexibility and flavor this
juicer offers. I have never encountered a problem with any ingredient in the
NC900HDC. From the toughest root vegetables to the stringiest leafy greens,
it's processed them all without fuss.
The juice created also tastes sensational. The yield is
amazing, and it's so fresh. I can feel my body being flooded with goodness every time I use this appliance.
In the unlikely event that I grow bored with juice, the NC900HDC also creates milk and butter. That's great when friends with allergies visit, and I need to quickly make almond milk.
It's quiet as a mouse while I'm doing so, and it's so easy to clean. I can have it ready to use again in just over a minute. I haven't needed it, but the warranty also runs for 15 years. That's hugely impressive.
I'm sorry if it sounds like I'm gushing, but this is a genuinely great appliance. I sincerely believe that every kitchen would benefit from hosting the NC900HDC.
Good for:
Versatility – there is plenty to do with this juicer.
Easy cleaning, even after constant use.
Exceptional yield from ingredients.
Additional Top of the Line Juicers
If you are not won over by the Omega NC900HDC, that's fine. There are plenty of other great choices out there. I vouch for any of the following five appliances.
Budget Pick – Breville BJE200XL Juicer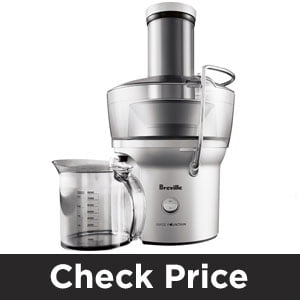 Small can be beautiful, as proved by the BJE200XL. Essentially a little brother to the popular JE98XL, this is a budget-friendly and pocket-sized addition to your kitchen.
First thing's first – this is a centrifugal juicer. This means that, in theory, you'll lose some nutrition from your ingredients. The good news is that it runs at just 700 watts though. This means the appliance will not grow too hot and compromise performance.
In fact, for such a small juicer, this device performs admirably. It's equipped with a wide feeding chute, so you won't need to do much chopping in advance.
It's also extremely simple to clean. The entire juicing experience can be wrapped up in under ten minutes.
There is only a one-year warranty attached to this juicer. That's fine, though. It's a reliable little unit, unlikely to give you any
problems. It's also a great introduction to juicing. The low price and extremely simple controls ensure that anybody can use this juicer.
Once a year expires, you may decide to upgrade to a bigger, more elaborate appliance. Until then, however, the BJE200XL is a humble but effective appliance.
Good for:
Cost-effective basic juicing.
Small and compact kitchen spaces.
Easy operation and cleaning.
Upgrade Pick – Tribest GSE-5000 Juicer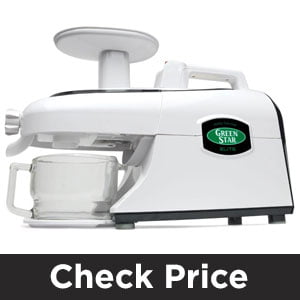 Not all juicers are created equal. You may eventually find that your first choice of appliance breaks down. Alternatively, it may not be suitable for changing tastes.
If you're looking to upgrade to a superior model, I always recommend the GSE-5000. The aesthetics of this juicer are perfunctory, but the performance is admirable. With a 12-year warranty, this is also the last
upgrade you'll need to make for some time.
The biggest selling point of this juicer is the jumbo twin-gear engine. Two gears grind up your ingredients at a speed of 110 rotations per minute.
This creates fresh, tasty juice that lasts as long as three days when refrigerated.
There are other reasons to consider this juicer an upgrade, too. It has more options than many basic models. Chief among these is pulp control. You can choose how much or how little pulp you may like in your fruit
juice.
Perhaps most importantly, the GSE-5000 relishes the challenge of leafy greens. Many juicers struggle with these ingredients. If you're on a celery juice cleanse, or looking to enjoy more kale or spinach in your diet, this is the juicer for you.
Good for:
Pulp-controlled breakfast juice.
Juicing leafy greens.
Long, reliable service.
Those with Unlimited Budgets – Super Angel Deluxe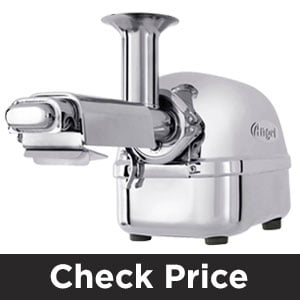 Super Angel does not waste time with their appliances. When they dub a product as Deluxe, it suggests that the juicer expands on their already-exemplary standards. That's certainly the case here.
The Super Angel Deluxe is truly the creme de la creme
of juicers. I can't find fault with it. If you can afford it, this
appliance is a game-changer. It's only the restrictive price tag that prevents
me from declaring it my overall pick.
You'll see where your money went from the moment you use
this juicer.
The nutritional yield is through the roof, and you'll feel
fabulous. This is also the perfect juicer for pulp-haters. The residue in your
juice can be controlled, and it's typically dry and tiny.
This juicer can also handle any ingredient, always with the same delicate approach. It can be used regularly and constantly without clogging or breaking, and performance will not suffer over time. It's also comparatively small, and simple to clean.
Finally, you will receive a ten-year warranty with this juicer. If you're prone to breaking and upgrading juicers regularly, maybe you can justify the expense. You'll certainly be relieved that you did!
Good for:
Impressing your neighbors.
Amazing tasting-juice.
A variety of additional features.
Best Heavy Duty Juicer – Champion G5-PG710 Juicer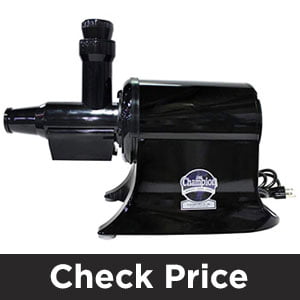 When the going gets tough, the tough get juicing. If you will be producing juice in substantial quantities, this is the model for you. With a ten-year warranty, you'll certainly get your money's worth.
Champion specializes more in commercial appliances than home juicers, and it shows. This model is a heavyweight, tipping the scales at 20 lbs. Thankfully, such a weight comes with high performance. This juice can make short work of just about any ingredient.
What's more, this juicer can work near-constantly without a break. That makes it ideal for catering parties or taking care of a busy household.
If you have a large family, I recommend this appliance to meet everybody's juicing needs in a timely fashion.
Just be aware that the size of this juice does come with certain caveats. It runs hotter than most slow juicers, for a start. This means that your juice will not retain freshness for quite as long. Do not refrigerate juice from this appliance for several days.
Overall, however, I won't hesitate to recommend the G5-PG710 to power-juicers. It's not a starting point for a juicing beginner. If you're on a juice cleanse for health reasons, however, or looking to start a business or entertain, this is a great appliance.
Good for:
Constant, heavy juicing use.
Juicing for immediate consumption.
Ability to juice any ingredient.
Best Juicer for Citrus Fruit – Breville 800CPXL Juicer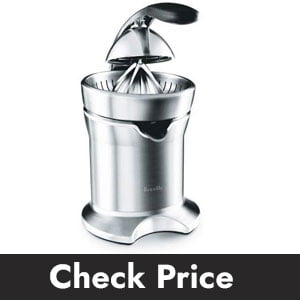 Not everybody needs a wide range of bells and whistles from their juicer. If want an appliance that makes delicious, refreshing citrus juice without fuss, look no further. The Breville 800CPXL is arguably the finest citrus presser on the market.
The first thing that you'll notice about this juicer is its timeless, elegant appearance.
Made from stainless steel, this juicer will add a little class to any kitchen. It's also quiet and compact, so it will not attract undue attention.
Naturally, however, its performance that's key. This juicer is designed for orange juice, and you can choose your pulp quantity.
You can also get creative with your liquid breakfast. This appliance can handle grapefruits and similarly large ingredients. It also produces freshly squeezed lemonade. Perfect for a summer's day.
This juicer is simple to clean. It's even dishwasher-safe. It won't make a mess in your kitchen, either. Spitting and spatter are kept to a minimum. It can also be easily operated by anybody with limited mobility or hand strength.
The warranty is just a solitary year, but that shouldn't be a problem. This is a simple, reliable, and sturdy appliance. If your juicing needs are basic, you could do considerably worse.
Good for:
No-frills breakfast juicing.
Quick cleaning in the dishwasher.
Juicing with weak or arthritic hands.
What is the Best Juicer Brand?
In my opinion, brand names are very much a secondary concern. You should always review the merits of an individual juicer.
Just because an appliance is made by a big name, it doesn't make it any better than a small company. We all start somewhere.
Despite this, I do understand why you might want to look for an established brand name. Usually, companies build a good reputation for a reason. They have frequently manufactured high-quality, reliable appliances.
Some of the biggest and best brand names for juicers are:
Breville
Arguably the most famous kitchen appliance brand, though not quite as famous for their juicers. I review Breville appliances here.
Omega
My pick. I have loved all of the Omega juicers I have owned. Click here for a full list of Omega product reviews.
Champion
This manufacturer specializes in heavy-duty, professional-standard juicers. For more information on Champion juicers, click here.
Tribest
These manufacturers pride themselves on helping customers enjoy healthy lifestyles. As a result, Tribest juicers always offer impressive nutritional yields.
Hurom
Specialists in small kitchen devices, Hurom has been innovating for over four decades. Take a look at my guide to this manufacturer's juicer offerings.
Super Angel
You'll need plenty of disposable income to enjoy a Super Angel product. Sometimes, however, money talks. This manufacturer creates dream appliances.
Hamilton Beach
This is America's largest supplier of small kitchen appliances. Most Hamilton Beach juicers are reliable and backed by a three-year warranty.
There are advantages to purchasing from a known brand. You will find these juicers available at most online and offline retailers. Spare parts are also easier to source from a big brand.
In addition, they're not going anywhere. If you have a problem with your juicer, the warranty will likely be honored without fuss.
Again, though, let me stress. You should always review the merits of an individual juicer. Refer back to the checklist we discussed earlier. Don't be blinded by a corporate logo and invest in an unsuitable appliance.
Best Juicer FAQs
How Do I Choose a Good Juicer?
Take a look at the essential factors we discussed earlier. I made a list of considerations that go into choosing the ideal juicer. Not everybody has the same priorities, so think about what matters most to you. Don't just choose a juicer at random. Do your research first.
Is Juicing Worth it?
Juicing is an excellent lifestyle choice, for some reason. You can lose weight. You'll gain nutrition from fresh ingredients.
You'll also likely eat five pieces of fruit or vegetable a day. Can you honestly say that you do that right now? I can't recommend juicing enough for a happy, healthy life.
What is the Best Juicer to Buy for Home Use?
As you'll see, I consider the Omega NC900HDC to be the best juicer available. Read my review, and decide for yourself if you think that it meets your needs. If not, any of the other juicers reviewed in this guide are a great addition to any kitchen.
What is the Healthiest Juicer?
A juicer is only as healthy as the ingredients that you use. Leafy greens, for example, will always be healthier than fruits. The latter is filled with naturally occurring sugars.
To maximize the health benefits of juicing, choose a masticated juicer. These appliances will maintain as many nutrients as possible.
What is a Good Juicer for Beginners?
As you will see from my juicer reviews above, I recommend the Breville BJE200XL for novice juicers. This appliance is small and lightweight. It's easy to operate and handles most ingredients.
It's simple to assemble and clean. Perhaps most importantly, it's comparatively cheap. It won't last forever, but it's a great introduction to juicing.
What is the Best Wattage for a Juicer?
Juicers come with a variety of different wattages. The best depends on how often you'll use your juicer, your favorite ingredients, and how your house is wired.
Never drop below 700 watts from your juicer. If you plan to juice tough ingredients, consider a model with higher wattage.
Is a NutriBullet a Juicer?
The NutriBullet is very popular, but it's not a juicer. This appliance is more like a blender. It will turn solid ingredients into a liquid, but the final result is filled with pulp and fiber.
It's more like a smoothie. That won't appeal to everybody, especially people looking to lose weight.
Is a Magic Bullet a Juicer?
The Magic Bullet, made by Homeland Housewares, is a multi-purpose appliance. It does function as a juice extractor, so yes, it could be called a juicer.
It's also a blender and a food processor. You'll need to chop your ingredients very small though, and the yield is minimal. I recommend a specialist juicer.
Can you Juice a Whole Apple?
All parts of an apple can be juiced, with one exception. Always remove the seeds first. Apple seeds contain amygdalin, which is also known as cyanide.
Once you have removed the seeds from your apple, juice away. Some juicers have a wide spout, negating the need to chop it up.
Wrap Up
I hope you have found these juicer reviews helpful. The Omega NC900HDC remains the gold standard of home juicing in my eyes. I adore mine and am rarely separated from it.
You may have different priorities though, which is fine. Any of the top-of-the-line juicers that I reviewed above are all fantastic. Whichever model you choose, I wish you a lifetime of juicing happiness and good health!