All citrus fruits are packed with goodness, but few are as beneficial as oranges. Orange juice has long been held up as a key component in the quest for a healthier immune system.
By providing yourself – and your family – with regular doses of Vitamin C, you'll be protected from sniffles and seasonal viruses.
Not all oranges are created equally, though. Take a trip to a market and you'll be dazzled by a plethora of different options. Different oranges provide a range of taste sensations and even a handful of varying benefits.
What is the Best Type of Orange for Juicing?
Many people will claim that Valencia oranges are the ideal choice for juicing. There are plenty of alternatives though, and you may find that you prefer a different taste sensation. This guide will help you find your ideal base ingredient for orange juice.
Blood Orange
The idea of a 'blood orange' may not seem appealing on paper. Don't be deterred by the gory-sounding name, though. Blood oranges take their moniker from the red flesh found inside after peeling.
Blood oranges have a distinct aroma, almost akin to raspberry or pomegranate. These oranges are also a little sourer than some, meaning they can be an acquired taste. If you adapt your palate, however, blood oranges provide a unique flavor.
Pros
Unique flavor and scent.
Striking visual appearance.
Cons
Too sour for some.
Expensive to purchase.
Clementine Orange
Sometimes known as cuties due to their diminutive size, Clementines are essentially a smaller variety of the popular mandarin orange.
The core difference is that a clementine is a little sweeter than a mandarin, albeit drier. This makes clementines better for juicing. You'll be able to extract all the flavor without wasting any of the flesh.
Pros
Sweet and packed with goodness.
High impact on the immune system.
Cons
Very small. You'll need to purchase plenty to make juice.
Only grown between November and January.
Navel Orange
Navel oranges are found everywhere, all year round. This is arguably the most popular variety of orange around. It makes a great snack or juice ingredient – with a caveat.
Navel oranges are picked at the first sign of ripeness, so they are fully matured. Juice made from these orangs will taste sweet but spoil quickly. This is not an ingredient for a large batch of juice to store.
Pro
Easy to find all year around.
Simple to peel and apply to a juicer.
Con
Juice goes sour within hours of exposure to air.
Satsuma Orange
Satsumas hail from Japan and are famed for their ease of peeling and unrolling. Tangerines are also devoid of seeds, so they can be fed straight into a juicer.
If you do so, you'll likely be thrilled with the results. Tangerines are among the lightest of all oranges, packing plenty of flavor into a small size. That stature means that you'll need a large batch of satsumas to make a jug of juice, though.
Pros
Easy to peel and no seeds.
Full, sweet flavor.
Con
Small and expensive.
You'll rack up some serious food miles importing them.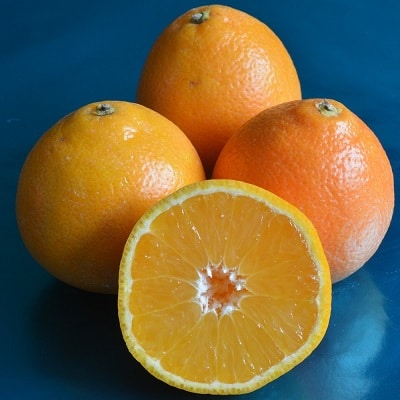 Tangelo Orange
The tangelo orange looks a little different from most counterparts. They are a deeper, duller color, and have a large navel. This sometimes leads to tangelos being referred to as "honeybells."
The taste of a tangelo orange is also fairly distinct. Arguably more than any other orange, this fruit is equal parts sweet and sour – it's almost comparable to grapefruit. That means that the juice they create can deter some drinkers.
Pros
Thick and juicy – perfect for liquifying.
Con
The sharp, tart flavor is not for everybody.
Tangerine Orange
Tangerines are arguably the most flavorful variety of orange. They are packed with sweetness and have barely any bitterness. This means that tangerine juice is tasty and lasts a while in the fridge. These oranges are ideal for juicing in large batches.
Alas, you'll have limited time to enjoy these fruits. Tangerines have a short and intense growing season. The flame of the tangerine burns as briefly as it does bright.
Pros
Astonishingly juicy, sweet flavor.
Juice lasts a few days in the fridge.
Con
Only available for very short periods.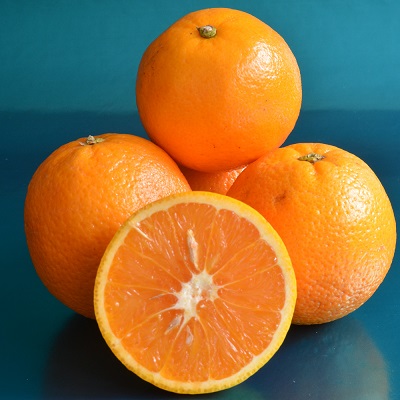 Valencia Orange
Take a trip to a grocery store for 'oranges', and you'll likely be provided with a Valencia. These are rich and full-flavored fruits that are fantastic in juice. They're also hugely popular, both as a fruity snack and a juice-based ingredient.
Valencia oranges spend a prolonged period growing in trees before picking. This means they are almost entirely devoid of bitterness by the time they make it to a grocer. OJ made from Valencia oranges will last longer than most competitors when refrigerated.
Pros
Easy to find in any store.
Sweet taste.
Con
Too cloyingly sweet for some tastes.
Armed with this information, you'll now be able to create the perfect orange juice. It may take a little trial and error before you find the perfect fruit for your needs. You may also need to be flexible due to seasonal availability. Overall, though, there is plenty to love about the juice of an orange.