So, you're looking for a blender to use in your home or commercial property. You've come to the right place. I consider myself a blender connoisseur, using these appliances constantly. With my help, you'll find the best blender for you in no time!
There are plenty of things to consider when purchasing a blender. I'll talk you through what to look for, discuss reputable manufacturers, and answer common questions. I'll also review seven of the finest blenders that money can buy.
Pick of the Best Blender in 2020
What Should I Look for in a Blender?
Assess your needs and intentions for your blender and ensure
the model you choose meets them. Things to consider when purchasing a blender
include…
Dimensions
Even the most enthusiastic kitchen dweller will not be using a blender 24/7. Ensure that you choose a model that will not dominate your entire room. You may need to periodically move or store your blender, so make sure it's light enough to handle.
Motor Size
The bigger a blender's motor, the more powerful the blades will be. This can be invaluable when blending tough ingredients, such as ice or root vegetables. As a rule, invest in the most powerful motor that you can afford.
Container Materials
Some blender containers are made almost entirely of plastic, others utilize stainless steel or glass. There are pros and cons to all of these materials.
Plastic is cheap, light, and won't chip, but it can stain. Glass will not stain, but it is also fragile. Steel is durable and keeps iced drinks cold, but it's expensive.
Speed Variance
A versatile blender will offer the opportunity to vary the speed of the blades while in use. This will place less strain on the blender's motor, helping the appliance last longer.
Pulsing Feature
Pulsing is a key part of blending. When you push the pulse button, it grinds up any ingredients found within the blades. If you invest in a blender without this feature, you'll constantly need to fish out and hand-mix ingredients.
Noise
Some blenders can sound like a Boeing 747 taking off. If you don't want to wake the kids and frighten the life out of your pets, it's advisable to look for a quieter model. Just be aware, that's a challenge. Blenders are noisy more often than not.
These are just some of the considerations to make when choosing a blender. I will elaborate on each of these throughout my reviews below.
---
Top 7 Blender Reviews
As promised, let's take a look at seven of the finest blenders available for home use. I have been careful to include at least one blender to cover every possible need!
Overall Pick as Best Blender – Blendtec Total Classic Blender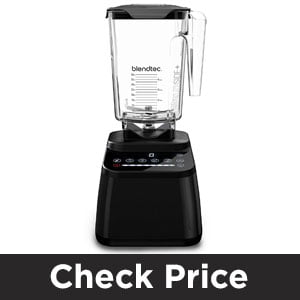 The appliance comes complete with half a dozen cycles
pre-programmed into the memory to make your life easier. If you prefer a manual
approach, it has ten different speeds. You can adjust these at any time, so you
can tailor the blending of different ingredients.
You can blend up smoothies or drinks for as many as four
people in one use of this blender. The plastic (BPA-free) container measures 32
ounces. It's also safe to use. The blades, while powerful, are not
sharp.
That's great for family homes, and it removes the risk of
injury while cleaning. On that note, this blender is also self-cleaning. Add a little soapy water and set the blender off. Within a minute, you'll be ready to dry it off and use it all over again.
Best of all, this blender is covered by an eight-year warranty – and it's manufactured in the USA. In the unlikely event of a
problem, your parts will be replaced and you'll be blending again in no time. Available in four colors, I can't look beyond this blender as the best purchase for any home.
Good for:
Versatility
Easy cleaning
Busy families
---
Best Budget Blender – Ninja Countertop Blender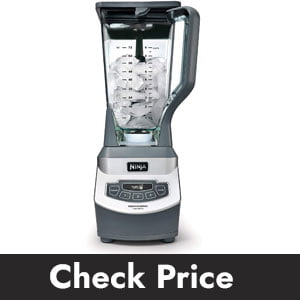 If you're new to blending, you may want to start smaller – and cheaper. If that's the case, this Ninja model is ideal. It won't break the bank and will meet all basic blending needs without fuss.
This blender crushes any ingredient with ease without sacrificing nutrition. That makes it ideal for anybody looking to kickstart a new healthy eating regime with a smoothie-based diet.
It is also packaged with a pair of to-go cups in two different sizes. This ensures that anybody can create a breakfast smoothie and get on the move.
The motor of this model is powerful, which means that it's also noisy. That may be a sacrifice worth making for the sake of a no-frills, budget-friendly blender. Do be mindful of the razor-sharp blades when cleaning, though. You'll need to remove the blades and wash them separately.
Overall, despite these cautionary notes, this is a fine first blender. The warranty only covers one year, but that's no real hardship. If you get along with this blender, you may be ready for an upgrade after that
point.
Good for:
Cost-effective blending
Basic function
Smoothie making
---
Upgrade Blender – Vitamix 750 Blender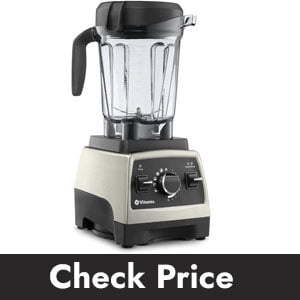 If you are looking to upgrade your blender, you may as well go big. I'm not talking dimensions here.
The Vitamix 750 only weighs around 11.5 lbs so it's mobile, and it fits snugly on any kitchen countertop. As far as features go, however, this is a whole new ball game.
As the name suggests, this blender can be used in a professional or personal setting. It's packed with pre-programmed settings and ten different speeds, and the nutrition and flavor yield is to die for.
Not that you'll be restricted to simple smoothies with this blender. You'll be able to create soups, butter, sorbets, sauces, milk, and even dough.
You'll have to spend a little bigger if you want this blender. You'll be making an investment that's built to last, though. The blades are made of hard-wearing stainless steel, and the appliance offers a
seven-year manufacturer's warranty. If you can spare the outlay, the Vitamix 750 will always be money well spent.
Good for:
Hot and cold food and drinks
Creating whole meals
Nutrition from ingredients
---
Best Hand Blender – Breville BSB510XL Blender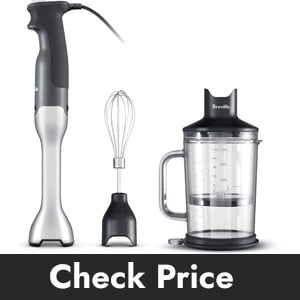 Sometimes, we all like to get interact with the construction of our food. This is where the Breville BSB510XL comes into play. This hand blender is perfect for mixing soups, sauces, condiments, and even cakes.
This hand blender is packaged with a 25 oz chopping bowl. That allows for roughly three cups of nuts, herbs, or similar ingredients.
In addition, you'll find a whisk for egg whites and butter. Naturally, there's also a 42 oz jug for when you're ready to start blending.
The BSB510XL is comfortable to hold onto, so you won't need to worry about losing your grip or experiencing aching hands. The motor runs at 280 watts, which is plenty powerful enough without being too loud.
There are also fifteen different speeds built into the blender, so you can tailor your ingredients to your taste buds.
As you can imagine, ingredients need to be chopped small to fit under the hood of this blender. Once it's ready to work, however, this hand blender is virtually unstoppable. The blades, while sharp, are easy to clean, and the appliance is covered by a one-year warranty.
Good for:
Fine blending and whipping
Soups, sauces, and baby food
Quiet, hands-on operation
---
Best Single Serve Blender – SharkNinja BL451 Nutri Ninja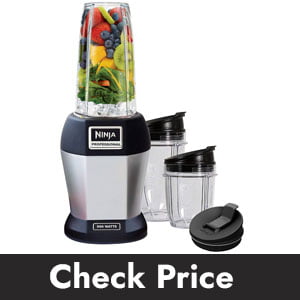 If you're blending for one, the juice or smoothies created by a larger appliance can feel like a waste of ingredients.
That isn't the case with the SharkNinja BL451. This is the perfect single-use blender, designed to extract every ounce of goodness from ingredients.
This is a no-frills appliance, so look elsewhere if you're looking for versatility and complexity.
This blender has one job, and it does it very well – making the smoothest smoothies possible. Every ingredient, including ice, is completely pulverized. This ensures that your drink will slide down your throat like nectar.
The SharkNinja BL451 is small but perfectly formed. If all you need is a smoothie once or twice a day, it's an ideal and wallet-friendly solution. Cleaning can be a little painful as the blades are sharper than knives, but there is otherwise little to no fault on this device. It will meet basic needs with no fuss.
Good for:
Single-use blending
Smoothies for one
Occasional use
---
Best Portable Blender – PopBabies Blender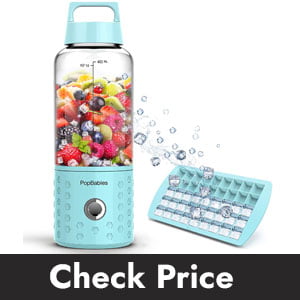 Not everybody wants an official blender. Perhaps you live alone, or you like to blend and run at short notice.
If that's the case, look into this portable blender from PopBabies. Powered by a USB connection, it can create 14 oz drinks from anywhere.
The diminutive stature of this blender does not mean
sacrificing power.
The motor is not as all-conquering as the other
models I have reviewed, but this blender can cope with crushing ice and most
fruits and vegetables. Just bear in mind that you'll need to pre-chop your
ingredients into small pieces.
This portable blender keeps you nourished and hydrated at
the drop of a hat. It's ideal for busy office-based employees, who are looking
to create a healthy smoothie ahead of a long commute home. An ice cube tray and funnel are included to minimize mess, and the to-go bottle is dishwasher safe.
This is no real substitute for a countertop blender, but it's a great addition to any blending enthusiast's repertoire of gadgets. If you're on a strict smoothie diet, it ensures that you'll never be caught short without nourishment.
Good for:
Blending on the go
Small, regular drinks
Blending without access to a plug socket or overseas
---
Best Commercial Blender – Blendtec S885C2901 Blender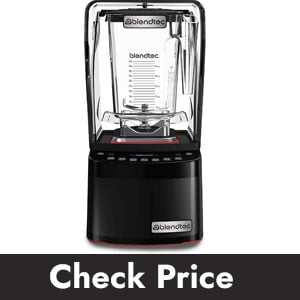 As I have often mentioned throughout these reviews, blenders tend to be noisy.
Oftentimes, the more powerful the engine, the louder the blender will be. The Stealth 885 bucks this trend. This is a commercial-standard blender that operates at the volume of an everyday conversation.
Being a commercial blender, this is also a tough old appliance. No ingredient will defeat this blender – it cuts through anything with ease.
There are also an eye-watering 42 pre-programmed cycles built into the blender. In the unlikely event that none of them work for you, you can even save your own into the memory.
Naturally, this blender is designed for use in the workplace. This comes with a price tag to match that expectation, and it's larger and weightier than most domestic models.
As is standard with commercial models, the warranty is also shorter than a domestic appliance. The Stealth 885 is covered for three years, not seven. If you are looking for a blender to use in a smoothie bar or similar business enterprise, however, there is no finer model.
Good for:
Professional use
Pre-programmed blending
Blending any ingredient
---
Best Blender Brands
With no shortage of brands producing blenders, you'll be spoiled for choice. It always pays to shop with a reputable brand, though. The top blender brands, in terms of quality output and celebrated apparatus, are:
Vitamix

Vitamix made their name with blenders, and these appliances remain
the go-to apparatus for the brand.
Vitamix pride itself on the ability of
their blenders to serve multiple purposes in the kitchen. A Vitamix blender is
rarely cheap, but as you'll see from my reviews, they're a great upgrade!
Ninja
Ninja shot to fame with the NutriNinja, a small and affordable blender. The brand has since expanded its portfolio, but variations of the NutriNinja remain a jewel in the company crown. Ninja is a great brand to consider for anybody on a budget or working with restricted space.
Nutribullet
The NutriBullet was a staple of the home shopping channel for years. This brand is no gimmick or one-trick pony, though. The NutriBullet now comes in a range of shapes and sizes.
You're sure to find a model that meets your particular needs, especially if you just require basic blending.
KitchenAid
As their name suggests, KitchenAid offers solutions to all kitchen-based problems. This brand has built a steady reputation for constructing sturdy, reliable cooking apparatus.
Their electrical devices are also great. Alongside refrigerators and other major appliances, KitchenAid offers superb countertop blenders.
Breville
If Breville does not make a kitchen appliance, it doesn't belong in a kitchen. Breville is arguably the biggest name on this list. These powerhouses produce all kinds of tools and gadgets. They don't specialize in blenders exclusively, but the brand name remains a mark of quality.
Blendtec
Blendtec made its name in the home smoothie market. This manufacturer has a wide portfolio of products, however, catering to every possible need. As you'll see from my kitchen blender reviews, I consider Blendtec to offer the best appliances possible for home and commercial use!
---
Blender FAQs
What is the Best Blender for Home Use?
As per my review, I recommend the Blendtec Total Classic Original to anybody. It's the perfect blender for family households, thanks to the versatility and high performance offered.
An exception to this rule is single people that use their blender very occasionally. In such instances, I suggest the SharkNinja BL451.
Which High-Speed Blender is the Best?
All the blenders that I have reviewed work at high speed. If you have the budget to accommodate it, consider picking up the Vitamix Professional Series 750. If you're not looking to spend quite so much, you still cannot go wrong with the Blendtec Total Classic Original.
What is the Quietest Blender on the Market?
Blenders are noisy – that's just a fact of life. The exception to this rule is the Blendtec Stealth 885. Unfortunately, as a
commercial model, you may be the one making noise when you see the price tag!
If noise is a particular concern, consider a hand blender such as the Breville BSB510XL.
I hope that these insights have been helpful to you. Follow my advice, as you're sure to find the best blender for your needs. Good luck, and happy blending.
Once you add one of these appliances to your kitchen, you'll wonder how you managed without for so long!