As the name suggests, commercial juicers are ideal for use in a catering business. They can be a great addition to a busy home too, though. If you pick up the best commercial juicer possible, you'll produce delicious juice in high quantities.
Just remember – the best juicer for commercial use differs from the best commercial juicers. If that sounds confusing, don't worry! I will explain throughout this guide. Read on to learn more about commercial-standard juicing.
Pick of the Best Commercial Grade Juicer 2021
Commercial Juicers vs. Household Juicers
There are several reasons why a commercial juicer is a great addition to your home kitchen. The advantages of a typical professional juicer over a domestic counterpart include:
Commercial juicers are built to withstand constant use, so they'll be more durable.
Commercial juicers have a powerful motor that can work longer without a break.
Commercial juicers usually have larger feeding tubes and other parts.
Commercial juicers work faster than household appliances without sacrificing quality.
Commercial juicers undertake vigorous safety testing features, minimizing any risk of mishaps.
If you're going to spend big on a commercial juicer, ensure that's what you're getting. Sometimes, a manufacturer will redesign an existing household juicer and market it as a commercial model.
The price may change, but that's about it. The performance will remain identical to a domestic appliance.
Top 5 Commercial a.k.a Professional Juicer Reviews
If you've decided that a certified commercial juicer is the one for you, check out my reviews. Here you'll find reviews of five of the best commercial juicers available to home users.
Best Pick Overall – Kuvings CS600 Chef Juicer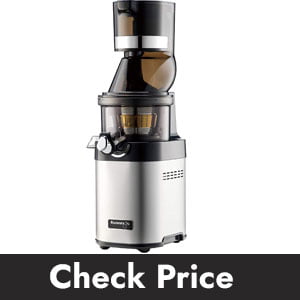 I consider this to be the best commercial-grade masticating juicer that any home user can pick up.
The CS600 was the first masticated commercial juicer, so you'll be purchasing a little piece of history. More importantly, you'll create fantastic, fresh-tasting juice in vast quantities.
This juicer packs a real punch. The 200-watt motor is as quiet as a mouse and can run for 24 hours straight without a break.
That's ideal if you're catering a private event, such as a wedding or a children's
party. Cleaning is also simple. The appliance comes with a specialist brush,
and every element of the juicer can be taken apart for scrubbing.
The CS600 weighs around 20 pounds, so it's small enough to fit into most kitchens. The 3.5-inch feeding chute can take on all kinds of ingredients without excessive prep or chopping.
This versatility extends to the use of the juicer, too. You can make baby food and sorbets using different attachments, both of which are supplied. You can create a healthy breakfast, meals for small children, and dessert in one go!
There is one drawback to this juicer – it comes with a single-year warranty. Thankfully, it's a sturdy appliance that should last long beyond this timeframe. This juicer is not a small investment, but it's one that I recommend.
Good for:
Constant, uninterrupted juicing.
Versatility.
Quiet motor.
---
Best Commercial Cold Press Juicer – Tribest GS-P502 Commercial Juice Extractor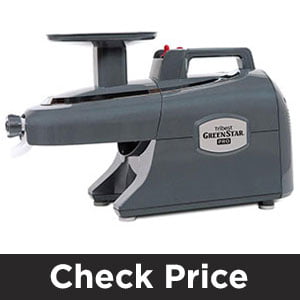 Kuvings created the first cold press commercial juicer, but as is so often the case, that maiden model has been surpassed. If you're purely interested in commercial-standard slow juicing, consider the Tribest GS-P502. It performs as well as the beautiful aesthetics suggest.
Unlike the CS600, this appliance is NSF-certified. This means that it can be used in both a personal and professional setting.
Wherever you put this appliance to work, it performs at a high standard. The blades rotate at 110 rotations per minute, which ensures a high-quality yield.
I consider this juicer to have the best ratio of yield and freshness of any model.
You can use this juicer for around thirty minutes without a break. That might be a challenge if you're seeking the juicer for commercial purposes, but it's more than long enough for a juicing session in the home.
You won't need to sacrifice much time for cleaning afterward, either. The parts of this juicer can be cleaned in the dishwasher.
Finally, let's talk warranty. If you purchase this juicer for home use, you'll cover it for an astonishing 15 years. Surely that pays for your outlay, and more besides! If you use the GS-P502 in a commercial setting, this drops to 3 years. That's still impressive, though.
Good for:
High yields.
Quick cleaning in the dishwasher.
Long warranty.
Automatic pulp ejection
---
Best Commercial Citrus Juicer – Hamilton Beach 932 Commercial Citrus Juicer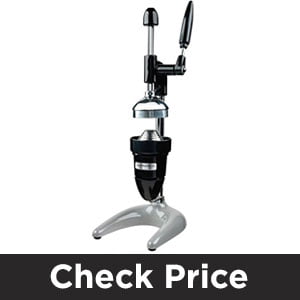 Sometimes, there is nothing wrong with going back to basics. That's certainly the appeal of the manual citrus juicer from Hamilton Beach.
There are no electrical parts or fuss involved. Just pop citrus fruits into the feeder and pull the lever. You'll extract the juice with 2,000 pounds of force.
This juicer can be used in any setting, whether that's home
or business. In fact, why not both? Weighing just 10 pounds, you'll easily be
able to relocate this juicer whenever you need to.
This juicer is designed for use with any kind of citrus
fruit. You won't have any problem with the likes of oranges, lemons, or limes.
The power of this model can cope with grapefruit equally well though.
This juicer is also perfect for anybody that's averse to a pulp. The contents of your glass will be perfectly smooth, so you'll find it refreshing.
That also makes cleaning up afterward considerably easier. You can take the juicer apart in a matter of moments and rinse everything before reassembling.
The lack of electrical parts in this juicer ensures that the solitary year of warranty is no concern. There isn't much that can go wrong. This manual juicer only has one job, but it does it very, very well.
Good for:
Manual operation.
No pulp.
No power points are required.
---
Best Commercial Wheatgrass Juicer – Samson SB0850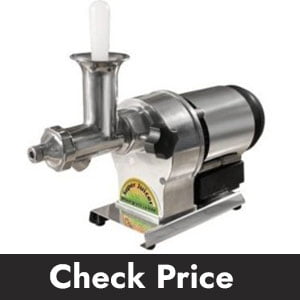 Finding the perfect juicer for wheatgrass is akin to the search for the Holy Grail.
Countless great models fall at this particular hurdle. If you run a business that specializes in selling wheatgrass by the shot or glass, the SB0850 has you covered.
This is a great appliance for heavy-duty use. It's NSF-certified and can produce up to five ounces of wheatgrass juice in a single minute.
The motor is heavy-duty but runs quietly, so you can continue to converse with staff and customers while you work. With a weight of 30 pounds, however, you may prefer to keep this appliance in one place.
The performance of this juicer does not stall when you use frozen ingredients. You'll also love the auto-feed option, which allows for hands-free operation. That doesn't mean that you cannot get involved, though. The SB0850 also accepts manual feeding.
This juicer works for around twenty minutes before it needs a break. That's a great time to clean it up, which is a quick and simple process. Just run some hot water and reach for your sponge. You'll be ready to start juicing again in no time at all.
The SB0850 is made entirely of stainless steel, so it looks effortlessly stylish. There are no fragile plastic components to crack or break, which counters the single-year warranty.
For a reliable juicer that doesn't just cope with leafy greens but thrives on them, look no further.
Good for:
Wheatgrass and leafy greens.
Professional use.
Great aesthetics.
---
Best Commercial Orange Juicer – VEVOR Commercial 120W Juicer Orange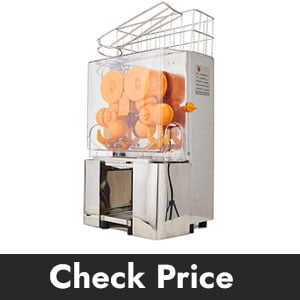 If you're running a café or similar business, you're going to turn over vast quantities of juice.
That means that you'll need the best appliance for the job. Enter this model from VEVOR. It's a pick of the bunch commercial juicer for a juice bar by some distance.
Allow me to stress, though – this appliance is for
businesses. It's a behemoth, weighing in at almost a hundred pounds. Unless you
are hiring it for use in a backyard during a party, it's too cumbersome for
home use. If selling freshly squeezed orange juice is your business, however,
this model ensures that business is good.
You can feed up to thirty oranges into this model at a time. That's whole oranges – no peeling required. You won't be limited to oranges either. Toss in some lemons and limes if you're looking for a little variety. The yield is impressive, and the taste is fresh. Better yet, it feeds automatically.
You'll turn around roughly seven 8oz glasses of juice per minute with this appliance. Cleaning takes a while just due to the sheer size of the model, but it's not difficult.
There is a range of safety features that earn the model NSF certification, including an automatic shutdown when overheating. The warranty is only a year, but rest assured – VEVOR's customer service is famously exemplary.
Good for:
Constant production of citrus juice.
Juice bars and cafés.
Safe, commercial operation.
---
Also Read: Anthony William Recommended Juicer
Wrap Up
I hope you've found this advice useful. Whether you are juicing for business or pleasure, I wish you nothing but success and happiness. The future is fresh and delicious!