There is nothing more refreshing than starting your day with fresh organic juice. Not only is it beneficial for a healthy lifestyle it also helps detox your body and helps it fight against diseases.
With the best juicer blender, you can now make these natural juices in your home within a few minutes. Having the option to develop such a healthy habit with so little effort is good, but not all the juice blenders out there that allow you this luxury are worth your money.
Pick of the Best Blenders for Juicing 2021
Keeping that in mind, we put together reviews for some of the best juicer blender combos in the market right now and look into some key features that make them so good.
1. Best Pick – Vitamix 5200 Blender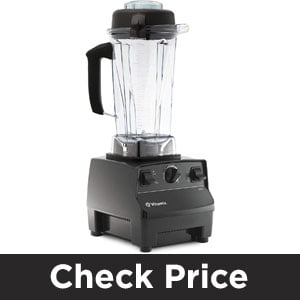 Containing exclusive features, this blender from Vitamix is one of the best blenders for juicing.
Since this blender comes with a 64-ounce container it is possible to use it with medium to large batches. The level of control we got with this blender was excellent.
With this blender, there are several speed settings. The speed of the blender can easily be tuned to get the desired texture.
The speed of the blade can also be changed midpoint using the dial on the blender, making this the best blender for juicing vegetables.
The blade on this blender uses high-grade stainless steel. It is designed in such a way that it can even handle the hardest of ingredients out there.
Hence, this blade remains consistent throughout the blending process from start to finish.
One feature of this blender that never fails to amaze us is the self-cleaning feature it entails. Just with a drop of some
heated water or dish soap, this blender cleans itself within a minute or a half.
Good for:
Easy cleaning.
Effortless control.
Continuous use.
---
2. Budget Pick – Ninja Professional Countertop Blender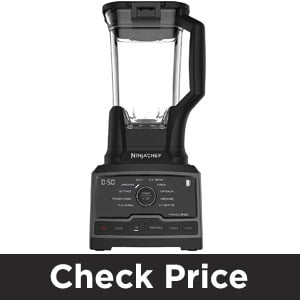 A highly powered kitchen blender with 1100 watt power with super crushing blades is the Ninja professional countertop blender.
This blender features 3 speeds, a single-serve, and a pulse function, which makes sure to crush ices in a few minutes and extract maximum nutrients from healthy ingredients.
You can make fresh juice, delicious frozen desserts, and smoothies for your family in its 72 oz pitcher, and it also comes with two 16 oz nutria ninja cups, in which you can make your personalized nutritional drinks.
These cups can be taken with you anywhere, as they also come with to-go lids.
All the parts of the blender are BPA-free and can be dish-washed easily, so it is easy to clean. This Ninja blender is recommended if you want a high-speed blender, which makes nutritious
and tasty smoothies in a short time.
Good for:
Maximum nutrition extraction.
Quick preparation.
Making delicious creamy smoothies.
---
3. Mid Range One – Vitamix Explorian Blender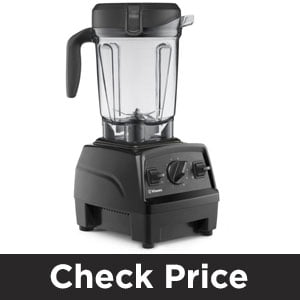 The Vitamix Explorian Blender is very similar to its counterpart, the Vitamix 5200 professional-grade blender.
In terms of quality, this blender keeps up with the best blenders for juicing. From the outlook, this blender might not scream premium but it does everything we could expect from a blender more than efficiently.
The basic control of all the Vitamix products is quite effortless and similar. It has an on or, off switch and the dials have diversification in their choice of speed.
With this level of options to tune your speed, it's easy to get the precise texture you desire.
The control with this blender is more than enough to get you by in your daily chores.
This blender comes with a horsepower of 2.2. To put it into a clearer context, the powerful motor from this blender is good enough to blend through any ingredients you put inside it and all these make it the best blender for Juicing and smoothies.
Good for:
Maximum yield.
Full control over the blender.
Highest efficiency to blend and juice.
---
4. Blendtec Designer Series – Smart Self Cleaning
Make delicious ice creams, appetizers, smoothies, and hot soups with this Blendtec's Designer series blender, which has 8 various speeds for providing the perfect texture.
This touch-programmed best juice blender has an LED display to show the blending duration time with 7 different blending functions.
It has a five-sided tamper-free 90-ounce jar which helps in pulling the ingredients towards the blades, and also contains a latching lid. This blender can be cleaned easily by blending a little amount of water and liquid soap inside the jar and it will become clear in less than a minute.
With its blade heat friction, it can make delicious warm soups or drinks. This blender is not loud like other blenders and has a thick stainless steel blade with wings for smooth blending. Backed up with an 8-year warranty, you can use this blender for a long time.
Good for:
Making delicious frozen desserts.
Fresh juice with natural text and texture.
Long-term usage with warranty.
---
5. Blender By Cleanblend: Smoothie Blender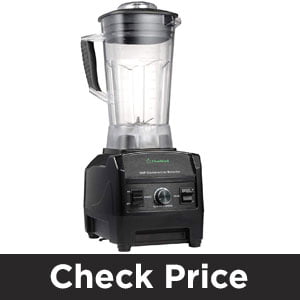 This juice blender by Cleanblend is the best blender and juicer all in one.
The versatility in offer here is unmatched by any blender in this list. The processing power of this blender packs a lot of power due to its BPA free
Temper wand.
This blender comes equipped with 8 stainless steel blades with a fixed ball bearing for maximum yield.
It also includes a pulse feature and speed that can be tweaked according to your needs. The flexibility Cleanblend provides with this blender in terms of its control is quite amazing.
Due to the versatility this blender offers, putting ingredients of any toughness works like a charm on this. Mixing different ingredients to blend with this device won't be a problem either.
One thing this blender excels in is its dependability. Not only do we know what we are getting with this product, but
it almost always manages to excel expectations in every way possible. Overall this is probably the best juice blender out there.
Good for:
Versatility and productivity.
Perfect blending and juicing.
Easy usage.
---
6. COSTWAY Electric 5-in-1 Blender and Juicer Combo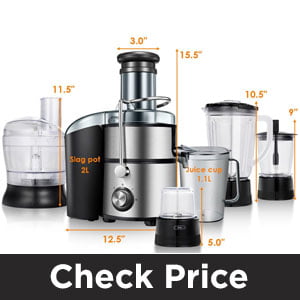 Blender, juicer, chopper, grinder, and food processor are different functions, but you can get to enjoy all these combinations in Costway's electric food processor and juicer combo.
You can put any vegetable or fruit inside its wide mouth, and it will squeeze those into a delicious juice without oxidizing or clogging them.
You can grind meat, coffee beans, and herbs in a few minutes, and can also mince and chop meat and other frozen items in this machine.
This multi-purpose appliance is safe to use and will not work unless all the parts and the appliance have been perfectly joined. Almost all the parts are removable and dishwasher safe, so you can easily clean them.
This processor comes with a multi-function chopper, which can be used for meat cutting, slicing, dough or
egg mixing, and shredding. This machine is worth your money and time, as it makes your job easy and effective.
Good for:
Multi-purpose uses.
Mincing and chopping meat.
Easy assembling, disassembling and cleaning.
---
7. Breville BBL620 Fresh & Furious Blender, Silver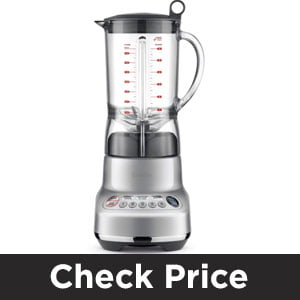 The Breville BBL620 juice blender is known for being the top blender for juicing fruits and vegetables.
This device comes with a distinctive ring on the top of the lid that helps to remove it without much effort when needed. The self-cleaning feature this blender entails is just the cherry on the top.
The feature that makes this blender unique from the others in this list is how quiet this one runs when powered.
Blending ingredients in this device is a breeze. Bid farewell to unnecessary noises, if you are using this blender.
The blades on this blender are quite efficient and made for heavy use. The sharpness of these blades and the built-in options for fine-tuning its speed enable you to prepare your desired texture. These features make it the best blender for juicing vegetables.
Breville made this blender stand through the test of time. The durability of this blender is exceptional and has a very
refined aesthetic look to it. Overall this blade is very well-rounded and has a good blend of style and productivity.
Good for:
Heavy and continuous use.
Self-cleaning.
Long-lasting use.
---
Juicer Blender Combo FAQs
1. Which Vitamix Blender is Best for Juicing?
Almost all the Vitamix products are top-notch and you won't disappointed by any of them. But if I had to pick one it would
the Vitamix 5200 Blender. This machine is ruthlessly efficient and is a very all-rounded product from a reputable name.
2. Is the Nutribullet Good for Juicing?
Nutribullet is a combo of blender and juicer. It is most efficient to work as a blender than a juice extractor. But you can enjoy juicing with this multipurpose appliance as well. However, the purpose-built juicer will be relatively more efficient for juicing than this combo.
3. Can a Ninja Blender be Used as a Juicer?
A Ninja blender could be a good option for a juicer as well. It has 3-speed settings that help to crush anything smoothly. So, you can juice any type of ingredients such as soft or hard ingredients without any difficulties with this combo.
4. Can You Juice Celery in a Nutribullet?
Nutribullet high-speed blender is an effective way to blend celery stalks. Therefore, you can taste your desired celery juice with this blender like any other juicer. This blender is also ideal to juice various leafy greens too.
Also Read: Best Celery Juicer 2020
Wrap Up
Although the list above is comprised of some of the best juicer blenders, our top pick is the Vitamix 5200 blender. The versatility it offers and the efficiency with which it does so are quite extraordinary. It is also very durable and is overall pretty flawless.