When choosing a juicer, many people first look at the brand name. That is why I decided to write these Breville juicer reviews. Breville is a major name in the world of kitchen appliances, after all.
If you are asking yourself, "what is the best Breville juicer to buy?" read on. Below, you'll find reviews of the five best Breville juicers. If you follow my advice, you'll enjoy a long and happy relationship with a high-quality juicer.
Pick of the Best Breville Juicer of 2021
How Does a Breville Juicer Work?
Most Breville juicers are centrifugal juicers, with wide feeding chutes. This means that you can feed ingredients directly into the juicer and enjoy nutritious and delicious juice in seconds.
Some models also have different speed settings. This means you can tailor the performance of the juicer to particular ingredients.
Before using a Breville juicer, check the instructions. Breaking your juicer can be an expensive mistake. Usually, however, it's very simple. Select your speed setting, and place a jug's under the juicer's output spout.
Feed your ingredients, and collect the juice. Cleaning the juicer usually just involves rinsing the blades once you're done.
---
Here's Our 5 Best Breville Juicer Reviews
Top Pick – Breville BJE98XL Juicer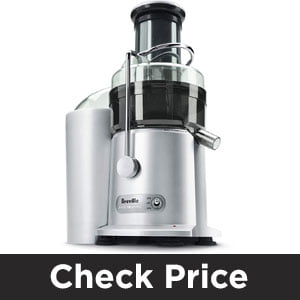 The JE98XL is Breville's flagship juicer, and for good reason.
In my view, this is the best Breville juicer on the market. It's large,
and it is not particularly pretty. What the Juice Fountain Plus lacks in looks,
however, it more than makes up in performance.
This juicer can handle just about any ingredient that you
throw at it.
With two speed settings, this model is equally happy with soft
fruits and tough vegetables. Leafy greens are more of a challenge, but that's
the case with most juicers. Feed your greens alongside a harder ingredient to
maximize efficiency.
It has a wide feeding chute, which cuts down on prep time, and it produces eight ounces of juice in as little as five seconds.
This model sifts pulp with a minimum of fuss, so you'll enjoy a smooth, refreshing drink once it's done. Cleaning is very simple, and the juicer is backed with a special cleaning brush.
The appliance is backed by a one-year warranty, but you should not need it. This is a reliable, high-quality juicer that is a great first model for anybody new to juicing.
Good for:
Fast, no-nonsense juicing.
Quick cleaning.
Mixing and matching different ingredients.
---
Budget Pick – Breville JE98XL Juicer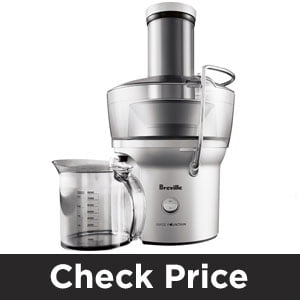 The JE98XL is a fantastic juicer, but there's a lot to love about the BJE200XL too. Branded the Compact Juice Fountain, think of this appliance as the little brother of the JE98XL.
This is no annoying sibling, though. It stands on its own two feet as a great juicer, especially for anybody on a budget.
It has a less powerful engine, so it works slightly slower. However, it's also considerably smaller. This makes it great for smaller kitchens with limited space for new appliances.
As we all know, big things can come in small packages. This juicer still handles multiple ingredients well. It's arguably better than many larger models when juicing leafy greens. It only has a one-speed setting – 14,000 RPM – but the yield is impressive. Cleaning is also a breeze.
TheBJE200XL comes with a one-year warranty and, unfortunately, performance may decline after this point. Thankfully, the initial outlay is very reasonable so you won't begrudge upgrading by this point. Overall, this is a great juicer for anybody looking for an inexpensive and compact appliance.
Good for:
Small kitchens.
Budget-friendly and occasional juicing.
---
Upgrade Pick – Breville BJS700SIL Juicer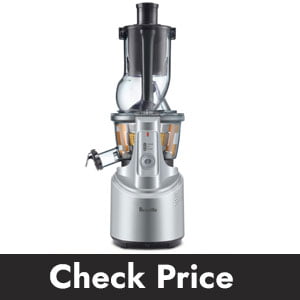 Nothing lasts forever, especially electrical appliances. Eventually, you'll need to replace your Breville juicer.
When that moment arrives, I recommend upgrading to the BJS700SIL. For a start, this model has an impressive five-year warranty on parts, and twenty years for the motor. This will be the last juicer you need for quite some time.
This model is also called The Big Squeeze, and it lives up to that moniker. Unlike the other Breville juicers that I've reviewed, the BJS700SIL is a slow juicer.
This comes with several advantages. This model extracts every ounce of goodness from your ingredients, and it's as quiet as a mouse.
As the blades work at 80 rotations per minute, it takes longer to get your juice. The results are well worth waiting for, though.
Your juice will also last up to three days when refrigerated. This juicer can also handle just about every ingredient you can think of, including leafy greens.
The BJS700SIL looks positive space age, and it takes up a lot of space. Ensure you have sufficient room for this model. If you do, however, you have a great juicer on your hands. I love this model, and I'm confident that you will too.
Good for:
Long-lasting performance.
Slow juicing for maximum goodness.
An appealing, modern aesthetic.
---
Breville 800JEXL Juicer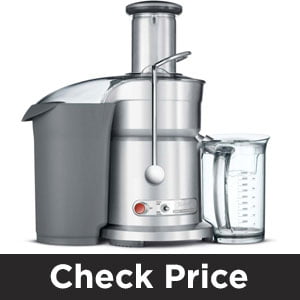 The 800JEXL is arguably the jewel in the crown of Breville's juicer empire. It offers a similar level of performance and features to the JE98XL, with two-speed settings and easy cleaning.
It's more powerful though, producing delicious juice at even faster rates. This model can also create smoothies.
There is good and bad news surrounding the 800JEXL, however. Let's start with the bad news – Breville has discontinued production of this model You can still pick one up refurbished. Just ensure you are provided with an appropriate warranty.
The good news is that the model still exists. It's just been repackaged as the Sage Nutri Juicer Pro BJE820.
This is because Breville has rebranded as Sage overseas. You may need to import this juicer. If you can be sure that the voltage is compatible, it's well worth doing so.
Good for:
Versatility – this model also creates smoothies.
Fast, powerful juicing.
Timesaving – there is no need to chop ingredients, and it's easy to clean.
---
Breville BCP600SIL Citrus Press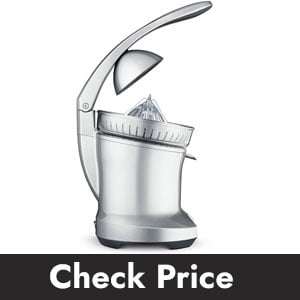 The BCP600SIL is a change in direction. When I compare Breville
juicers, I try to offer variety.
This particular appliance, as the name suggests, is only for citrus fruits. However, while it only has one job, it does it very well.
I recommend the BCP600SIL to anybody that simply wants orange or grapefruit juice. This model looks like a manual juicer.
You cut a fruit in half, and place it on the juicing cone. When you push down on the handle, the blades move at 16,000 RPM to extract the goodness.
Cleaning this appliance couldn't be easier, especially as
every component is dishwasher-safe. It's equipped with a one-year warranty,
too.
It's an expensive purchase for anybody looking for variety in their juicing. If you're just keen to enjoy citrus juice, however, it's the fastest, easiest, and most efficient choice.
Good for:
Quick and simple juicing of citrus fruits.
Maximum yield.
Very little waste.
---
Also Read: Medical Medium Juicer
Breville Juicer FAQs
Is Breville a Good Juicer Manufacturer?
Breville is a popular brand name in the world of kitchen appliances. Based in Australia, Breville is best known for creating toasters, kettles, and microwaves.
Breville juicers are usually reliable, easy to use, affordable, and have wide feeding chutes. Be aware that most Breville models are centrifugal juicers, not masticated.
Are Breville Juicers BPA-Free?
It's very important to choose a juicer that's BPA-free. BPA (Bisphenol A) is a chemical used to make plastic components that can leak into food and drink, causing toxicity.
All the Breville juicers that I reviewed above are BPA-free. You can use them safely, with no concerns for your health.
What Kind of Juicer is the Breville Juice Fountain?
The Juice Fountain is a centrifugal juicer. This means, that in theory, you'll receive less nutrition than you would through a masticating juicer.
However, the two Juice Fountain models boast heat-management technology. This means they offer a more impressive nutritional yield than many competitors, comparable to a cold press juicer.
Is Breville a Masticating Juicer?
"Breville" is not a juicer; it's a brand. Breville only produces two masticated juicers. These are the BJS600XL and the BJS700SIL.
I reviewed the latter model above. All other Breville models are centrifugal juicers. These appliances, while faster, offer yields comparable to masticated juicers so don't be deterred.
Are Breville Juicers Dishwasher Safe?
Every juicer is different, so check the instruction manual. You could do irreparable damage to your appliance by placing unsuitable components in the dishwasher.
In many cases, all parts except the juice jug and cover are dishwasher safe on low heat, using the top shelf. Double-check your particular model, though.
Is the Breville Juice Fountain Plus a Masticating Juicer?
No, the Juice Fountain Plus is a Centrifugal Juicer. The appliance works at two speeds. Slow speed (6,500 RPM) is ideal for soft ingredients.
Fast speed (13,000 RPM) makes short work of tough root vegetables. Although it's not a slow juicer, this appliance offers an impressive yield.
Is the Breville 800JEXL a Masticating Juicer?
No, this model is a centrifugal juicer. The Breville 800JEXL has two-speed settings. The slow setting works at 6,500 rotations per minute.
The fast setting uses 13,000 rotations per minute. However, this appliance retains more nutrients than most juicers of this type.
Wrap Up
You can rarely go wrong with a Breville appliance. All of these manufacturers' juicers are reliable and offer high performance.
I recommend the JE98XL Juice Fountain Plus to anybody interested in beginning a juicing journey. Any of these appliances will serve you well, though. Find one that suits your needs, and enjoy it!