Celery juice has become increasingly popular as a lifestyle choice. It was initially made popular by Anthony William's Medical Medium website.
Since then, more and more people are enjoying the health benefits of celery juice. If you would like to join this revolution, you'll need the best juicer for celery that Medical Medium recommended.
This guide will profile six of the best celery juicers available. I will profile slow-masticating juicers for celery that account for every budget and lifestyle need. By investing in one of these juicers, you will open the door to a new world of health benefits. Good luck!
Top 6 Medical Medium Best Celery Juicer 2021
What Type of Juicers is Best for Celery Juice?
If you consume 16 oz of high-quality celery juice each day, you will enjoy a range of health benefits. You can even heal chronic medical conditions and pain.
I recommend the best slow masticating juicer you can afford to juice this vegetable. That way, you'll extract all the possible goodness.
By extension, this means that I suggest avoiding a centrifugal juicer. Some of these appliances will indeed provide a high yield.
However, centrifugal juicers are not designed for celery. They clog up easily. This means that you'll spend a lot of time detangling and cleaning your juicer. What's more, the parts can easily become damaged.
If you use a masticating slow juicer, it will work slowly and safely. The juicer will also work quietly, so you can use it first thing without waking your family.
Your appliance will work consistently without clogging. You will enjoy a regular serving of delicious and nutritious celery juice, with minimal fuss. Here are six of the best juicers for celery available today.
Medical Medium Top Juicer – Omega MM900 HDS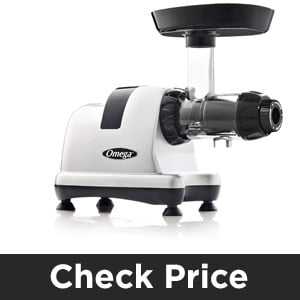 If you're looking for a celery juicer, you may as well pick up an appliance that's designed exclusively for that purpose. That's why I recommend the Omega MM900.
This masticating juicer was built with celery in mind, and it shows. It is no one trick pony, though.
The fact that you can also use it for traditional fruits and vegetables, as well as leafy greens and wheatgrass, is a welcome bonus!
Extracting nutrients at a leisurely 80 RPM, you can be certain that you'll be consuming every ounce of goodness that your ingredients have to offer.
You can choose from three different speed settings that suit your schedule – whichever you choose, the yield is astonishing.
The originator of Celery Juice Movement Anthony William recently recommended this as the best celery juicer at his Medical Medium blog.
This slow juicer is sleek and appealing to look at, with the trademark Omega curved design. The key addition, however, is an additional cap to the spout.
This is designed to maximize the nutritional value of celery. You'll never find unwelcome pulp in your juice again either, as the appliance separates this before output. The pulp is dry though, so you can use it in salads.
With a 15 year warranty, quiet operation, and easy cleaning, I cannot think of a negative about this juicer. If you're planning a celery-centric juice detox, you owe it yourself to invest in the Omega MM900HDS. It's one of the best juicers that money can buy, regardless of ingredients.
Good for:
Specialist for juicing celery
High juice yield from celery and other ingredients
Quiet operation
Budget Pick – Aicok Juice Extractor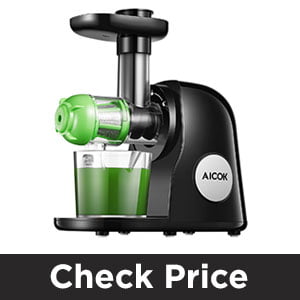 Juicing is healthy, but it can also be costly. You'll want to know that you're serious about juicing before spending big on a juicer.
If you don't take celery juice, you will have spent a lot of money on a useless gadget. Even the best juicer becomes a burden if it just gathers dust.
If you are shopping at the lower end of the budget, consider this Aicok model. Despite the low price point, it's still a slow juicer, working at 80 RPM.
We should make something clear from the off, though. When it comes to juicing, you get what you pay for. Other, costlier models will create better celery juice.
This budget juicer struggles slightly with very tough vegetables. Your juice may taste a little more watery than it would with other juicers. This juicer handles leafy greens well though, so you can always mix these in with your celery to make a tastier juice.
All the same, this model is a great way to experiment with celery juice. The appealing price point means that you can always upgrade at a later date. This model has a two-year warranty, which is plenty of time to adjust to juicing.
Good for:
Simple celery juicing without breaking the bank
Mixing celery with strong-tasting leafy greens
Easy to clean and simple use
Upgrade Pick – Tribest GSE-5000 Greenstar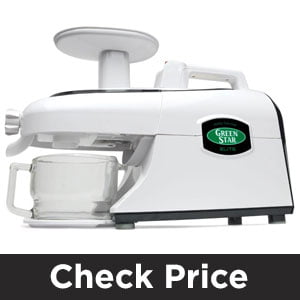 If you're not a big fan of the taste of celery, you will not want large amounts of pulp in your juice. Upgrading your juicer to the GSE-5000 is the answer to this.
This juicer takes a unique approach to ingredients. The pulp and juice and mixed before they drink is created. This means that you flip a switch to choose as little or as much pulp as you'd like.
There are other advantages to this slow-speed juicer too, including a 12-year warranty.
This appliance produces among the highest yield of any juicer for celery. This means that you'll enjoy plenty of nutrition from your juice. If you are switching to juicing for health reasons, the GSE-5000 has you covered.
This is a twin-gear cold press juicer, which is a new advance in juicing technology. Using these two oversized gears, the GSE-5000 crushes, mixes, and squeezes all your ingredients.
Don't be alarmed by the term, "cold press" if you're new to juicing. It won't impact the taste of performance – it's just another way to describe a slow masticating juicer.
This ensures that you'll obtain every drop of goodness, with no mess or waste left behind. If you know that juicing is for you, this model is the perfect upgrade. The extended 12-year warranty is another selling point.
Good for:
Rough or smooth juice. You can choose the amount of pulp
Highly nutritious juice that doesn't waste a single vitamin
High yields for large, busy families
Best Juicer for Celery and Green – KOIOS Juicer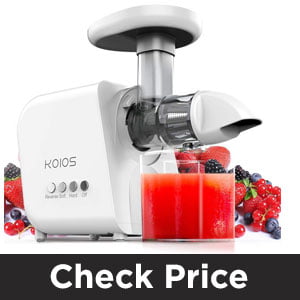 I previously described the Omega nc900 as the best all-rounder juicer for celery and other ingredients.
I stand by that judgment. Some readers may be looking for a cheaper alternative, though. That's where this KOIOS model comes in. If you're looking for an affordable pressing juicer, this is close to the number one slot for me.
This juicer does not offer any additional features. The good news is that it doesn't need them.
This appliance can handle tough vegetables as well as the best juicers on the market, including those that cost much more. It's rare to find a slow masticating juicer that performs so well at this cost.
It produces a yield of around 80% of your ingredients, and it's very simple to clean afterward. That's important, as unfortunately, this model is not dishwasher safe. The motor is covered by a two-year warranty and other parts for one year.
This juicer also includes a recipe book, so you can look for ways to spruce up your celery juice. While there are better models out there, few celery juicers perform this highly at this price point.
It's a step up from the most basic models, and a great way to learn if juicing will appeal to you.
Good for:
Basic and efficient cold press celery juicing
Mixing celery with other tough and solid root vegetables
Soft fruit juices, for anybody seeking a variety
Best Small Model for Celery – SKG Q8 Juicer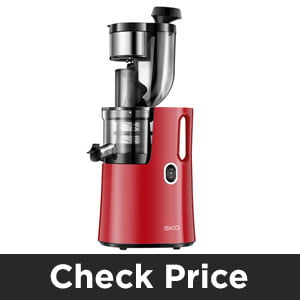 If you have a small kitchen, you will need a small juicer to match. You will likely have limited space for a new appliance.
The SKG Q8 juicer is ideal for this scenario. While the appliance itself is small, the wide chute means that it still performs as well as the biggest and best juicers.
This model contains a strainer, so you can choose how much pulp you'd like. Best of all, it is designed with celery in mind.
This juicer contains a higher yield for celery than almost any other vegetable. That's one of the biggest selling points, as I cannot say the same for all pressed juicers.
The wider chute also means that you can juice quickly and efficiently. I recommend this model to anybody that doesn't have time to chop ingredients before juicing. You'll combine the efficiency and speed of a centrifugal juicer with the health benefits of a press juicer.
This chute comes in two shapes. The hopper feed is how you'll feed celery. This is designed for long, thin ingredients. If you'd like to add another ingredient, you can.
The turnover feed can accept an entire, unsliced apple, or other fruits if you prefer. Again, not all juicers for celery offer such flexibility.
With a two-year warranty and simple assembly, this juicer is ideal for homes with limited space. A small house does not mean you need to sacrifice your health, especially with this model.
Good for:
Rapid juicing without the need for preparation
Mixing a variety of large ingredients, including whole fruits and vegetables
Soft fruit juices, for anybody seeking a variety
Best Manual Celery Juicer – Lexen GP27 Juicer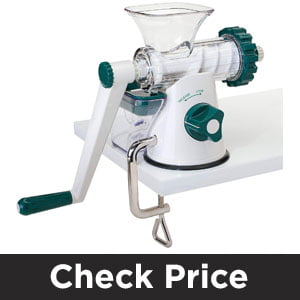 Sometimes, technology lets us down. If you prefer a more hands-on approach to your juicing, consider a manual juicer.
The Lexen GP27, for example. You can feed your celery into this juicer, and crank the handle to extract the goodness.
This means that you'll have amazing-tasting juice for your efforts. By using this model, you'll make sure that you receive cold-pressed juice, devoid of the heat of oxygenation.
That's one of the most important considerations in juicers for celery. The juice needs to make up in nutrition what it lacks in appealing taste!
You can also mix your celery with wheatgrass and similar ingredients. Avoid tough fruits or root vegetables like carrots, though.
These require more effort than you may be willing or able to provide. That's a common issue with some juicers for celery though, so don't hold it against the GP27.
Manual juicing is not for everybody, but it's certainly a healthy choice. You receive better tasting juice with this appliance than a budget electric model can offer.
It's also a fraction of the price. Cleaning is also easy, and in theory, the appliance is dishwasher safe. Let it air dry though, so the plastic does not get warped.
You may decide that manually juicing your celery is not for you. That's no problem with the Lexen GP27. You can return this juicer for a refund within 30 days if you do not enjoy it. If you decide to keep it, the parts are covered by a two-year warranty.
Good for:
Cold-pressed, highly nutritious celery juice
Mixing celery with other healthy plants and herbs, as well as leafy greens
Simple assembly, use, and cleaning
How to Make Celery Juice Using Omega MM900 HDS: Complete Juicing Process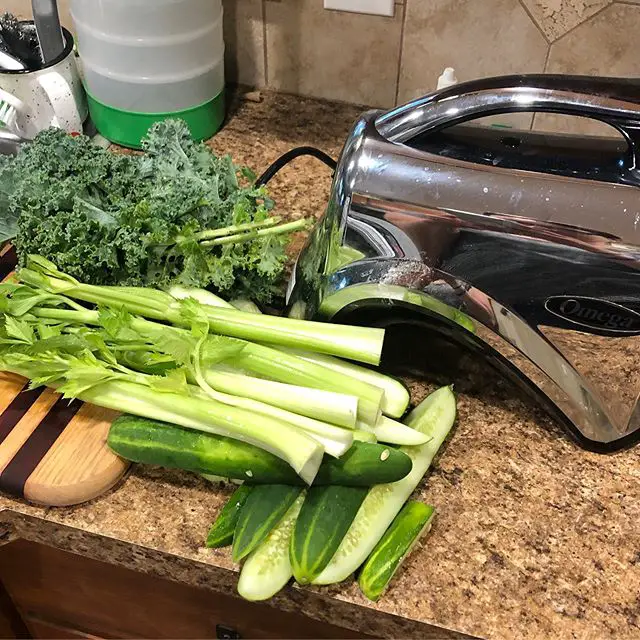 If you decide to follow my advice and pick up the Omega MM900 masticating juicer, you'll be keen to get started with your celery juice. Here is how to get the most out of this appliance.
Purchase celery from your local farmer's market or supermarket. Organic is best. It costs more, but you'll gain more nutrition
Weigh out around 2 lbs of celery on a set of kitchen scales. That will usually be one bunch. This should make 16 oz of celery juice
Wash your celery thoroughly in cold water
Chop your celery. The Omega nc900 has a wide chute, so you do not need to chop it too small
Remove the leaves if you wish to avoid a bitter taste to your celery juice
Assemble your juicer according to the instruction manual provided
Place a jug under the spout of your device to catch the juice, and another to catch the pulp
Set your Omega nc900 to setting 1
Feed your celery into the chute, and push it down. The juicer contains a plunger to help you do this
Allow the juicer to do its work
Keep feeding chunks of celery into the appliance until your jug is full
When you run out of celery, check that your juicer is not clogged. If it is, use the reverse function to clear it
Disassemble your juicer and wash it in soapy water. This should not take long at all
Dispose of any pulp or other waste. Alternatively, use it as a zero-calorie dish or salad
Pour your celery into a glass, and enjoy it. The sooner you do this, the more nutrients you'll gain
Enjoy the health that celery has to offer
Celery Juice and Skincare
We have mentioned how celery juice comes with many health benefits.
Chief among these are the advantages that celery juice can provide to dry or damaged skin. As celery juice is so hydrating, it will greatly improve the quality of the skin. It is also believed to be impactful when combatting acne, and maybe even eczema.
Drinking Celery Juice for Acne – Before and After
The evidence that celery juice cures acne is entirely anecdotal at this stage. Sorry if that disappoints you, but I'm not in the business it's making false claims.
I firmly believe that all health benefits need to be backed up by science. This is thankfully the case with anything else about celery juice!
All the same, anecdotal evidence is good enough for many, so I'm happy to share that. Take a look at this YouTube video and you'll see that celery juice proved impactful for one regular juicer.
So, why do people claim that celery juice can clear acne? The first reason is that acne is caused by a bacteria called streptococcus. This creates oil on the skin, which in turn leads to acne. Celery juice contains salt, which kills off streptococcus.
Case closed? Not quite. Celery juice no doubt helps, but it can't do all the heavy lifting by itself. A serious bout of streptococcus needs medical attention and likely antibiotics.
With that being the case, celery juice used in conjunction with medication may cure acne – not celery juice alone.
That's not to say that celery juice cannot help acne, though. For a start, it encourages better habits. If you're drinking celery juice, you won't be drinking soda or other sugary drinks. Sugar can be a prime cause of acne and pimple breakouts, so celery juice certainly helps there.
In addition, like all fruits and vegetables, celery juice is high in fiber. This means that you'll feel fuller for longer – and you're less likely to snack on junk food. This, again, leads to less sugar in your diet and less acne.
Finally, consider that celery juice is a natural antioxidant. This means that it will reduce inflammation and hormonal reactions that can cause acne.
As I say, it's not been proven – and, I hasten to add, I'm no doctor, just a girl that loves her celery juice! All the same, maybe celery juice is worth a look if you have acne. Even if it doesn't single-handedly resolve that issue, it has plenty of other benefits to boast of.
Drinking Celery Juice for Eczema – Before and After
Like acne treatment, the impact of celery juice on eczema is a source of much debate. The Medical Medium is adamant that celery juice will cease and prevent eczema flare-ups. Kim Kardashian agrees, claiming that celery juice helped her manage her psoriasis.
Notable charities that focus on this skin condition disagree and say that more research is needed to make such a claim. As is so often the case, the truth lies somewhere in between these two camps.
It is undeniable that celery juice, especially when created in a slow masticating juicer, is great for the human body.
What is also clear, though, is that celery juice is not an immediate miracle cure for eczema. Let's be honest, if it was we wouldn't need creams or ointments. Once again, let's turn to YouTube for a first-hand account of somebody that lives with eczema and consumed celery juice for a prolonged period.
This juicer found that celery juice did have a positive impact on her eczema, albeit slowly and steadily. Why would this be the case?
Again, it all comes down to the goodness found in celery juice. The many and varied nutrients found within celery work wonders on the human body.
That's why so many of us drink it so often. Let me stress, it certainly isn't for the taste! Of particular relevance to eczema is phthalide, a chemical found in celery. Phthalide works to naturally reduce any inflammation and cholesterol in the body. This, too, will help with eczema flare-ups.
The fact is, nobody – not even doctors – is certain what causes eczema. This means that it is too simplistic to say that celery juice will cure it.
However, nobody was ever harmed by eating more fruit and veggies – especially something as nutritious as celery. If you have difficulty with your skin, there is no harm in juicing celery alongside your traditional remedies.
FAQs About Juicing Celery and Celery Juicers
Is it better to juice or blend celery?
Juicing is preferable to blending. This is because juicing removes more pulp from the celery. This means the nutrition is more pronounced and is absorbed into the body faster.
However, if you are looking for a high-fiber diet, consider blending instead. This creates a thicker, pulpier drink.
Is it OK to juice celery the night before?
Yes, as long as you store it in a suitable container and refrigerate it immediately. Celery juice made with a masticated juicer will retain its goodness for up to 72 hours in these circumstances.
The sooner you drink your juice after production, however, the more benefits you will receive. If you use a centrifugal juicer, you must drink the celery juice immediately.
Is it safe to drink celery juice every day?
Yes, as part of a balanced diet. You will still need to ensure that your body's other nutritional requirements are met. 16 oz of celery juice every day can work wonders, though. If you have a chronic illness or inflammation, consider doubling or even tripling this daily intake.
Why is there 16oz of celery juice?
16 oz of celery juice is how much fluid the body needs. If you drink this much, you will detoxify your body of anything that is not aiding your health.
If you drink any less, you will not receive the full benefit. However, do not start with 16 oz if you are new to celery juice. Start with smaller quantities, and build up over a week or two.
Is it better to drink celery juice in the morning or at night?
Celery juice should be consumed first thing in the morning, on an empty stomach. Drink your celery juice 30 minutes before eating or drinking anything else.
This helps the juice move uninterrupted through your body. This means that the celery juice can work its magic without being absorbed by solids.
Does celery juice help you lose weight?
Celery juice can be a great addition to a weight loss plan. This is because celery is virtually calorie-neutral. You'll still need to eat sensibly and exercise regularly. The good news is that celery juice will leave your body feeling great, so you'll be more inclined to do so.
What is the best type of celery for juicing?
Any kind of celery is great for juicing. While there are three different types of celery, they are all as nutritious as each other. Choose your celery based on your juicer. The size and hardness of the stalks will be things to consider.
Can I cut off the leaves before placing them in a juicer?
This is down to you, and your taste preferences. The leaves of celery are not harmful, and they provide extra nutrition. However, they can also make the juice taste a little bitter. If this does not appeal, remove the leaves from your celery before juicing.
What happens when you drink celery juice every day?
You'll spend a lot of time cleaning your juicer if you'd drink this juice every day. It will be worth it though, I promise! You won't be hungry.
Celery juice is a great appetite suppressant. You'll also enjoy more stamina, feel more hydrated and mentally sharper, and you won't have any digestive issues.
How many stalks of celery does it take to make 16 oz of juice?
This depends on the model of juicer that you're using. Different appliances will have varying yields. Overall though, one bunch of celery will usually do the trick.
Remember, this juice prioritizes quality over quantity. You'll drink celery juice for the health benefits, not calories.
Does celery juice help hair growth?
Celery juice can be great for human hair. That's because celery is packed with Vitamin A. This promotes hair growth and ensures that your mane will remain luscious and full-bodied.
That's not all. Celery juice will also combat unsightly dandruff, as it works tirelessly to hydrate every part of the body – including the scalp.
Can celery juice cause kidney stones?
Celery juice does not cause kidney stones, it cures them. This is because celery juice is a natural antioxidant. Drinking this liquid flushes away any toxins that have built up in your body and formed stones. Kidney stones will then be flushed from your body naturally, usually through urination.
Does celery juice dehydrate you?
Quite the opposite. Celery juice is arguably the most hydrating liquid that you could hope to consume. Celery juice is even more hydrating than eating fresh fruits and vegetables.
This is because the head of celery contains the most water. You wouldn't eat this part of the vegetable, but the head is fed into a juicer.
Does celery juice affect medication?
Celery contains furanocoumarins, which are naturally-occurring chemicals. On their own, furanocoumarins are no concern. If you take medicine for blood pressure or anxiety, however, celery juice can react and increase your heart rate. Speak to your doctor before starting a celery juice diet.
Wrap Up:
As you'll see, you have a wide range of choices when it comes to choosing the best juicer for celery. Consider your budget, and how much juicing you are likely to do. This will help you make the best decision.
I stand by my statement that the Omega MM900 is the overall pick for juicing celery. It works like a dream and has a 15-year warranty. You may have different requirements, though. The most important thing is that you bring celery juicing into your life. You'll be glad that you did!