We love juicing and invest in a high-quality juicer for efficient extraction. If you have a small kitchen, then purchasing a big-sized juicer may not be a good idea since that has limited space.
So, in this case, purchasing the best compact juicer with a small footprint becomes the perfect solution.
If you think that small juicers are not as efficient as big-sized juicers, then you are wrong. Below we have mentioned some of the top-quality compact juicers that can extract a maximum amount of healthy juice with ease.
6 Best Compact Juicer Reviews
Among many of the good choices, the following are the most-efficient small juicers. You can pick what suits your juicing demands.
Best Overall – Breville BJE200XL Juicer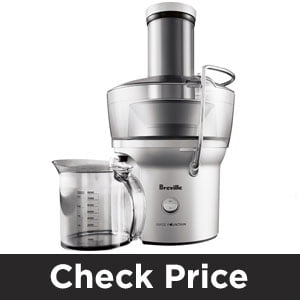 When it comes to the best small juicer, then nothing can beat the Breville BJE200XL Centrifugal juicer.
It comes with a heavy grade polymer body with stainless steel cutter enclosed by an Italian micro-mesh filter that quite efficiently extracts 30% extra juice and 40% extra vitamins.
The extra-large 3 inches feed tube helps in lessening the prep time with less or no-precutting of the ingredients. The powerful 700-watt juicer operates at 14,000 RPM and extracts optimum nutritious juice. Plus, it comes with a centered dual knife blade that helps in extracting the most out of the ingredients.
It features a juice container with a built-in froth separator that aid to pour more juice with less froth in the glass. The 1.6-quart pulp container helps in accumulating pulp within the footprint of the unit conveniently.
The 9.68-pounds juicer won't operate until the safety locking arm is placed correctly in the vertical position. Talking about cleaning, then the juicer is easy to clean. It comes with dishwasher-safe parts that can be cleaned with ease with the included custom cleaning brush.
Good for:
Shortened prep time.
Powerful speed.
Easy to assemble and clean.
Small and compact size.
Upgrade Pick – Aicok Juicer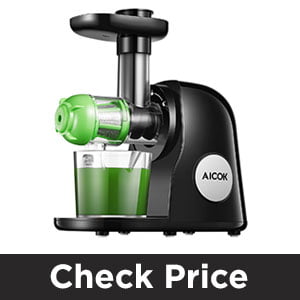 The Aicok slow juicer will provide you with the most nutritious juice beneficial for you and your family.
The upgraded 7 segment spiral system of the juicer helps in opening up each cell for extracting a maximum amount of juice with minimum oxidation and more nutrition.
It runs at an 80 RPM low-speed, therefore there is less heat build-up and friction with 90% more nutrition growth. The low speed helps in retaining the minerals and vitamins of the juice and keeps it fresh for a long time.
You can enjoy pulpless and smooth juice, as the masticating juicer perfectly separates the pomace from the juice. With this small juicer, you can extract healthy juice quietly every day because it runs at less than 60 decibels.
The juicer with 16.1X 7.9X 11.6 dimensions is featured with 100% BPA-free materials, plus the spiral uses PMMA materials, so the extracted juice is safe to drink. The juicer is simple when cleaning. Its included reverse function unclogs the juicer and helps in pre-cleaning.
You can easily assemble it and disassemble the dishwasher-safe parts in less than a minute for cleaning with the click of a button. Moreover, the heavy-duty juicer is obtainable with a 2-year warranty.
Good for:
High yield of juice with minimum oxidation.
Easy to install and clean.
Quiet extraction.
Durable parts to last longer.
Best Budget – Cuisinart CCJ-500 Juicer
If you are looking for a small juicer for extracting citrus fruits, then you can consider Cuisinart's citrus juicer. This sleek brushed citrus juicer extracts juice from small limes to large grapefruits.
The adjustable reamer of the juicer comes with three pulp control settings; high, medium, and low.
You can adjust the reamer according to your preference. It features an auto-reversing juicer cone to continue flawless juicing. With the help of the final-spin feature, the juicer extracts a higher amount of juices out of each fruit and provides you with a high yield of nutritious juice.
It comes with a cover that activates the final-spin feature and protects it from dust. The juicer weighs 4 pounds and has a little dimension, so it can be a perfect small juicer for travel.
Its longer snap-up nozzle can accommodate additional glasses and also prevent dripping. The juicer's brushed steel design makes it unique and attractive to look at.
Overall construction is made of chemical-free and BPA-free materials. Cleaning this juicer is a breeze as it comes with dishwasher-safe parts. Moreover, it is backed up with a 3-year warranty, so you can use it for a long time without hesitation.
Good for:
Efficient extraction of citrus fruits.
Easy assembly.
Safe to use parts.
Easy to carry around.
Best for Citrus Fruit – Hamilton Beach Juicer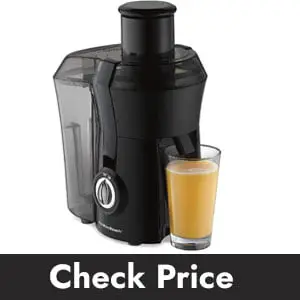 With Hamilton's juicer machine, you can extract a variety of fruits and vegetables in seconds. This small juicer features a powerful 800-watt electric motor to extract fresh and smooth juices in seconds.
The big 3-inch feed chute of the juicer fits a whole vegetable or fruit. You can fit a handful of kale, a whole apple, or a cucumber without any precutting in the feed chute.
Plus, it has an extra-large pulp bin that lets you juice without the need to stop the extraction for emptying the bin.
The stainless-steel micro-mesh strainer of the juicer extracts each ingredient efficiently to provide you with a high yield of juice. Assembling the juicer is quite easy, all you need to do is insert the strainer and lock on the lid with latches.
It is featured with a juice cover, food pusher, pulp bin, stainless-steel strainer, and a strainer bowl, all these dishwasher-safe parts can be removed easily for cleaning. Additionally, a handy cleaning brush is also included for scrubbing the strainer. Adding to these, it is backed up with a 3-year warranty.
Good for:
Powerful extraction.
Minimum prep time.
No-fuss cleanup.
Long warranty.
Cold Press One – Aobosi Juicer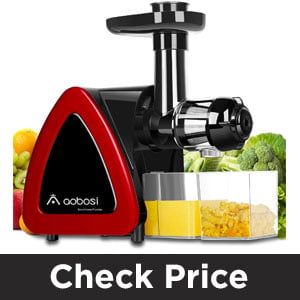 The stylish and modern vertical slow masticating juicer by Aobosi will take up less space in your kitchen than other horizontal juicers.
It comes with a 7.9 lbs weight with 16.3 X 8.5 X 6.4 inches dimension. It extracts a highly-nutritious juice by operating at 40-65 RPM, best for retaining the nutritional value.
The low speed means zero heat build-up and less oxidation. Therefore, you can store the juice in the refrigerator for up to 48 hours. All the removable parts of the juicer are made with Tritan food-grade anti-oxidant material. So the extracted juice is safe to drink for your family.
Moreover, it is featured with a waterproof switch cover that prevents water from flowing into the juicer through the switch. You can unclog and pre-clean it with the included reverse function.
Easy to assemble, the beautiful juicer comes with a u-shaped pulp outlet for smoother slagging and to avoid the juicer from getting stuck. Plus, this design makes cleaning the juicer quite easy.
The unique handle design of the juicer makes it easy to pour the juice into the glass and clean the juicer under the running water without any accident. Considering the qualities and other features, it is one of the perfect mini juicers for a family.
Good for:
Compact design.
Retaining the nutrition of juice.
Easy cleanup and assemble.
Safe materials.
Easy to Clean – Bagotte Juicer
The last compact juicer on our list is the dual-speed Bagotte fruit and vegetable juicer. The juicer comes with two-speed functions.
Low speed for extracting soft fruits and vegetables like orange, cucumber, celery, watermelon, etc. And the high-speed is for hard ingredients like bitter gourd, carrot, apple, and others.
The juicer has a simple design, smaller footprint, and is easy to assemble. It comes with a wide 3-inch feed chute that can accommodate a whole apple or pear without any pre-cutting. The food-grade stainless-steel cutting disc of the juicer extracts a high yield of juice with less foam.
In addition, the safety locking arm feature of the juicer makes sure the cover of the juicer is tight while juicing, and the overheat protection system automatically stops the juicer when it exceeds 105-degrees.
It is also featured with an anti-drip function that prevents the juice from spilling everywhere. You will obtain a 2-year warranty with it with lifelong technical consultation.
Good for:
Extract 20% more juice with less foam.
Low-noise operation.
Wider feed chute.
Easy to clean BPA-free parts.
Final Verdict
Compact juicers can be as efficient as big-sized high-quality juicers. All the above-listed juicers are durable, efficiently extract the ingredients, and fit in a limited space.
But I recommend the Breville BJE200XL juicer is the best compact juicer among them. It comes with a unique extraction system, a wide feed chute, and is smaller in size. It will fit in a limited space conveniently. Overall, it has everything to be a perfect compact juicer.
FAQs
What is the best compact juicer?
A compact juicer should be smaller and lighter in weight so that it can fit in a limited space in your kitchen and can be carried around easily. Some of the ideal compact juicers from the list are Cuisinart CCJ-500 and Hamilton Beach Juicer.
What is the smallest juicer?
The smallest juicer is the one that comes with a smaller footprint. They are efficient and have smaller dimensions. From the list, Breville BJE200XL and Aobosi slow masticating juicers are the smallest. They are small but can serve you for a longer time with great performances.