Centrifugal juicer is the fastest way that allows you to prepare a glass of fresh juice and consume loads of nutrition in no time. When you have the best centrifugal juicer, you can keep yourself with less effort on the way to a healthier life.
With hundreds of fast juicers available on the market, what can be the best for a health enthusiast? This could be tricky but getting the idea of some of the highly-efficient juicers will make the process easier. Alright, check out the reviews below to make up your mind.
Pick of the Best Centrifugal Juicers 2021
What is a Centrifugal Juicer and How It Works?
Centrifugal juicers use fast-moving flat cutting blades, this is the key to the process. The blades are positioned near a spinning strainer at the bottom of the centrifugal juice extractor. A centrifugal force is used by a powerful motor that helps to move the blade at a high speed.
Comparatively higher rotation of the blades can squeeze a variety of ingredients. The small holes sited in the strainer remove the fresh yield from the pulp.
Speeds can be varied from 6,000 to 16,000 RPMs and different levels of speed are designed to crush different kinds of fruits and vegetables.
Top Pick – Breville BJE200XL Juicer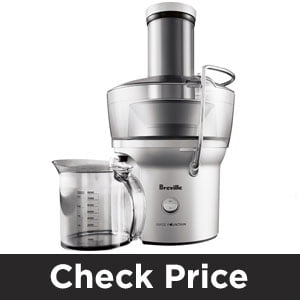 The Breville BJE200XL is our top pick on this list.
It stands out because of its incredible features that include a unique extraction system, a larger feed chute, a built-in froth separator, and more. With all the capabilities, it is available at an affordable rate.
This juicer has a beautiful finish that looks better and the highest
extraction power that crushes anything you like to juice. You can prepare the
fresh juice within a short time with this juicer while enhancing the beauty of
your kitchen.
The juicer features an Italian micro-mesh filter and a titanium reinforced disc made of stainless steel. Working together, they can extract optimum juice and nutrients from the ingredients. Because of its 3" wide feed tube, you don't need to pre-cut many larger vegetables and fruits.
With 14,000 RPM, the juicer can run faster and extract more than any other usual juice extractors. The built-in froth separator ensures less froth into the juice. It is easy to clean in the dishwasher and all included safety features enhance its usability.
Good for:
Toughest fruits and vegetables
Froth-free fresh juice
Optimum yield and nutrition
Budget Pick – Mueller Austria Centrifugal Machine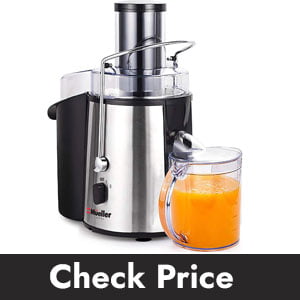 A powerful and sturdy juicer at a cheap price? Yes, that's not a daydream! Mueller Ultra Juicer contains everything that an ideal juicer should have.
It is designed to meet everyone's need who likes to juice frequently as well as rarely, more or less amount of juice.
It is simply awesome with dual-speed versatility. Low speed rotates at 12000 to 15000 RPM for softer ingredients such as tomatoes, oranges, etc. High speed rotates at 15000 to 18000 RPM for harder ingredients such as beets, carrots, and others.
This centrifugal juice extractor provides juice rich in nutrients and helps
with detoxing, reducing cholesterol and various diseases. With a powerful motor
of 1,100 watts, the juicer can prepare 16 oz juice within 8 seconds. The
innovative mechanism assures less foaming and no clogging at all.
A few juicers on the market are available at such a cheap rate and have necessary features like it. If you're considering buying a juicer on a tight budget, this juicer will be the best option for you.
Good for:
Toughest fruits and veggies
Froth-free fresh juice
Optimum yield and nutrition
Upgrade Pick – Breville BJE830BSS1BUS1 Juicer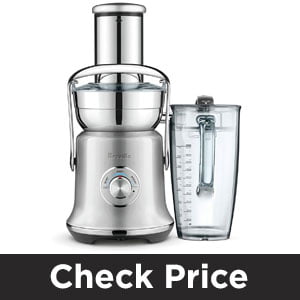 This high-speed juicer can be costly, but we love this 5X faster extractor from Breville.
It is effortless to assemble and disassemble, makes continuous and pulp-free juice. And cleaning in a dishwasher will not bother you much.
The Breville BJE830BSS1BUS1 secures its position on the list basically for two reasons.
It has 3.5 inches wider feed chute that we found rarely in other types of juicers. It can prepare 5X more juice than most of the cold press juicers available on the market.
Noise is another concern of many juice enthusiasts as many usual juicer extractors bother neighborhoods with the disturbing sound. This Breville juicer runs silently and reduces mechanical clop by 40%.
Also, the yield is fairly sufficient and the juice retains the original flavor and color of the ingredients. Nutrient-rich juice can be stored for up to 48 hours.
Good for:
Original color and flavor
Preserving for more than 72 hours
Softer and harder ingredients
Hamilton Beach Juicer Machine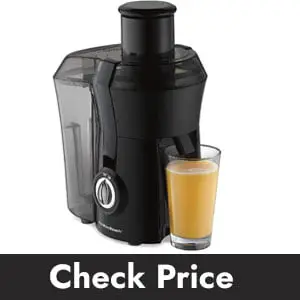 People buy centrifugal over masticating juicers because of some good qualities and incredibly cheap prices.
It doesn't mean that fast juicers are not efficient. They are better at juicing when it comes to the time taken for juicing.
However, the Hamilton Beach juicer is another selection that is much cheaper and next to the #2Mueller Austria centrifugal juicer.
With a shortened prep time, it prepares healthy juice in seconds and gives you the finest taste of organic fruits and vegetables at home.
It is equipped with an 800W motor that easily squeezes watery, softer as
well as harder ingredients. Less pre-cutting because of larger feed chute makes
your juicing task effortless and enjoyable.
The juicer requires easy cleaning. It is designed for any kind of juice
enthusiasts and is made of healthy BPA-free materials. Removable parts can be
washed easily in the dishwasher. This juicer is furthermore backed by 3 years
product warranty.
Good for:
Whole medium-sized fruits
Continuous juicing
Easy cleaning
Cuisinart CJE-1000 Die-Cast Juicer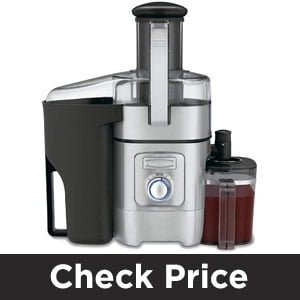 In discussing centrifugal juicer, the motor power and prep-time come
certainly in our mind.
Though it has a 3-inch feed chute like a few other juicers
on this list, it significantly reduces the prep time. Moreover, the 1000-watt
the motor produces enough rotations to crush any type of vegetables and fruit.
The juicer has a patented 'foam management system' and it perhaps makes
this Cuisinart CJE-1000 juicer unique among other selections. Foam is a common
incident in the centrifugal process but this juicer can noticeably decrease
foam in the juice.
Another great
the feature is the five-speed setting. Utilizing the feature with the control dial,
you can prepare your customized juice. It has also a simple unlock and lifts system.
The inner engineering keeps it silent when juicing.
No breaking
down and overheating, it runs continuously for more juice and an extended time. An extra-large pulp collector (2-liter) lessens your tedious efforts. In a nutshell, the
juicer can fulfill your needs no matter you do juice occasionally or regularly.
Good for:
Easy operation and maintenance
Multi-purpose use
A larger batch of ingredients
Breville 800JEXL Juice Fountain Elite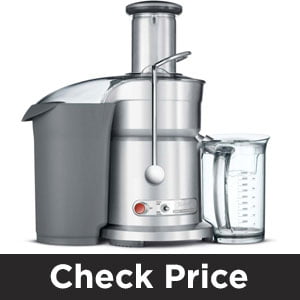 Breville 800JEXL is a commercial grade juicer and certainly, it is pricey than other juicers we have reviewed. With 1000-watt motor power, it utilizes two different motor power options.
Low 6,500 RPM is capable to squeeze softer and high 13,000 RPM is capable to squeeze harder ingredients in moments.
Because of the large feed tube, you don't need much pre-cutting and you can save time. Ultra-sharp titanium cutting disc and Italian micro-mesh filter are designed for 30% extra juice extraction.
When there is a common concern about the nutrients in the juice, this juicer retains 40% more minerals and vitamins. The taste, color, and texture are also the finest compared to other common juicers.
Trouble-free cleaning features, dishwasher safe parts make your work enjoyable. The only drawback of this juicer is that you shouldn't continue juicing for a longer time. Take a break after completing each juicing period.
Good for:
Maximum yield and vitamins
Longer blade and juicer lifespan
Commercial use
AICOOK Juicer Big Mouth Juice Extractor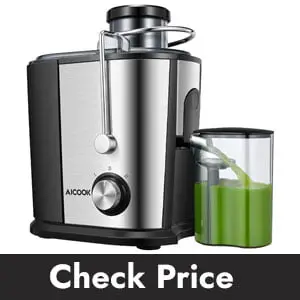 Here is another top centrifugal juicer from AICOOK. This juicer is designed to support your daily healthy diet with sufficient speed and capacity to retain original nutrients.
Moreover, it is also good to preserve juice without losing the quality of the first produce.
One thing to mention, this is the most affordable juicer on our list (a lower
rate than #2 and #4).
It features 2-speed settings for customized juicing. You
can control the speed according to the ingredients you're putting into the feed
tube. It works fine for both softer and harder vegetables as well as fruits.
This AICOOK juicer is made of BPA-free materials. So the product is
always safe to consume. Its anti-drip function and stabilization allow you to
use the juicer safely and stably.
All the centrifugal juicers are known for their preparation speed and it
is not exclusion.
While preparing more juice, it doesn't create horrible noise
just like other low-quality centrifugal juicers. Only 60 dB sound doesn't
bother your neighbors.
Good for:
Vegetables like celery and kale
Easy and quick cleanup
Stable and safer use
Kuvings Centrifugal Juice Extractor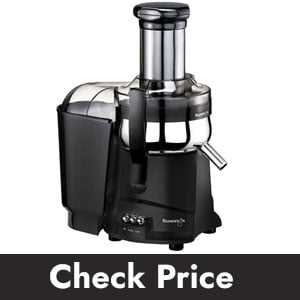 If you hate cleaning your juicer frequently, the Kuvings Juicer is designed for you.
This is a great addition to your extremely busy lifestyle for making your everyday healthier and refreshing.
One of the notable advantages of this
juicer is continuous juicing. It can make 30-50 cups of juices continuously and
you don't need to clean the extractor in that time.
This simply turns this into
a very user-friendly appliance, making your juicing more easy and agreeable.
It is equipped with a 350-watt efficient
motor power that helps to rotate at 11,000 RPM speed. Because of the high RPM,
this centrifugal juice extractor can squeeze any toughest fibers and give the
maximum juice yield.
Its larger feed chute doesn't require any pre-cutting of vegetables and fruits. It can process most of the whole vegetables and fruits and save your time spent on juicing.
The safety locking arm always guarantees safe operation. And overall, it is good and made of sturdy materials to last longer without losing capability and beauty as well.
Good for:
Toughest fibers and grains
Assemble and disassemble
Long-lasting efficiency
Benefits of Using a Centrifugal Juicer
A fresh glass of juice is one of the most desirable drinks for everyone. Any of these juicers can give you the proper juice rather than any other.
Super-fast workability and efficiency is the best fact about this appliance. A healthy lifestyle is all you need and a centrifugal juicer can provide it for you.
You will find a few kinds of juicers on the market. But to get the best for your health, a fast juicer is certainly a good choice. It is available at an affordable rate and easily obtainable appliance almost in all kitchen stores.
These juicers produce juices by cutting the fruits and vegetables into small pieces inside their chamber and extracts yield from pulps. Before buying keep an eye on the features of your juicer to know what it can perform.
As the appliance runs at a higher speed, it produces juice in a faster way. The juicer works on average at a speed of 10,000 rpm that extracts more juice in no time at all. So, when you're busy, this is certainly the ideal choice for you to maintain a
healthier diet.
The overall construction of the juicer is durable and designed to last longer. A variety of speed settings can be utilized for softer and harder fruits as well as vegetables. This juicer will never be misted out and nothing will be messed up.
A juice jug with the juicer adds an extra advantage.
Many centrifugal Juicer reviews on the Internet express different types of user experiences.
Most juicers of this type do not require you to chop up the ingredients; just throw them into the larger feed chute to get the juice quickly. The easy cleaning process will save time and energy as well.
When it comes to nutrition, this is such a squeezer that extracts sufficient juice loaded with numerous types of nutrition. With the natural taste and texture, it gives you always something better than any usual juicers.
Solid construction, versatile speed, and quiet operation are the main advantages of centrifugal juicers. Long-time usability with a warranty is a safe option for you.
To get a much better juice appliance at an affordable price, there cannot be any other juicer than a centrifugal juicer.
Frequently Asked Questions
Do centrifugal juicers waste many nutrients?
Centrifugal juicers build a high temperature as well as oxidation and result in wasting a little nutrition. There is a chance
to waste enzyme but only then when the temperature is 140° F or more.
In general, the heat buildup in a centrifugal juicer is less than 140° F. However, it is not a big issue to stop you from considering a centrifugal juicer.
Are Centrifugal juicers any good?
Centrifugal juicers have many good things to offer. The prep time is shorter than many cold press juicers. As all of the parts
can be cleaned in the dishwasher, the cleanup is simply a breeze. This is a perfect juicer option for those who are passing their days in a hurry.
Wrap Up
When you juice, you do it for the best of all conditions. My top pick is the Breville BJE200XL compact juicer that achieves the best centrifugal juicer attribute because of its extreme efficiency and reasonable price.
It is durable, gives you the best services for far longer. You can simply choose any other of the juicers as well. All of the above-mentioned centrifugal juicers are certainly good too with their unique features.