Juicing is a great lifestyle choice for health and wellness. The only downside is that it can be time-consuming. In addition to chopping your ingredients, you'll need to tidy up after yourself. This makes an easy-to-clean juicer a necessity for busy people.
If you're looking for a quick and easy juicing experience, a centrifugal juicer is a way forward. These appliances can typically be cleaned quickly and easily, with a minimum of fuss.
You can enjoy your juice, and put the energy it provides easy to use by cleaning your appliance in record time!
Pick of the Best Easy to Clean Juicer 2021
Top Pick – Omega NC900HDC Juicer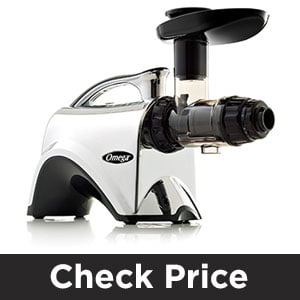 As a rule, I avoid recommending masticated juicers when discussing appliances that are easy to clean.
These juicers produce high yields and excellent nutrition, but often need to be disassembled for cleaning. This can be time-consuming. Happily, this does not apply to the Omega NC900HDC.
This Omega juicer can be cleaned from top to bottom in just 80 seconds.
That is a huge selling point in and of itself. When the high performance of this juicer is also considered, it becomes my overall top pick as the best juicer that's also easy to clean.
The impressive 15-year warranty also ensures that you can sleep easy at night after making your investment.
The Omega NC900HDC can handle all kinds of ingredients, from the softest fruits to the toughest vegetables. It's also versatile, offering the opportunity to create a range of different kinds of milk and butter alongside juice.
This appliance creates highly nutritious juice and can be cleaned with a swift hose down under the tap. What is not to love?
Good for:
Complementing fast cleaning with impressive yield and nutrition.
Versatility in ingredients and recipes.
Regular juicing to match lifestyle needs.
---
Budget Pick – Breville BJE200XL Juicer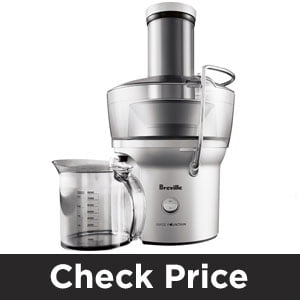 As we all know, bigger is not always better. Take this model of centrifugal juicer from market leaders Breville, for example. This appliance is one of the smallest on the market.
It has an equally small price tag, making it appealing to those shopping on a budget. Thankfully, performance is not compromised.
The three-inch feeding tube of this juicer saves time on prep work. You will not need to chop your ingredients in advance – just drop them straight in.
This labor-saving is also reflected in the cleaning time. You'll just need to rinse the blades and wash the jug.
You can even put the latter in the dishwasher if you prefer. A specialist cleaning brush is also included for stubborn seeds and lingering remnants.
While this juicer has a warranty of just one year, it's typically reliable. It's an ideal introduction to juicing if you're unsure whether you'll stick with it. The yield and nutrition are impressive, it's quick and easy to clean, and it comes in at a very appealing price point.
Good for:
Basic, no-frills juicing on a budget.
Simple cleaning and limited prep time.
Small kitchens with limited space.
---
Upgrade Pick – Kuvings EVO820GM Juicer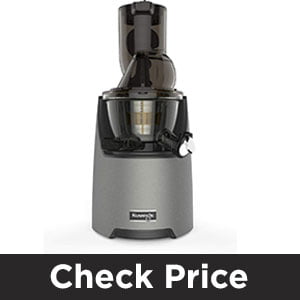 Like the Omega NC900HDC, this Kuvings appliance is a slow juicer. While I still slightly prefer the Omega model overall, this juicer is a great upgrade from a more basic model.
It also offers great versatility, providing the opportunity to make smoothies, baby food, and sorbets as well as nut-based milk and butter.
If all of these options sound complicated, don't be put off. This juicer is extremely simple to clean. Everything you need, including specialist brushes, and included in the package.
You'll just need to open the top of the unit, remove it from the powered base, and add soapy water. The wide chute and pulp filter also prevent too much dry waste from accumulating.
Overall, there is a lot to like about the Kuvings EVO820GM. If you're keen to step up your juicing journey and invest in an upgraded model, this is an appliance to seriously consider. With a ten-year warranty, you won't need to replace it any time soon.
Good for:
Easy cleaning without compromising juice quality.
Wide variety of recipes and options.
Safe and easy assembly of various parts.
---
Hamilton Beach 67601A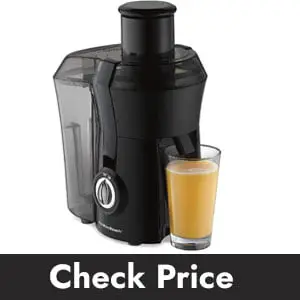 This Hamilton Beach juicer is arguably the most uncomplicated model on the market today. Feed an entire ingredient into the wide vertical chute.
Enjoy tasty juice in a matter of moments. Wash the removable parts with running water, or pop them into the dishwasher. It is that simple – and the price point is appealing, too.
This juicer prides itself on its simplicity. It's not the most versatile model on the market, but it doesn't need to be.
This juicer has one job, and it does it well. It extracts juice from a wide range of ingredients and is ready to use again after a couple of minutes of cleaning.
This model isn't perfect, as you'd expect from the price tag. It runs very loud and can be a little unsteady while in operation. You should probably hold onto the appliance while it works.
The juice is created so quickly as these are no real hardships, though. The juicer also comes with a three-year warranty. For a quick and easy life, this model is ideal.
Good for:
Fast, no-nonsense juicing and cleaning – ideal for breakfast juices in a busy household.
Any ingredients.
Collecting substantial amounts of pulp for salads or composting.
---
Champion G5-PG710 Juicer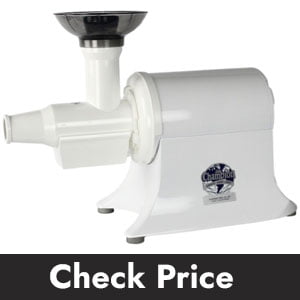 Sometimes only a professional-standard juicer will do, even for use in a domestic kitchen.
If you are going to be juicing regularly, especially using tough ingredients such as root vegetables, leafy greens vegetables like kale, celery you need to know that your appliance is up to the task.
This model from Champion lives up to its branding in this regard.
This is a heavy-duty juicer that can be used regularly without a break. This makes it ideal for large families, or catering events.
The ten-year warranty is also welcome, as your juicer is likely to see a lot of use. The appliance does need to be disassembled for cleaning, and it has multiple parts. Thankfully, though, you don't need a background in engineering to take it apart. The whole process is simple and intuitive.
You may need to clean the exterior of this juicer regularly, due to the white coloring. Splashes may cause discoloration otherwise. Thankfully it's made of steel, so a quick wipe-down will do the trick.
Overall, the G5-PG710 is the ideal appliance for anybody looking to bring commercial standards into a domestic setting.
Good for:
Constant use.
Tougher ingredients that would break a lesser juicer.
Creating ice cream as well as standard juicer recipes.
---
Breville JE98XL Juicer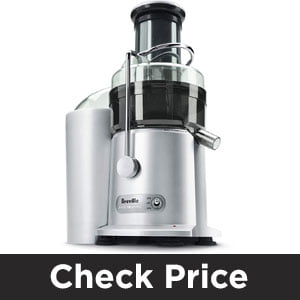 If speed is your priority when juicing, the JE98XL is the model for you. This appliance can extract the juice from an unchopped ingredient in as little as five seconds. That's an unparalleled level of performance.
Cleaning is just as straightforward. The removable parts of this juicer are dishwasher safe to cut down on your work even further. Alternatively, just give them a rinse.
The blades in the center of this appliance can be left shining in a matter of moments. Everything else just needs a little soak in soapy water.
This appliance isn't quite as strong on soft ingredients, so consider feeding leafy greens alongside something sturdier. It also only offers a one-year warranty, so if you're looking for something with the guaranteed long-term performance it may be advisable to look elsewhere.
Occasionally soaking the blades in vinegar and water will prolong their use, though. For rapid and efficient juicing and cleaning, there is no other model quite like the JE98XL.
Good for:
Lightning-fast juicing and simple cleaning.
Extracting nutrients from tough ingredients.
Higher yield than many centrifugal juicers.
Wrap It Up
This concludes my insights into the easiest to clean juicers on the market. As you'll see, there are options to suit every need and budget.
Personally, though, I stand by my recommendation of the Omega NC900HDC. It somehow manages to blend the highest performance with the easiest cleaning. What more could you ask for?