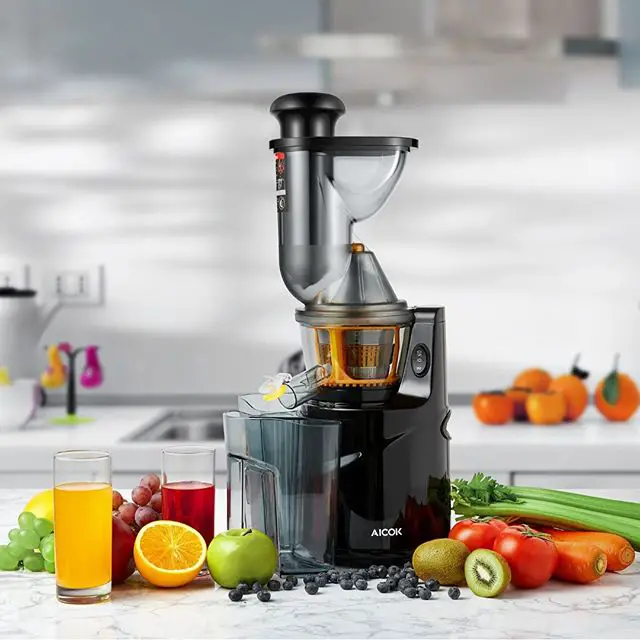 A masticating juicer is a great investment for any family. If your family enjoys fruit and vegetables, juicing ensures that you'll gain all the vitamins and nutrients of these ingredients. What's more, juicing keeps your ingredients fresh for days. You can say goodbye to wasted food with the use of a juicer.
Below you will find reviews of what I consider to be the best masticating juicers on the market. I have divided these reviews into different categories. This way, you can find the juicer that's best for you. Good luck, and happy juicing!
Pick of The Best Masticating Juicer 2020
How Does a Masticating Juicer Work?
Masticating juicers are also known as slow juicers. They have this name because they only use a single gear. This means that they produce juice slowly, but efficiently. Slow is good in this case. It means that no heat or oxidation is produced. This helps your juice retain the nutrients of the fruit and vegetables.
Ingredients are fed into the chute of a masticating juicer. From here, they are passed through an auger and blade. These move at a rate of between 80 and 100 rotations per minute. As discussed, this slower pace helps your ingredients retain their goodness. It also means that your juice will stay fresh for longer.
9 Best Masticating Juicers – Reviews
Editor's Pick – Omega NC900 HDC Juicer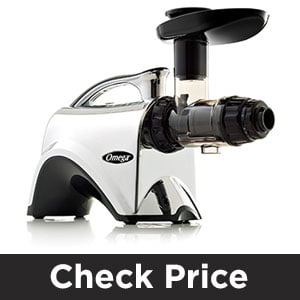 I consider the Omega nc900 to be the best masticating juicer overall. This piece of machinery will suit the needs of most families. It also offers great value for money. It's very difficult to find any kind of fault with this juicer!
Firstly, this juicer provides very high yields. This is obviously a huge selling point. Perhaps more importantly, the juice it produces remains packed with nutrients. Any juice created by the nc900 will be very high in fiber. This makes this juicer great for anybody looking to lose weight through juicing. The fiber will keep you feeling fuller for longer.
As well as this, the nc900 is very fast, both to use and to clean. Once you have finished with your juicer, it can be cleaned in less than 80 seconds. This means that you're unlikely to experience a problem. If you do, this juicer comes with a 15-year warranty for users in the USA and Canada.
As a high-quality all-rounder, it's impossible to look past the NC900 HDC. This is why it's my overall Editor's Pick and a model that I would recommend to anybody.
Good for:
Green, leafy vegetables.
Nut butter and almond milk.
Baby food.
Losing weight through juicing.
Budget Pick – Aicok Slow Masticating Juicer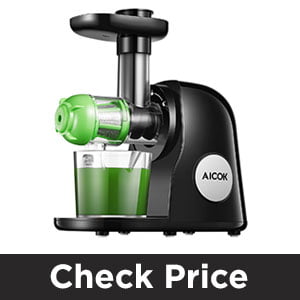 In the spirit of full disclosure, I'd like to be clear. I do not consider this model to be the best masticated juicer on the market. However, I do consider it to be the best low-budget juicer. If you are not looking to spend too much money, you cannot go wrong with this Aicok model.
Although it's inexpensive, this juicer is still perfectly safe. It also produces nutritious juice. The blades rotate at around 80 rotations per minute, so plenty of vitamins remain. The slow rate also means that little foam makes its way into the juice. This juicer also rarely clogs up. It just needs a rest every fifteen minutes or so.
You can definitely find better juicers if you're prepared to pay more. Other juicers will have more features; this particular gadget is more no-frills. This makes it is ideal for somebody new to juicing, though.
The Aicok slow juicer will meet your needs in the short- to medium-term. This makes it great for anybody that isn't quite sure if juicing is a long-term project. The warranty for this juicer lasts for 3 years though, so it will certainly last long enough to make your mind up.
Good for:
Upgrade Pick – Tribest GSE-5000 Juicer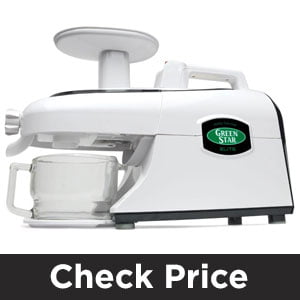 This masticated juicer is great for anybody that wishes to upgrade from an older model. The GSE-5000 is a twin-gear juicer, and contains what the manufacturer describes as 'jumbo gears.' This means that this juicer produces high yields at a quick pace. This speed does not sacrifice all-important nutrition, though.
This juicer provides delicious and healthy drinks. This is due to a unique approach to juicing. This juicer mixes the juice and pulp of the ingredients fed into it, before releasing the liquid. This, in turn, means that not a drop of goodness is wasted.
The best news is that you can choose how much pulp your juice contains. There are multiple settings on the juicer that decide this. If you dislike any kind of pulp, you can have a completely smooth drink. If you like a little roughage in your juice, the GSE-5000 will release this.
This juicer also comes with a lengthy warranty of 12 years and is very easy to assemble. It's a perfect step-up for anybody that began with a cheaper juicer and is now looking for something sturdier.
Good for:
Kale, spinach and other nutrient-dense superfoods.
Fresh salsa and other, similar dips.
Sauces to apply to dishes.
Who loves little or no pulp.
Best Wide Chute Masticating Juicer – Kuvings B6000 Juicer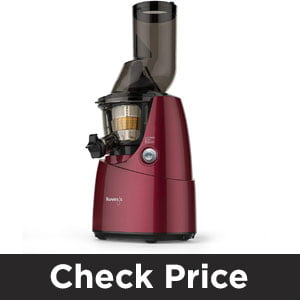 The size of the feeding chute on your juicer is important. The wider a chute, the more you can juice at once. This will be appealing to many people. Nobody wants to spend hours chopping fruits and vegetables until they fit into a juicer.
I consider the Kuvings B6000 the highest-performing wide-chute juicer on the market. The top-loading feeding tube of this model measures 76mm. This means that you'll get plenty of ingredients into your juicer at once.
You could feed an entire apple, for example, without cutting it first. You can also feed heavier, sturdier vegetables without forcing them into the tube. This makes this juicer ideal for anybody with restricted strength and mobility in their hands.
This juicer is also a 3-in-1 gadget. In addition to juice, you can use it to make smoothies or sorbets. This means that you can create delicious and healthy breakfast shakes and tasty desserts.
You could even prepare all these things at the same time. This juicer operates for at least thirty minutes before needing a break. When we also consider the 10-year warranty, this is a great juicer for regular use.
Good for:
Large, awkwardly shaped fruits and vegetables.
Breakfast smoothies and dessert sorbets.
Fruit-based cocktails and similar drinks.
Best Model for No-Frills Juicing – KOIOS Juicer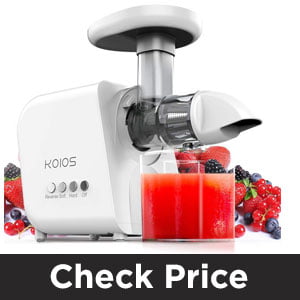 KOIOS is a new entrant into the masticated juicer market. However, this is a solid first entry for them. I recommend this juicer to anybody that wants a strong, simple appliance. This juicer will not win any awards for originality or innovation. It produces results at an affordable price, though.
One thing that the KOIOS juicer does offer is pressure control. This means that you can tailor to juicer according to your ingredients. Tough root vegetables, such as carrots, will benefit from the harder setting. Apples and cucumbers, meanwhile, will flourish on the soft setting.
This model is particularly effective when juicing green vegetables. It extracts all possible vitamins from the likes of kale and spinach. This is despite running at a slightly higher speed of 80 rotations per minute. This motor is guaranteed by a 10-year warranty. The other parts of the juicer are covered for 3 years.
This juicer is easy to set up, and comparatively simple to clean. It's fine as a starting point if you can afford a juicer slightly better than the lowest tier. It does not have any bells and whistles, but this is part of its charm. The KOIOS juicer has one job, and it does it well.
Good for:
Quiet and efficient juicing that will not cost the earth.
High-fiber fruits and vegetables, including leafy greens.
Tough or gnarly root vegetables, such as carrots and beets.
Shoppers with Deep Pockets – Super Angel Juicer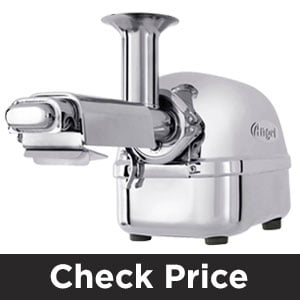 If you want the best of the best, you'll need a budget to match. If this applies to you, look no further than the Super Angel Deluxe. I consider this to be the Rolls Royce of masticated juicers. If you juice regularly, the Super Angel Deluxe is worth saving up for.
Yes, this model is expensive. You get what you pay for, though. This juicer looks stunning, made from stainless steel. It's sturdy too and comes with a 10-year warranty – though you're unlikely to need it.
The results are also spectacular. It produces a very high yield of juice, and the nutrients are all present and correct. You'll really taste the difference if you use this juicer. The pulp is as dry as a bone and as small as a grain of sand.
This appliance takes up a small amount of space in your kitchen. It's very simple to clean. It can be used near-constantly without overheating. It can be used to juice just about any ingredient that you can think of. Above all, it produces delicious juice that must be experienced to be believed.
Good for:
Delicious and nutritious fruit juice of any origin.
Tofu.
Baby food.
Butters and Nut Milk.
Wheatgrass and other herbs.
Best Commercial Masticating Juicer – Champion G5-PG710 Juicer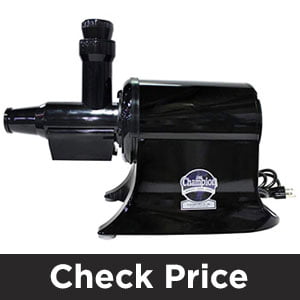 If you have a business that serves juices, a tabletop model will not meet your needs. You'll need an appliance that can work steadily, producing constant high yields. Naturally though, you'll need to make sure that nutrition and flavor are not sacrificed.
If you are seeking a commercial juicer, I recommend the Champion G5-PG710. This juicer works hard and is built to last. You'll be protected by a 10-year warranty. The chute is not huge, so you might need to chop up your ingredients. You can keep going with this, though. Like a true Champion, this juicer does not take time off. It will continue to work for hours straight.
Of course, this juicer isn't just for businesses. If you regularly cater parties, you'll find it helpful. Just ensure that you have enough space for it. As a commercial juicer, this is not something that fits neatly into a kitchen.
The juice is created remains as healthy as it is tasty. Be aware that the size of this juicer means it generates more heat, though. The yield of this juicer will not last quite as long as a small model. Always consume your juice quickly after making it.
Good for:
Constant juicing.
Muesli and similar breakfast cereals
Ice cream.
Great for catering parties.
Best Slow Masticating Juicer – SKG A10 Juicer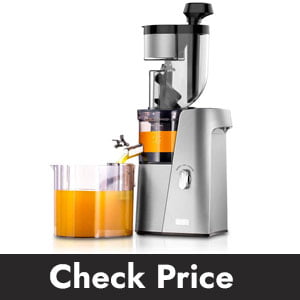 Many people like to juice fruits just as much as vegetables. If you like a refreshing, sweet fruit juice, this model from SKG is very much worth looking into.
This model of masticated juicer has a wide chute, so you can fit plenty into the feeding chute. Will save a lot of time if you use larger ingredients. Melons and large pears, for example, not will have to be cut into tiny pieces. This timesaving could be invaluable. This is also one of the slower juicers on the market.
As we have pointed out before, slow does not mean bad with juicers. The slower the gadget works, the more nutrients you'll see in your juice. With a blade speed of just 60 rotations per minute, you'll enjoy particularly high performance from this juicer. Your fruit will be as healthy as it is delicious, and you'll enjoy high yields. This motor is also protected by a warranty for 2 years.
This juicer should be used in short, controlled bursts. It starts to struggle and block after around ten minutes of constant use. However, the wide chute means that you can create plenty of juice within that time limit.
Good for:
Fruit juice, especially larger fruits.
Berry smoothies.
High-nutrition juicing.
Best Manual Masticating Juicer – Lexen GP27 Juicer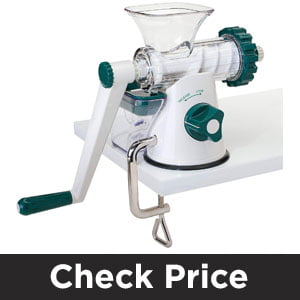 Sometimes, a hands-on approach is preferable to technology. If you are not afraid of getting involved with your juicing, consider the Lexen GP27. This is a manual juicer, which means that you'll turn a handle to squeeze your ingredients. If these parts fail, the juicer has a 2-year warranty.
Obviously, being manually controlled, this will take longer to use than an electric model. However, this means that you can work as fast or slow as you like. If you're unconvinced that electric juicers retain nutrients from your ingredients, this is the answer. This juicer will be completely cold-press, so there is no chance of losing vitamins.
This manual juicer provides high yields, and leaves little waste behind. It's also simple to clean. You may need strong hands to operate it, though. Tough root vegetables may pose a challenge.
However, if you're looking to masticate wheatgrass and similar ingredients, the Lexen GP27 is the pick of the bunch. It's much cheaper than an electric juicer and performs its work admirably.
Good for:
Wheatgrass and associated ingredients.
Pre-chopped fruits and vegetables.
Citrus fruits.
Manually engaging with your juicing.
FAQs About Masticating Juicers
What is the Best Masticating Juicer on the Market?
This depends on what you are looking for. Everybody has different needs. This is why I have tailored my recommendations to particular requirements. As you'll see, I consider the NC900 from Omega juicer to be the best pick overall. Choose your juicer based on what your family needs most, though. There is no shortage of options.
How Long Does it Take for Fresh Juice to Lose its Nutrients?
The fresher your juice is, the more nutrients it contains. Ideally, you should always consume juice within thirty minutes. This will help you gain the maximum health benefits. If you use a masticated juicer, however, your juice will not spoil for around 72 hours. Just remember, the longer you wait, the less nutrition you'll receive.
Can I Freeze My Juice After Juicing?
Yes, freezing is generally safe. Your juice will lose a little nutrition, but not much. Freezing is certainly better than allowing the juice to spoil. If you don't plan to drink your juice immediately, freeze it. This will sustain the juice for as long as a month or two.
Does Breville Make a Masticating Juicer?
Breville is best known for its centrifugal juicers. They have released a masticated juicer, though. The model number is BJS600XL. This is a fine juicer and may be worth investigating if you are brand-loyal to Breville. However, I consider the models that I have recommended to be superior.
Conclusion
I hope this guide has answered all your questions about masticated juicers. You can now proceed with a purchase, educated about the best models on the market. Enjoy your juicing journey, and look forward to health benefits that come along enjoying delicious juice!