Cold press juicing is one of the best lifestyle choices anybody can make. By using a slow juicer, you'll be flooding your body with essential vitamins and nutrients. To do this, you'll want to invest in the best cold press juicer that you can.
"Best" is always a subjective term. Different people have different needs and expectations. This is why I have profiled nine excellent models of slow juicers below. You can find a juicer that will serve you well. Once you've done so, a range of benefits will open up to you.
Pick of the Best Cold Press/Slow Juicer of 2021
What is a Cold Press Juicer, and How Does it Work?
A slow juicer crushes and squeezes the juice from ingredients without generating heat. This is important for health reasons. If a juicer runs hot, it destroys the nutrients in fruit and vegetables. A cold press juicer prevents this from happening.
To remain cool, these juicers work slowly. Their blades typically work at around 60 rotations per minute. This means that cold press juicers are sometimes called slow juicers.
The results are worth waiting for. A slow juicer produces a high yield of nutrition, and the juice tastes fresh and delicious.
Here are Our 9 Best Slow Juicer Reviews
Top Pick – Tribest SW-2000-B Slowstar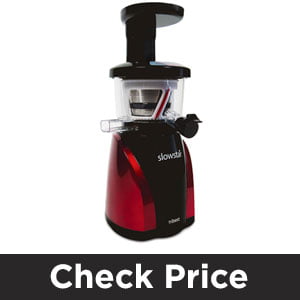 The Tribest SW-2000-B is the slowest of slow juicers. This appliance crushes and squeezes fruit at a speed of just 42 rotations per minute. Like the story of the tortoise and the hare, slow is good in this case.
Because this machine works at such a steady and methodical rate, it remains extremely cool throughout the juicing process.
This means that barely a drop of goodness is wasted from your juice. If you're prepared to wait for the SW-2000-B to work its magic, you will be rewarded handsomely.
Because this juicer works slowly, you'll enjoy the best results if you chop your ingredients first.
The smaller the ingredients, the better the results. That's standard practice for a masticated juicer, so try not to hold it against Tribest.
While it may take longer to prepare and use, this juicer produces the best results. It's also backed by a 10-year warranty from the manufacturer. That is why it's my overall pick as the best juicer available.
Good for:
High nutritional yield
The ability to handle almost any ingredient
Versatility. More than just juice. It also makes nut butter, purees, and much more
Budget Pick – Aobosi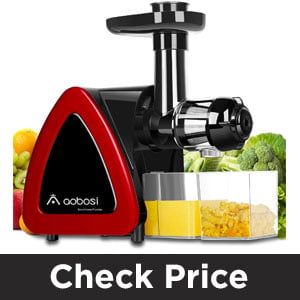 Not all cold press juicers are equal. The budget does not always mean bad, though. Take this slow masticating juicer from Aobosi, for example.
It lacks the bells, whistles, and extra features of more expensive juicers. If you're looking for a strong and simple appliance though, it's perfectly fine. This juicer has one job, and it does it well.
You will gain a particularly high yield from leafy greens in this juicer. It will accept harder root vegetables too, though. If you're using particularly solid ingredients, chop them small.
The chute on this juicer is not large, and the whole appliance can shake if asked to work too hard.
Professional, long-term juicers should probably look at a more advanced model. If you are new to juicing though, this Aobosi appliance is a gentle introduction.
The yield is impressive for the price range, and it's very simple to use. When the 2-year warranty expires, you can always look into an upgrade.
Good for:
Leafy greens
No-nonsense, no-frills juicing on a budget
Easy use and fast cleaning
Upgrade Pick – Kuvings C7000S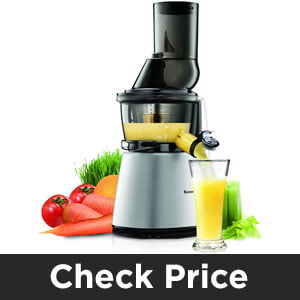 This model from Kuvings varies from most, in that it's a vertical slow juicer.
This makes it ideal for anybody with limited space in a kitchen. Rather than taking up a large amount of horizontal space, it points straight upward.
Naturally though, if you're going to look into upgrading your juicer, you'll be equally concerned with performance.
Well, the C7000S meets and exceeds expectations on this score, too.
It's wholly versatile, creating sorbets and smoothies as well as juice. The juicer is packaged with a recipe book to inspire. In addition, this juicer has a wide chute.
This means that you can feed large loads at once. You can flick a switch, and select how much dry pulp you'd like to mix with your juice.
If there is a downside to this juicer, it's that it takes longer to clean than some – especially as it is not dishwasher safe. The design is a little fiddlier.
However, the wide chute means that you'll save time prepping. This balances things out. When you also consider that this appliance has a 12-year warranty, it's a great addition to any kitchen.
Good for:
Larger ingredient loads
Small kitchens
Making breakfast and dessert, as well as juice
Best All-Round Mid-Range Cold Press: KOIOS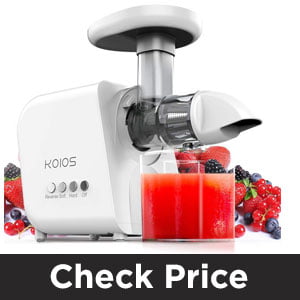 People invest in slow juicers for a variety of reasons. One of the most compelling arguments for juicing is for health.
If you have a medical complaint, celery juice is widely considered to be a great addition to your diet. If you're keen to juice celery, I recommend this KOIOS model.
This juicer does not have any special features, but it can handle almost any ingredient.
The yield is extremely high, especially for the modest price point. I would not go quite as far as to call this a budget juicer, but it's certainly cheaper than many. Consider it one step up from the bottom shelf.
This juicer is covered for a year by warranty (two years for the motor) and is very simple to use and clean. If you're looking for a no-fuss juicing experience without fuss, this is the appliance for you.
Good for:
Fundamental juicing needs
Juicing celery, and other tougher vegetables
High yield of nutrients for a comparatively low-cost outlay
Best Multipurpose One: Omega J8006HDS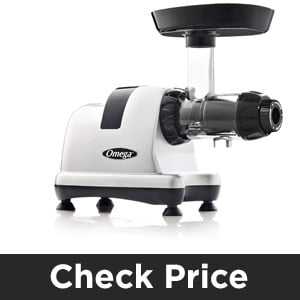 Regular readers of my site will know that I am a big fan of Omega products. This manufacturer has never let me down before. The J8006HDS model is no exception.
Despite running at a higher speed of 80 rotations per minute, this juicer is among the highest-performing models for yield and nutrition. It also works very quietly, so you can juice in peaceful serenity.
If you're looking for some variety in your diet, this model also has a range of extra features.
Nut butter, coffee granules, pasta, crushed and minced herbs, baby food, sorbets, soya milk … all of these are possible with the J8006HDS.
This juicer works quickly and efficiently, but also provides tasty, nutritious, and long-lasting juice. Speaking of which, this device is also built to last. Omega offers a 15-year warranty for the J8006HDS, so you can sleep easy at night. Your juicing journey will not be curtailed by mechanical faults.
Good for:
Faster juicing, without sacrificing nutrition
Variety – this juicer almost doubles as a food processor
Easy maintenance and cleaning
Best Large Chute One: Breville BJS700SIL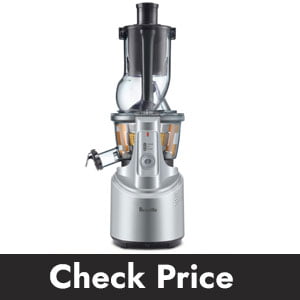 The BJS700SIL is also branded as The Big Squeeze. This should give you an idea of what to expect. This stainless steel juicer extracts very high yields from any ingredient fed into it.
This appliance has the widest chute of any juicer on the market, so you can minimize prep time.
This juicer can accept whole ingredients, such as an apple, without chopping. This makes it the best choice for anybody juicing in a hurry.
It can cope with just about any ingredient, as there are two feeding tubes. The large chute accepts whole ingredients, as discussed. The second is designed for leafy greens.
This is important to note, as a high juice yield on these ingredients is key to a healthy juicing habit.
This juicer has additional features, so it can create more than just juice. It also employs Quick Rinse Technology, so you can perform rapid cleans between uses.
This is ideal if you'd like to change the ingredients for a different juice. There is no need to disassemble and clean the entire appliance until you're done. No more panicking about losing parts in the wash!
Overall, it's tough to find fault with this cold press juicer, especially when we consider the ten-year warranty. Breville has made an impressive mark on the masticating juicer world with the BJS700SIL.
Good for:
Mixing and matching different juices thanks to Quick Rinse Technology
High yields without chopping ingredients
Quiet and efficient juicing
Best for Functionality: Hurom HH-SBB11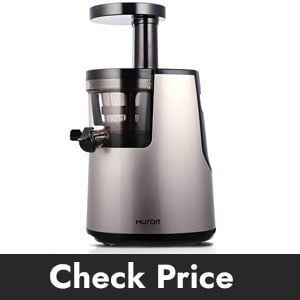 If you are primarily concerned with aesthetics, the HH-SBB11 may not be the juicer for you.
This appliance has a very functional appearance. Looks are not everything, though. Look deeper, and this is one of the finest cold press juicers on the market.
Firstly, and most importantly, it performs admirably. This juicer crushes and squeezes ingredients at just 43 rotations per minute.
This means that you're guaranteed to enjoy high-quality, tasty, and nutritious juice. There are also comparatively few parts to assemble and disassemble for cleaning between uses.
The slow speed also means that you can use this juicer for soft fruits or wheatgrass. Naturally, though, it performs admirably with traditional vegetable ingredients too. You can also make those all-important butter and milk from nuts and beans.
This juicer also contains two strainers, labeled fine and coarse. If you enjoy pure, unfiltered nutrients, use the fine strainer. The coarse strainer allows for fibrous dry pulp or even purees. This appliance is great for making healthy baby food.
The warranty of this juicer is just two years, though the motor is covered for a decade. It's a little more expensive than some competitors but well worth the investment. In terms of pure performance, this is a near-perfect appliance.
Good for:
Soft and fiddly ingredients, including wheatgrass
Options in how pulp and fiber content
Making butter and milk from nuts or beans
Best Commercial Cold Press: Greenstar GS-P502-B Pro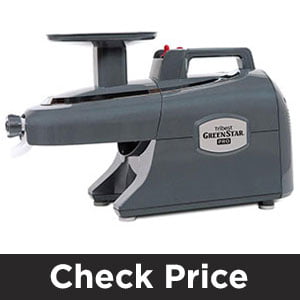 This juicer from Greenstar is a little different from many of the others that I have profiled.
It's still a slow juicer, so it will cold press your ingredients and produce a high yield. It's also a twin-gear juicer though, so it squeezes even more goodness from fruit and vegetables.
As a commercial juicer, this appliance is built for high-quality regular performance.
You'll be able to use it for at least thirty minutes without a break. It's also faster than many slow juicers, with the blades working at 110 rotations per minute.
Thanks to those twin gears, however, this does not sacrifice nutrition or yield in the juice. All parts of this appliance serve a purpose.
This appliance is not great with soft fruits or wheatgrass, however, Feed these with a harder ingredient to keep them moving. Thankfully, the juicer performs admirably with root vegetables. The yield of carrot juice, for example, is phenomenal.
Despite being a commercial juicer, the GS-P502-B is no oversized monstrosity. It will fit neatly on a kitchen countertop. It's also covered by a 15-year warranty for home use.
Good for:
Root vegetables, and other tough ingredients
Fast, constant use
High yields from any vegetable
Best Manual Cold Press: Lexen GP27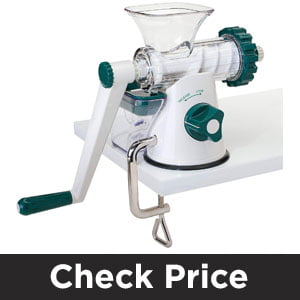 When it comes to cold press juicing, you will typically be at the mercy of technology.
If you are concerned about your juicer breaking down at the worst possible moment, consider the Lexen GP27. This is a handheld, manual juicer. There are no electrical parts to concern yourself with.
This means that you'll need to rely upon your strength. This manual juicer involves cranking a handle, so you'll need some muscle to get it working.
Hard, root vegetables are best avoided, for this reason. If you're looking to cold press wheatgrass or similar ingredients though, this model is ideal.
It's specially designed to gain the maximum possible yield from these soft ingredients. What's more, you can guarantee that your juice will be cold-pressed.
No motor means there is no chance of the juicer running hot. Your juice will be produced at whichever speed you feel comfortable with.
Good for:
Soft and leafy ingredients
Manual operation to ensure slow results
Inexpensive juicing
How Do You Pick a Cold Press Juicer?
A slow juicer is an investment, so you'll want to make sure that you pick the right one. With this in mind, I have pulled together a little buyer's guide to help you on your juicing journey.
Take a look at the following, and note what matters most to you. Once you've done so, refer back to my reviews. This way, you'll have an idea as to which model will meet your needs.
Speed – check how much RPM the juicer works at. The slower the speed, the more cold-pressed the juice
Yield – higher yield means more juice from your ingredients, and more importantly, enhanced nutrition
Ease of Cleaning – is the appliance dishwasher safe? How many parts need to be assembled and disassembled for cleaning? Is it plastic or stainless steel? These are not necessarily deal-breakers, but they do matter
Safety – if you have small children, will tiny fingers be cut on blades or snap off small parts?
Versatility – if you want to do more than juicing, does this model of choice meet that expectation?
Warranty – if you are spending a lot on a slow juicer, make sure all parts are covered by the warranty – not just the motor
I have used all of the juicers above myself, and consider them all to quality as a great investment based on this buyer's guide. That's why I have name-checked them here. We all have different needs and preferences though, so feel free to make up your mind!
Do I Need a Cold Press Juicer?
Not necessarily. Speaking for myself, slow juicers are my favorite. I juice the morning, noon, and night, though. That's why I started this website.
If you enjoy juice less frequently, you may find you need to be served better by a different type of appliance.
If you are still on the fence about whether to invest in a low-speed juicer, let me help. I recommend any of the models that I have reviewed above to consumers that meet the following criteria –
Healthy eaters that want the highest possible yield of nutrition from their juice
Dry pulp enthusiasts
Large families, especially those with young children, that need more than a standard juicer
Leafy green fans – slow juicers are less likely to get clogged by stringy ingredients
Consumers that value both quality and quantity, as these appliances provide a superior yield
However, if you fall into any of the following criteria, you don't necessarily need a slow juicer –
Occasional and experimental juicers
Drinkers of juice for flavor overnutrition
Impatient juicers, or those that want to juice and run in the morning
Loathers of washing up and other cleaning procedures, especially of small parts
Single users that just want juice and nothing else
Shoppers on a budget – slow juicers can be costlier than centrifugal juicers
Consider this advice, and decide if you need a slow juicer. If you don't, I have guides to countless other types of appliances throughout my website!
Why Do Cold Press Juicers Cost So Much?
Slow juicers are masticating juicers, and by their very nature, a masticating juicer will cost more than centrifugal juicers. This is partly because they perform to a higher standard and have multiple uses, and partly because they provide more nutrition in juice.
It's really up to you as to whether an additional outlay is worth it for your unique needs. Only you can answer that question. One thing I will say, however, is that most of these juicers are covered with lengthy warranties. That can be a huge advantage with juicing appliances, which often have many moving parts.
Motors, blades, and small parts can all break while making juice. This doesn't happen often, especially if you take care of your juicer, but it remains a possibility.
With this in mind, ask yourself a question. Would you rather pay once, maybe a little more, and not have to worry about upgrading for some time?
If so, especially if you juice regularly, it's probably worth taking the financial hit on a slow juicer. Check my reviews again, and you'll likely find a model to suit all budgets.
You don't need to spend a fortune. Just enough to ensure that you will not experience buyer's remorse and end up replacing your choice of appliance.
What Can I Use a Cold Press Juicer for?
If I were prone to being facetious, I would answer this question with, "making juice." Naturally, though, I will accept any opportunity to talk about juicers in far greater detail than that!
All jokes aside, the quality of juice that you'll get from these appliances is truly elite. If you have ever sipped at the produce of a juice bar and felt great afterward, they would have used a slow juicer. The nutritional yield in other types of appliances simply cannot hope to compare.
As you'll see from my reviews, slow juicers also serve multiple purposes. Think about your lifestyle. Do you enjoy any of the following?
Nut butter
Almond or hazelnut milk
Sorbets and other frozen desserts
Baby food
Dry pulp as a side dish
If you answered yes to at least one of those, and especially if you nodded along to multiple options, a slow juicer is the one for you. You'll be able to achieve much more than mere juicing with one of these appliances. It will serve multiple purposes in your kitchen.
Cold Press Juicer FAQs
Is a Cold Press Juicer Better?
Better than what? I consider slow juicers to be the best kind of juicer around. It depends on what you are looking for, though.
If you want fast juice, from an appliance that's easy to clean, get a centrifugal juicer. If you want highly nutritious and healthy juice that tastes great, however, a cold press juicer is better.
What Does a Cold Press Juicer Do?
A cold press juicer spins, squeezes, and crushes your ingredients at a slow and steady pace. As it does so, the pulp is separated and the juice extracted.
Pulp and juice are then released from the juicer from two different spouts. You can place a jug under your appliance to collect the juice. Be assured that your juicer has extracted all the goodness from your ingredients.
Is a Slow Juicer the Same as a Cold Press Juicer?
Yes, these two terms are interchangeable. Cold press juicers are sometimes called slow juicers, and vice versa. The blades of these appliances work at roughly 60 rotations per minute.
This is slower than some juicers. However, this slow speed prevents heat and oxygenation in the juicer. This is why the process is known as cold pressing.
What is the Fastest RPM to be Classified as a Cold Press Juicer?
Try to avoid picking up a juicer faster that works faster than 80 RPM. There are exceptions to this rule, but most masticating juicers work this speed. By keeping the process slow, you will enjoy the maximum amount of nutrition possible from your juice.
Can Cold Press Juicers Handle Any Ingredient?
Within reason, yes. One of the great things about slow and masticated juicers is that they work so efficiently. Leafy greens are often a bone of contention for juicers.
If you pick the right slow juicer, however, you'll be able to ensure your appliance does not clog. This will prolong life and make cleaning easier.
How Long is Cold Pressed Juice Good For?
Cold-pressed juice can be kept for around 72 hours. Transfer it to a watertight container, and refrigerate your juice. The sooner you drink your cold-pressed juice, the more nutrition you will enjoy. It will still taste great after three days with these precautions, though.
Is Slow Juicing Healthy?
Slow juicing is the healthiest form of juicing. Because these appliances work at a steady speed, they do not generate heat.
This, in turn, means that your ingredients maintain their nutritional value. Slow juicing ensures that almost every vitamin in your ingredients remains in your juice. Faster juicers produce quicker results, but at the expense of nutrition.
Is Drinking Cold Pressed Juice Good for You?
Yes, cold-pressed juice is great for the body. It's most impactful when consumed on an empty stomach. Cold-pressed juice retains the nutrition of the ingredients.
This means that you're consuming fruits and vegetables in liquid form. Cold-pressed juice can even slow and reverse medical conditions if you use the correct ingredients.
How Long Does a Cold Press Juicer Take to Juice?
This will vary from model to model. It all depends on your appliance and the ingredients you use. On average, expect to wait around 3 – 5 minutes for a 16 oz jug of cold-pressed juice.
You will then need to clean the appliance. There are faster types of juicer. Juicers that work at speed will yield significantly less nutrition, though.
Wrap Up
I hope that guide has answered any questions that you may have about cold press juicing. As you'll see, these appliances are a great choice for anybody serious about juicing. Pick up a cold press juicer today. You'll see – and feel – the difference in no time.