As an alternative to medicine, ginger is incomparable. From ancient times, it has been considered as a more beneficial herbal than any. Consuming it as juice can offer you the maximum benefits than other ways. But for quality produce, the best juicer for ginger is a must.
There are differences between extracting fruit juice and juicing ginger. You need a particularly-designed extractor for squeezing hard ingredients.
Though there are a lot of ginger extractors in the market, a few have a top-notch quality regarding performances and prices. I consider reviewing those best products below.
Top 5 Juicer for Ginger Reviews
Juicing ginger is the best way to consume it. If you want to maintain a healthy lifestyle, it can be a great addition to your diet.
As it is a matter of investment for a ginger juicer, you should prefer the right ginger juicer machine to receive a quality outcome. Let's take a look at the top 5 juicers for ginger.
Top Pick – Omega NC800HDS Juicer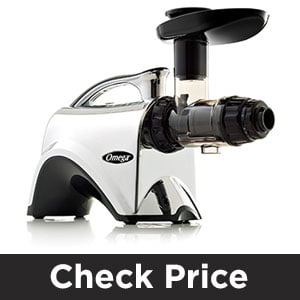 There is a lot to talk about this masticating style juicer, the Omega NC800HDS works at a low speed of 80 RPMs that builds up minimal heat and oxidation.
So, when you are juicing ginger, there will be no loss of the healthy enzymes and components ever.
This juicer has added a new dimension to the juicing industry. As all the functions of it have an advanced touch, you barely have to do something manually.
Fruits or herbs, no matter whatever you juice, its adjustable end cap has settings to make sure proper extraction each time.
This well-built cold press juicer has an automatic pulp ejection process. That means you are allowed to juice as much as you want at a time. Its powerful motor will work perfectly without making any noise.
The masticating extraction of it is unique. It performs in a dual-stage that ensures delicious taste and a good quantity of yields all the time. Based on the overall performance and customers' experiences, I have about no confusion to tag it as one of the best ginger juicers on the market.
Good For:
Using for an extended period.
Extract maximum healthy properties from ingredients.
Continuous juicing with auto pulp ejection.
Juicing in a faster way.
Easy carrying and storing.
Budget Pick – Breville BJE200XL Juicer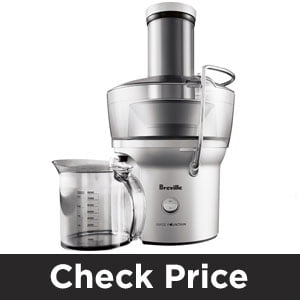 As a heavy-duty compact juicer, the Breville BJE200XL is a top choice for many juicing enthusiasts. It is small and powerful enough to produce quality juices.
At a time, you will receive a good quantity of fresh juice and the drier pulps will gather in the 1.6-quart pulp container.
The faster extraction is the most exciting feature of this juicer. The 700-watt motor inside it operates at a speed of 14,000 rpm to ensure maximum extraction for ginger or any herbs.
As a safety measure, you have to place the juicer cover and the safety locking arm perfectly, otherwise it won't run.
Comparing other juicing appliances, this juicer is the best budget juicer for ginger in the market. It is made of heavy-grade polymer and the cutting discs are surrounded by an Italian-made micro-mesh filter. This juicer is perfectly constructed to produce 30 percent more juice with all the vitamins and nutrients.
With it, you will receive a custom cleaning brush to ease the cleaning of the inside area. For other parts, dishwasher cleaning will properly do the job.
Good For:
Centered large feed chute.
Multipurpose use as froth separator include
Utilizing solid and unique extraction system.
Maximum extraction (Operates at 14,000 RPM).
Easy cleaning with brush and dishwasher.
Upgrade Pick – Tribest GS-P502 Masticating Juicer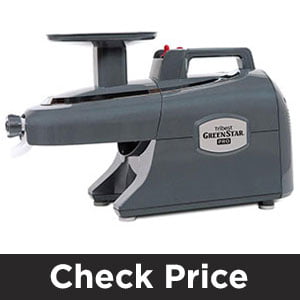 If you want to juice the gingers with an upgraded juicer, then Tribest GS- P502 should be your first choice.
Except for herbs, you can grind fruits, vegetables, or anything you want to with this masticating juicer.
It is combined with fewer parts but the modern and sleek design is a guarantee of healthy juice forever.
This cold press juicer preserves enzymes and vitamins and makes sure no nutrient degradation at all.
No matter whatever you push in it, the outcome will always reach your satisfaction. As minimal oxidation and superior quality juices are the prime expectation from any juicer, this amazing juicer machine is determined to do so
After every use, easy clean-up is the last thing that requires. This juicer has a quick latch system that removes the gears and augurs housing easily. So, you will never face any difficulty to reach and cleaning every corner of the parts.
Processing soft items is not an issue with it. All you have to do is just add the mixing stage between the pressing and crushing stage and the juicing will be done within a short time.
Good For:
Preserving more enzymes and vitamins.
Easy cleaning all the way.
Maximum yields every time.
Variety of uses.
Unbelievable 15-year warranty.
Also Read: Medical Medium Recommended Celery Juicer
KOIOS Juicer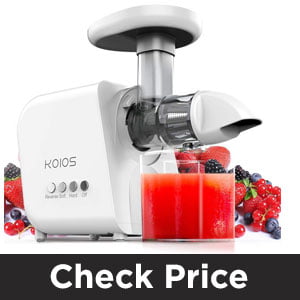 If you want an appropriate separation of juice and pulp, this beautiful masticating juicer can fulfill your needs.
Its slow juicing process is the best feature that health-conscious people love the most.
Ginger or any herbs, fruits, or vegetables, this juicer machine has a 7-level spiral system that will extract the most from any of these.
The yield is safe for everyone, particularly for children as it reduces oxidation and doesn't destroy any nutrients from the juice.
It is solidly built with stainless steel and BPA-free materials. Its slow juicing process (80rpm) extracts all the vitamins and minerals to keep you fit and energized for the whole day.
As it minimizes heat buildup, there is no harm to take the juice within 72 hours after preparation.
The assembling process of this juicer will not bother you at all. If you separate all the pieces from one another, there will be a total of 12 pieces that are easy to assemble and disassemble.
The cleaning of this juicer machine is also so simple. Moreover, the included cleaning brush will make cleaning easy for you. To mention straight away, you will love to own this compact and affordable juicer extractor.
Good For:
Fresh and healthy juice.
Maximum yields and less pulp (drier).
Storing the juice yields for a longer period.
Easy setup and operation.
Faster preparation for its wider feed tube.
SKG Q8 Juicer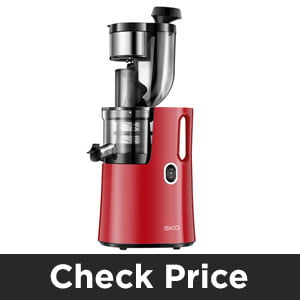 When you want to make your diet more healthful and nutritious, you should start taking ginger juice.
This is why a juicer for ginger shots is necessary and the SKG Q8 vertical juicer can provide you with exactly what you required. You will be surprised with a flavorful juice filled with vitamins and other nutrients.
This masticating juicer has covered all the features that an ideal one has. It works at a low speed (45 RPM) to intact all the nutrients from all fruits, vegetables, or herbs.
Moreover, the oxidation rate will be minimal and there will be low heat buildup which is good for the juices to last long and the appliance will serve the best.
It has two feeders for different ingredients. The wider one is the turnover feed that is perfect for large-sized vegetables. For long thin vegetables and fruits, the hopper feed will work well. No matter whatever you want to juice, the forward and reverse function will grind everything and will leave nothing solid.
This package includes everything to prepare fresh ginger juice. After using, you can detach the parts easily for cleaning. The included cleaning brush will help you to reach every corner of each part.
Good For:
Slow juicing process.
Healthy juice with less nutrition loss.
Separate feeders for large and thin materials.
Forward and reverse function.
Easy operating and maintenance.
Frequently Asked Question (FAQs)
Can You Put Ginger in a Juicer?
Using a juicer, you can juice ginger just like juicing fruits and vegetables. There is no harm in it. As the machine will extract juice from skin and pulp, you do not need to peel the gingers.
Can Ginger be Juiced With Skin?
Ginger is an incredible mince with so many nutrients, even the peel of it is safe to eat. It is full of flavor and you can use it in literally everything. No preparation is needed before juicing ginger as the skin of it is also nutritious.
How do I Make Ginger Juice With a Juicer?
Juicing ginger with a juicer is straightforward. At first, chop or grate the ginger in small pieces. Now put them into the juicer and turn on the appliance.
Use the pusher to place the ginger slices into the feed tube properly. Continue the process until you see the dryer pulp. Pour the juice into a glass and if you want you can add mint or honey with it.
Can I Refrigerate Ginger Juice?
Yes, you can preserve ginger juice by freezing or canning but for a limited time as alkaline foods have short shelf lives. If the juice is kept in an airtight container in the refrigerator, it will last only 24 to 48 hours.
Is Ginger Good for Juicing?
The advantages of consuming ginger juice are many. Though it has the maximum use as mince, you can get more benefits from it by juicing. Therefore, it is completely okay to juice ginger but you have to make sure that the juicer you are going to use can blend ginger properly.
Final Verdict
As you intend to consume ginger juice regularly and enjoy the great taste as well as food values, you need the best juicer for ginger. So, going for the one that can meet all the ginger juicing demands should be the priority for you
Throughout the analysis, I have not only focused on performance, but also price and versatility. If the budget is not a concern, then you should go for the Omega NC800HDS juicer extractor. It extracts ginger well and will serve you for a long time.