Juicing is healthy, but it's also expensive. Juicers with lots of features can be costly appliances. Happily, there are also affordable juicers. You don't need to break the bank for fresh juice. You just need to pick the right model.
In this guide, I will discuss some of the best budget juicers on the market. These models will lack the bells and whistles of some juicers. They'll provide high-quality juice at a low cost, though.
Best Cheap & Affordable Juicer 2021
How Much Does a Juicer Cost?
How much is a new car? What would you expect to pay for a house? If you answered, "it depends", then the same also applies to juicers. Like all electrical appliances and household goods, there are many different price points attached to these gadgets,
If you are reading this particular guide, you are looking for the best low-cost juicer that you can find. That's great, but don't let price be your only guiding principle.
You'll also need to consider the following:
Is the juicer easy to clean?
Can the juicer handle any fruits and vegetables?
Will the juicer clog if you use leafy greens?
Will you get a high yield of nutrition from your juice?
Does the juicer come with a suitable warranty?
You'll also need to decide whether to get a centrifugal juicer or a masticating juicer. These are two very different kinds of appliances, and as a result, come with varying price tags.
The latter is typically much more expensive than the former, for reasons that I will explain at the moment. In a nutshell, though, masticating juicers are usually more versatile, with more features, and offer a higher yield of nutrition.
The best cheap juicers will meet these requirements. They'll just be lower in cost because they lack some of the bells and whistles of other models.
Make sure you do your research, though. The best inexpensive juicers are fine investments, but a poor-quality appliance will soon need replacing.
1. Breville BJE200XL Juicer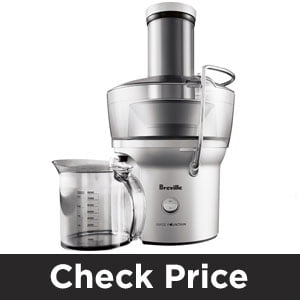 Breville is a big name in the world of kitchen appliances. Big names usually lead to large price tags.
This is not the case with the BJE200XL, though. This juicer is small and perfectly formed, in all ways.
This is a centrifugal juicer, so it's very easy to clean. It works quickly and efficiently with almost any ingredient. You can juice soft fruits and leafy greens as well as harder vegetables. It's also surprisingly quiet.
This one comes with a one-year warranty. In reality, performance may drop after this date. It's a great introduction to juicing, though. If you take to the idea, you can always upgrade after a year or two.
Good for:
Small kitchens with limited space
Fast, efficient no-frills juicing
Easy to clean
2. Mueller Austria Ultra Juicer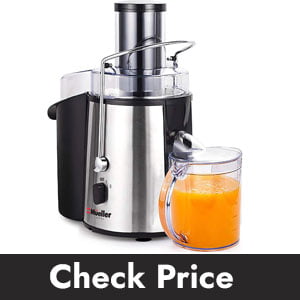 This juicer from Mueller is one of the cheapest on the market. Don't be deterred by this. It's also one of the most versatile. I was impressed by the performance of this juicer.
It has a large chute, so you can feed ingredients whole without chopping. Once you've done so, the centrifugal blades get to work.
This juicer has two speeds. You can use the slow speed for soft fruits, and the high speed for tough root vegetables.
If there is a flaw with this juicer, it lies within the pulp. You'll need to stop to clear the pulp collected by this juicer regularly. If you don't, it will make its way into the appliance.
Overall though, I enjoyed using this juicer. It's covered by a two-year warranty and has a very appealing price tag.
Good for:
First-time juicers that do not want to spend much
Safety-conscious juicing – this model has a range of safety features
High yields at a low price
3. Aicok Juicer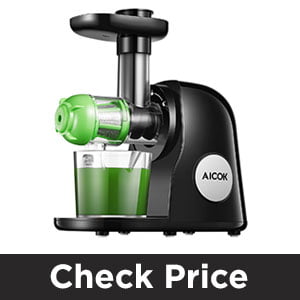 Unlike many of the budget juicers, I'll discuss here, this Aicock model is a cold press juicer.
This means that it will be costlier. The trade-off is that you'll receive more nutrients than ever from your ingredients, making this a great model for health-boosting juice.
This juicer is covered by a three-year warranty, and it's almost certain to last this long. It may perform to a high standard for even longer. It can also run for at least fifteen minutes without a rest.
If you spend a little more and pick up this Aicok model, you'll taste the difference. It's cheap in comparison to other slow juicers but still works admirably. If more considered juicing interests you, this is the ideal appliance.
Good for:
Masticated juicing on a budget
Small or narrow ingredients, or juicers that don't mind chopping. This appliance has a small feeding chute
This juicer is particularly impressive for medical medium celery juicing
4. Hamilton Beach 67601A Juicer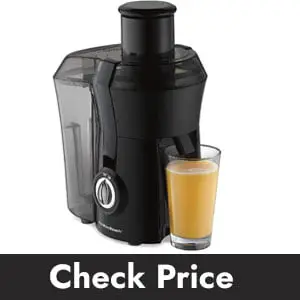 If you're looking for affordable juicing without fuss, this Hamilton Beach model is impressive.
It's not the prettiest juicer in the market, is made of black BPA-free plastic. It performs its duties admirably, though.
I can describe this juicer in two words – functional and unfussy. It has a wide chute, so you can feed whole fruits without chopping.
You'll need to hold onto the device while it works, though. It may topple over otherwise. It's pretty loud, too.
You'll likely find this model is the cheapest of all those that I have reviewed.
This comes with certain caveats in performance. If you'll only be using your juicer occasionally, however, it's worth a shot. With a three-year warranty, you'll have plenty of time to save for an upgrade. You enjoy plenty of delicious juice in the meantime.
Good for:
The cheapest possible way to make fresh juice
Fast and efficient juicing with a comparatively impressive yield
Easy and efficient cleaning – most parts of this juicer are dishwasher-safe
5. Breville JE98XL Juicer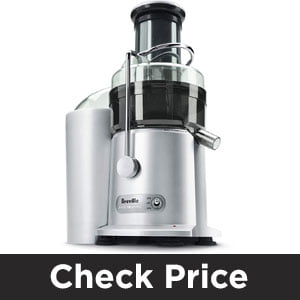 The second Breville juicer that I am covering has a few more options than the BJE200XL. For example, this juicer has two-speed options.
This means that you can tailor your juicing to your ingredients.
It has a very wide chute, so you'll save on chopping and prep time. An in-built fourth separator will also make sure that your juice is ready to drink.
Be aware though, this juicer struggles with leafy greens. Feed these alongside a tough vegetable to ensure a smooth juicing experience.
This yield is high from this juicer, and it's easy to assemble and take apart. This, naturally, makes cleaning a breeze. It won't last forever, and the warranty is just a single year. However, the JE98XL is worth considering as a first juicer.
Good for:
Saving time on chopping and preparing
Mixed juice that combines a variety of soft and hard ingredients
The soft pulp that can be used as a side salad
6. Cuisinart CCJ500 Juicer
This juicer from Cuisinart is tiny, efficient, and very cheap. There is just one drawback – it's a citrus juicer. If you are solely looking for an electronic appliance to juice lemons, limes, and oranges, it's perfect. If you have vegetables in mind, look elsewhere.
Let's focus on what this juicer can do, though. If you are looking for citrus juice, it's quick and efficient. The appliance works quietly. You won't need much strength in your hands to use it, either.
The juicer has a three-year warranty, and it's easy to clean and assemble. It can cope with any kind of citrus fruit and makes delicious juice from these ingredients. If you want lemon water or fresh juice from an orange or grapefruit, this model will also meet your needs.
This juicer is limited in its scope. Happily, it's small and cheap enough to sit alongside another appliance. If you want optimum citrus juice and vegetables, you'll need two devices.
Good for:
Quickly juicing citrus fruits – it's much faster than a manual juicer
Precision measurements of juicing
Pulp control, especially when making orange juice
Why Do Some Juicers Cost More Than Others?
Many things factor into the price of a juicer. Some of these are reasonable factors for adding dollars to a price point.
Others are more a case of the manufacturer chancing their arm and hoping customers will blindly pay more than necessary for fresh juice. Lucky you – you have my advice to prevent you from falling into that trap!
Some of the biggest reasons for varying price points are –
Brand Name – some brands, like Breville, have firmly established themselves as high-quality and reassuringly expensive juicer manufacturers. Others, such as Hamilton Beach, are slowly but surely making their name in the business and are priced accordingly. Just remember, the more popular and commonplace the brand name, the easier it will be to source spare parts
Versatility – some juicing appliances come with additional features. This could include the ability to create nut-based butter and milk, pureed baby food, or frozen desserts. You're unlikely to find these options on a cheaper model, especially a centrifugal juicer
Performance the performance of a juicer will likely play a role in its price tag. Some lower-cost models may struggle with particular fruits and vegetables. The same can also be said of certain expensive juicers though, don't put too much stock in this
The real price difference comes from the type of juicer that you buy, though. Centrifugal juicers will always be cheaper than masticating juicers. This is because the latter appliances more slowly at low temperatures, improving yield and nutrition.
That is not to say that centrifugal juicers are a waste of money. If you only plan to juice fruits and veggies sporadically and you're on a budget, get a centrifugal juicer.
It will be perfect for your needs. Just understand the difference between the two types of appliances – and their respective costs.
Should I Buy a Cheap Juicer?
"Cheap" can be a loaded term. Do not set out intending to find the best cheap juicer. This could lead to you picking up a substandard model. Instead, consider what is the best affordable juicer for our budget. This opens up a range of new opportunities to find the perfect appliance.
Cheap juicers that work well are the dream purchase. We all like the idea of a good juicer that doesn't cost the earth.
You can also find such a unicorn appliance – especially if you pick up one of the models that I have recommended. You'll just need to do your research and shop around.
How Do I Get the Best Value from My Juicer?
To strike the perfect balance between performance and price point in your appliance, get a pen and paper. You're going to need to make some lists.
The point of this exercise is to work out what matters most to you and to define what you consider to be valued. This word has a different definition for every consumer.
Things to consider include…
What fruits and veggies are you hoping to juice? Does the appliance work with these ingredients?
What level of nutrition are you aiming to get from these fruits and veggies?
How often do you plan to use your juicer?
Do you want your appliance to create more than just juice?
How long is the warranty on the appliance? You won't want to replace it too soon
Does the juicer fit into your kitchen, and do the aesthetics match your color scheme?
Once you have made your juice, how difficult is the appliance to clean?
Once you have gathered this information, look for an appliance that meets all your needs without breaking your budget. You may need to look around a little, but you'll find something. There is a dream juicer for everybody, I'm certain of it!
Finally, shop around for your juicer. Don't get ripped off by a high street department store – you'll likely find the same model cheaper online.
I recommend purchasing from Amazon where possible (you'll find a link to every juicer that I review above). This is almost always the fast track to the lowest cost and fastest delivery time.
Cheap Juicers FAQs
What is the Best Inexpensive Juicer to Buy?
This all depends on what you want from your appliance. When recommending a budget model, I'd suggest Mueller Austria Juicer Ultra.
This is one of the cheapest models on my list, and the best juicer for the money. It's a great choice for new or occasional juicers.
Is a Juicer Worth the Money?
If you are going to use your juicer, then yes. Juicing has a range of health benefits. You'll be consuming fresh fruits and vegetables throughout the day.
This will flood your body with vitamins and nutrients. If you're unsure about juicing, start with one of these budget models.
Why is a Slow Masticating Juicer More Expensive Than a Centrifugal Juicer?
The juice extractor on masticating juicers works much slower than on centrifugal juicers. This is a good thing; it means that a masticating juicer produces a higher yield.
If you're looking for the best budget juicer for health reasons, look for a slow masticating appliance. Juicing with this gadget may earn great results.
Is a Cheap Juicer Machine More Likely to Break?
Not necessarily, but remember that there is always a reason for appliances to cost what they do. If you are concerned by the hardiness of inexpensive juicers, look at what they are made of.
The best economical juicer material is dishwasher-safe stainless steel. You'll find such juicers on the list above.
Can Cheap Juicers Handle All Ingredients?
Good cheap juicers can. As always, it's important to look for the best value in your appliance. Even the most expensive juicers can struggle with certain fruits and vegetables or leafy greens.
Do some research on the power of the juice extractor found on the best low-priced juicer that caught your eye.
Wrap Up
If you are a novice juicer, you don't need an elaborate and expensive model. I recommend the Mueller Austria Juicer Ultra. In my eyes, this is among the best affordable juicers on the market.
You can always upgrade to a more elaborate appliance later. I'm sure that you'll quickly realize that juicing is healthy, easy, and fun.