I consider myself a juicer expert and aficionado, so it takes a lot for a new appliance to impress me. Having said that, receiving a new juicer is always an exciting time for me. Hey, we all have our quirks!
The latest model to cross my path is the Omega MM900 HDS. That, in itself, was enough reason for me to sit up and pay attention. Omega has never let me down in the past, and the brand enjoys a stellar reputation for a reason.
Having taken the MM900 for a spin, I was impressed with how this juicer performs, especially with celery. Having said that, there are caveats to my praise. I wouldn't necessarily recommend it as an upgrade on other models for general ingredients. I'll explain more throughout this review!
Unboxing the Juicer
First thing's first – let's take a look at what you'll find
in the box, if you purchase this juicer. It contains:
The motor body
Patent-pending specialist celery-extracting tech
(more on that later!)
Juicing cone
Ingredient plunger
Cleaning brush
Cups to catch juice and dry pulp
The motor body is identical to the Omega J8006, so there is an element of familiarity there. You know what to expect from an Omega juicer by now anyway, though. This model has sleek, rounded edges and a silver chassis. It's a classic design, so why mess with it?
This appliance stands at a little over 15 inches tall, and it weighs 13 lbs. This means that it will fit comfortably on just about any kitchen countertop and can be moved if necessary.
Overall Features and Reviews of Omega MM900HDS
Power and Performance
OK, onto the stuff that matters – the performance of this juicer. Happily, it ticks a whole range of boxes on this score too. As with all Omega juicers, the MM900 is more than just a pretty face.
The first thing that struck me was just how quiet this juicer is to operate. Some juicers sound like World War III is breaking
out when you switch them on. Not so here. I could hold a standard conversation over the sound of the appliance. I could even hear the kids watching TV in the next room!
This is a slow, masticating juicer, so it pulls the maximum nutrition from your ingredients. The MM900 runs at 80 rotations per minute. This ensures that your juice isn't just healthy, it's also long-lasting.
You can store juice created in this appliance for around three days in the refrigerator. There was a touch of oxidation to the juice, though. I couldn't help but taste that. This issue was magnified when I used the juicer twice in quick succession.
The power requirements are also pretty standard here. You'll need a wall socket, and this juicer runs at 200 watts / 120 volts. That's impressive stuff for a motor with 2 HP of power.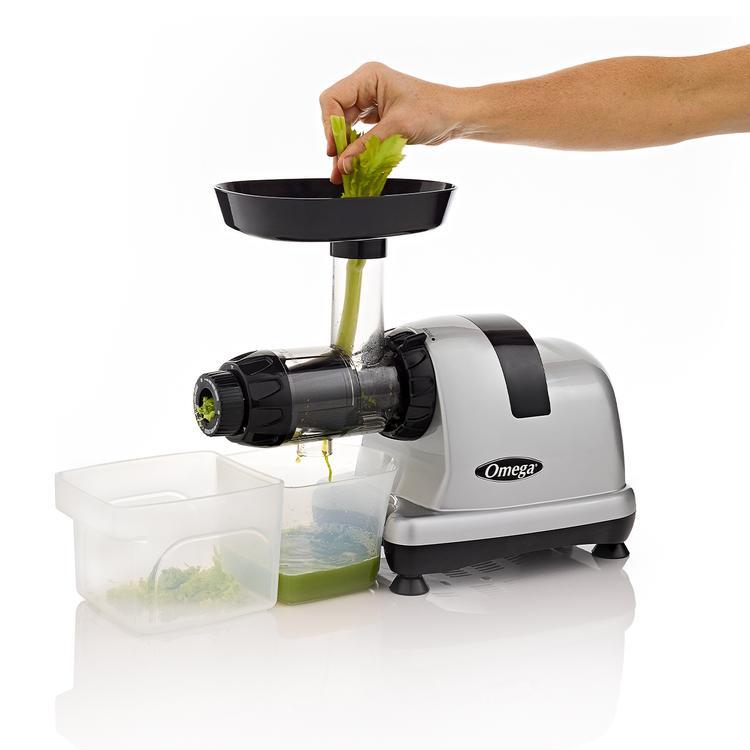 Suitable Ingredients
Do you enjoy celery juice? If so walk, don't run, to your nearest retailer and pick up this appliance. That sounds like hyperbole, but I'm being entirely serious. This is the best celery juicer on the market – mainly thanks to the fact that it contains an aforementioned component specially designed for celery.
Finding a juicer that can cope with this ingredient is something of a holy grail. Don't just take my word for it, either. Anthony Williams, the celebrated and respected Medical Medium, also strongly recommends the MM900 for this very reason.
All the same, don't make the mistake of thinking that this juicer is a one-trick pony. It can also cope admirably with several complicated ingredients, including leafy greens. You'll be able to enjoy fresh green juice, with minimal pulp, in no time at all.
Of course, this is still a conventional juicer. You can use soft fruits – including citrus – and vegetables to enjoy a healthy breakfast. Whatever ingredients you feed into this appliance, you're guaranteed a high yield.
The same can be said of other juicers though, some of which may be cheaper and offer more features.
Cleaning and Maintenance
If you still need convincing about the abilities of this juicer, consider the cleaning and maintenance procedure. You can wipe your juicer down after use, keeping the exterior ship-shaped and shiny.
In addition, cleaning the many and varied components of the juicer is simple. You'll need to disassemble it, but as we've discussed, that doesn't take long at all. You'll also need to wash it all by hand. This juicer is not dishwasher safe.
Like all Omega products, the MM900 boasts a 15-year warranty. If you experience an issue, you'll be covered for a long time! Just be aware that, if you use this juicer in a commercial setting, this warranty drops to a year.
Conclusion
Overall, I cannot recommend this appliance highly enough to keen celery juicers. If you're using this ingredient for health reasons, this is the model for you. The fact that it runs so quietly is another advantage.
If you're looking for a more general juicer, however, you can still shop around. The MM900 works best as a one-and-done juicer. A model like the trusty Omega NC1000 may remain worth considering if you're looking to create a range of juices for the entire family.