Regular readers of this site will know how highly I rate Omega juicers. The NC800 and NC900 have both previously been my 'overall pick' lists on various best buy lists. As you can imagine, this means that I was very excited to experience the Omega NC1000!
I'm happy to say that I was not disappointed. I won't claim that this juicer reinvents the wheel or changes the way that I look at juicing. It's very much a case of evolution, not revolution.
When the starting point is so strong, however, that's no bad thing. There is no need for Omega to change the way they approach their appliances. Let's take a deeper dive into what the Omega NC1000 has to offer.
Unboxing the Juicer
There are no real surprises in store when you unpack the contents of the NC1000 box. All the usual suspects are available, with a few twists. You'll find:
The motor body
Bowls to catch juice and pulp
The feeding cone and tube
A homogenizing cone – ensuring that every drop
of juice retains the same flavor
A pulp strainer
A plunger
A cleaning brush
6 different nozzles
It's the latter component that always catches my eye. Six different nozzles ensure that you can tailor your juicing experience to the ingredients that you choose. If you're looking for variety, this is the appliance for you!
Power and Performance
The NC1000 looks pretty much identical to its predecessors. As always, however, there are subtle performance improvements. There was nary a bubble in sight when I sipped at the orange juice this appliance created.
The NC1000 has a highly powerful motor, but that doesn't result in loud operation. It's a single-gear juicer, with the blades operating at 80 rotations per minute. Unlike some juicers – even high-end and expensive models – I didn't taste any hint of oxidation in the juice.
Perhaps more importantly, it boasts a fantastic yield from the ingredients fed into the juicer. The juice will hold for around 72 hours, which is another bonus. While there will be an element of investment required for this model, but you'll make your money back – and more besides – in lower grocery bills in the future.
The juicer also worked constantly, without a break and without sacrificing performance. This is critical if you're not simply looking for a juicer to use once and then clean. You'll be able to juice up a storm and treat your entire family, not facing any complaints that the third or fourth serving tastes warm and pulpy.
The wattage of this juicer is just 200 watts, so it's eco-friendly too. As you'd expect from Omega, the NC1000 also boasts ETL and CE certification.
Suitable Ingredients
You can feed just about anything into this juicer and not experience a drop in performance. That's always a huge positive for a juicer in my book!
Unlike inferior appliances, this juicer handled stringy and leafy greens without any kind of fuss. I didn't once have to stop to unpick kale from the blades, which was a relief. The juicer breezed its way through soft fruits, too.
Don't forget that this juicer can create far more than just juice, either. The six different nozzles add a great deal of variety to your options. I also created spaghetti and almond milk with this juicer and was thrilled with the results.
The pulp collected by this juicer was dry as a bone, too. That's great news for anybody juicing for health reasons. You'll be able to sprinkle beets, celery, or anything else over a salad and enjoy some solids with your liquid meal.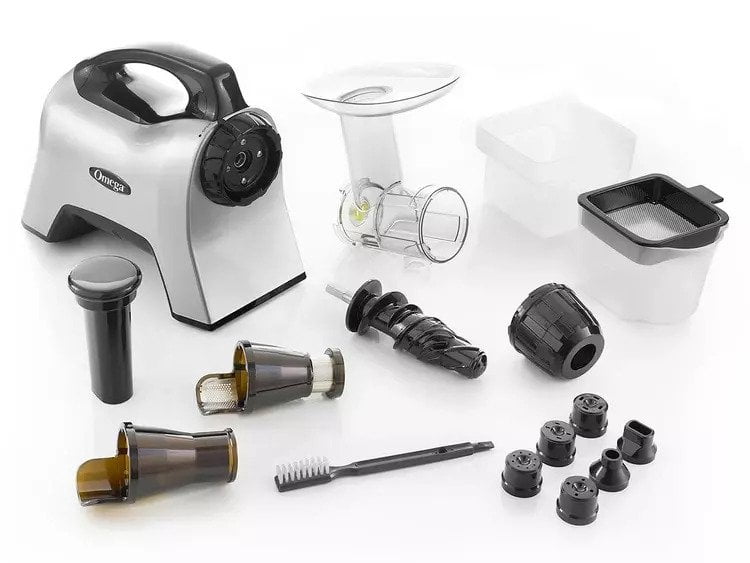 Cleaning and Maintenance
It's a simple process to clean this juicer. You'll need to do it all by hand, but once you master the disassembly of the juicer you'll be done in a couple of minutes. Just use soapy water, applying the cleaning brush to any hard-to-access corners.
As this is a new juicer, I cannot comment on its long-term prospects. I haven't used it enough for prolonged periods to say how it will hold up a year from now.
It seems as sturdy as any other Omega model, though. If the previous appliances from the same range are anything to go by, it'll keep on ticking for quite some time. If it does develop a fault, you can sleep easily at night. The NC1000 comes with Omega's standard 15-year warranty.
Conclusion
If you already own an NC800 or 900 and are perfectly happy with its performance, there is no real need to rush out and upgrade to the NC1000 immediately. Give it a year or two for the price to drop.
If your existing juicer is getting a little older, however – or you're in the market for a top-of-the-range juicer for the first time – this is a great option. You can never go wrong with an Omega, and this model is the current jewel in the manufacturer's crown.