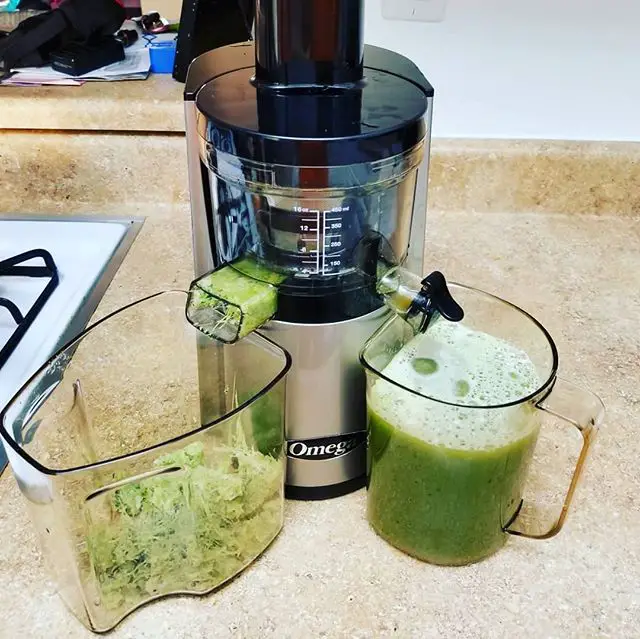 Choosing the best juicer for greens is a great way to improve your health. Whether you're recovering from illness or just looking for a boost to your body, leafy greens hold all the answers.
Unfortunately, finding the best juicer for kale and spinach is not easy. Some appliances struggle with these fine, stringy ingredients. That's why I decided to write this guide. Below, you'll find reviews of seven of the best juicers for leafy greens on the market today.
Pick of the Best Juicer for Greens 2020
What Type of Juicer is Best for Leafy Greens?
Always use a low speed juicer for leafy greens. The reason to juice these ingredients is the health benefits they provide. A cold press juicer will squeeze every ounce of goodness from your greens.
You may prefer to use a manual juicer. This will take patience, and you'll need strong hands to operate such an appliance. You'll definitely enjoy the goodness of your greens this way, though.
Be aware that not all centrifugal juicers cope well with leafy greens. You may need to juice another, solid ingredient at the same time. If you stick with one of the models I suggest below, however, you'll be fine.
Here's Our 7 Best Juicers for Green Reviews
Top Pick – Omega VSJ843QS Juice Extractor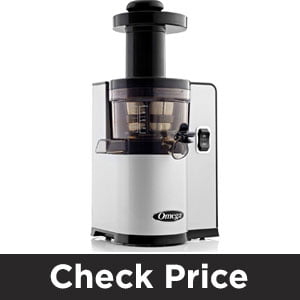 The Omega VSJ843QS is a bona fide powerhouse when it comes to juicing greens. The blades of this juicer work at just 43 rotations per minute. This ensures that not a drop of nutrition from your ingredients goes to waste. It's also as quiet as a mouse while operating, and very easy to clean.
You'll need to cut your leafy greens into small pieces with this juicer. Failure to do so can clog the pulp container. That's par for the course with all juicers, though. This model handles its ingredients better than most. It's particularly good when you feed a solid base ingredient alongside your leafy greens.
This masticating juicer is backed by an impressive 15-year warranty. This, coupled with the high performance, means that you can enjoy healthy juice for a prolonged period.
The low low speed juicer also offers a number of additional features. It can be used to make butters and sorbets, as well as juice. This Omega juicer is definitely my top overall recommendation.
Good for:
Juicing hard vegetables alongside your greens.
Different uses alongside juicing.
High, nutritious yield.
---
Budget Pick – KOIOS High Yield Juicer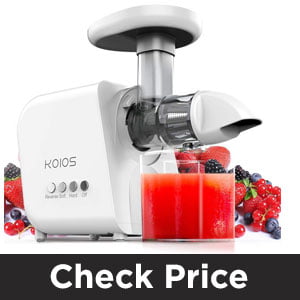 If you're new to juicing, you may be reluctant to spend big on an appliance. This model from German manufacturers KOIOS is a great stepping stone. It's budget-friendly, without sacrificing too much in the way of performance.
This juicer has two speed settings, so you can vary your ingredients. It's an impressive carrot juicer for the price, for example. You can juice carrots on the hard setting, and add your leafy greens as the appliance works.
Despite the blades working at 80 rotations per minute, this model is also quiet and offers an impressive yield. The warranty is just for one year (two for the motor.) You may be ready to upgrade after this time, though.
Obviously, as a budget juicer, this appliance is not state of the art. It's comparatively no-frills, especially compared to the other models I'll review. If you're looking for a cheap juicer to do one job and do it well, however, this is the appliance for you.
Good for:
Cheap and basic juicing.
Variety between tough vegetables and soft fruits.
High yield and limited waste.
---
Upgrade Pick – Tribest GSE-5000 Juicer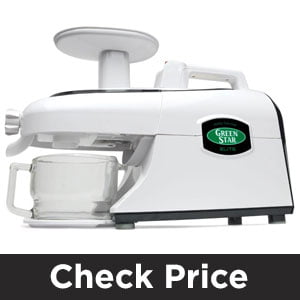 No matter how happy you are with your juicer, you may want an upgrade. That's part of the fun of kitchen appliances. If you're looking to climb the juicing ladder, consider the GSE-5000.
I enjoy delicious green juice with little pulp every time I make use of this large and powerful model. This juicer, which boasts a whopping 12-year warranty, is an impressive appliance.
The blades rotate at 112 rotations per minute, which is fast for a juicer of this type. The jumbo twin gear ensures that no benefits are lost, though. I was surprised at how well this model handled leafy greens.
Cleaning is also simple with this device – even more so if you juice a lemon after your greens. There are very few parts to attach and remove. Couple this with the many and varied functions of the GSE-5000 and you have a great model.
Good for:
High yields for minimal effort.
Choosing how much pulp is preferable in your juice.
Flavorful juice that makes the most of every ingredient.
---
Hurom H-AA Juicer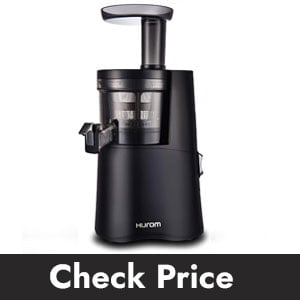 The H-AA is a beautiful slow juicer to look at. It's sleek, slimline and effortlessly modern. Happily, the performance lives up to the aesthetic. With blades that work at 43 rotations per minute, you'll enjoy plenty of goodness from your greens with this model.
The juice was delicious, and I was able to choose how much pulp made it into my drink. I was also impressed with just how quiet the model was. I barely heard a peep from the appliance while it was in use.
The biggest selling point of this juicer is that it can handle anything you throw at it. From the toughest root vegetables to the softest fruits, it just works. Naturally, you're most interested in the performance of leafy greens, I'm happy to say that this model handles such ingredients with aplomb.
This juicer can also be used to make tofu and ice cream, and the motor is under warranty for ten years. With this in mind, there's little going against this appliance. You may not be familiar with Hurom's hardware, but I get the feeling these guys will soon be major players.
Good for:
Juicing any ingredient that you can think of.
A sleek, appealing look (with three colors to choose from)
Steady, regular use.
---
SKG Q8 Juicer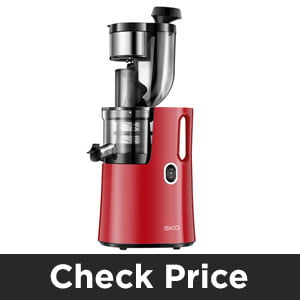 One of the biggest selling points of this juicer of SKG is the size. Some juicers can be a little cumbersome and take up a great deal of space. This is not the case here. The Q8 is comparatively pocket-sized when help up to some competitors.
Happily, this juicer is proof that big things come in small packages. It has a wide feeding chute, so you won't need to spend hours chopping your base ingredients. This model is impactful as a celery juicer. I suggest using this vegetable alongside your greens for maximum nutrition.
Chop your leafy greens as small as you can before using this juicer. Like all similar appliances, the greens will get tangled in the blades if the ingredients are too large. The good news is that the wide chute means that you'll save time on chopping your celery or other base ingredients.
At two years, the warranty isn't the longest. Thankfully this juicer is reliable, so you're unlikely to need it. This is a great addition to any small kitchen.
Good for:
Juicing bigger ingredients alongside your greens.
Adding fruit to your juice for variety and flavor.
Small kitchens with limited space.
---
Lexen GP27 Healthy Juicer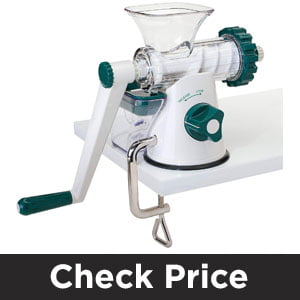 Technology is great, but sometimes there is no substitute for the personal touch. That's where this device comes in. The Lexen GP27 is a manual juicer. You simply add your greens to the chute and crank a handle to crush and squeeze the juice from them.
Yes, this is more work than an electronic appliance. You'll also need some power and muscle to really get it working. More importantly, it's designed almost exclusively for leafy greens. You'll struggle to get a root vegetable through this juicer.
If you're looking for a no-nonsense approach to juicing greens, the GP27 is the answer. It can be cleaned with a 30-second rinse, and the results are breathtaking.
Some people may miss the variety afforded by an electric juicer. This model is ideal for anybody with strength in their arms and patience in their heart, though.
Good for:
The ultimate cold press. Manual juicing generates no heat at all.
Fast assembly and cleaning.
The greatest yield from leafy greens.
---
Kuvings B6000S Juicer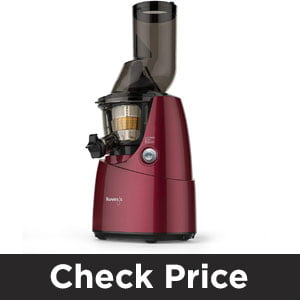 Kitchen appliance consumers know where they stand with Kuvings. These manufacturers have been providing reliable, high-quality appliances for years. The B6000S is no exception to this. It's a solid, sturdy and reliable juicer at an appealing mid-range price point.
This appliance offers a wide feeding chute, which is handy for additional ingredients. Leafy greens sometimes get trapped around the blades, but this is easily resolved. Feed your greens with a base vegetable, and cut them as small as you can. There's also a reverse button.
This juicer works at 60 rotations per minute and offers an impressive yield. There is little pulp, which means a small amount of waste. Kuvings also offer a ten-year warranty. This is ideal, as the B6000S is a versatile product. It can also create baby food, smoothies and nut milks.
If you're looking for a high-performing juicer that will not break the bank, this is the model for you. There are obviously better, more elaborate appliances out there. As a jack-of-all-trades however, the B6000S performs admirably.
Good for:
High performance without breaking the bank.
Aesthetic versatility – the B6000S is available in four colors.
Fast and quiet operation.
---
What are the Different Kinds of Greens, and Which are Best for Juicing?
Leafy greens are exactly what they sound like. Vegetables that grow as leaves, usually on stalks or stems.
These are amazing superfoods that provide the body with a range of benefits. If you juice leafy greens, you'll look and feel amazing in no time. Even the stems are packed with goodness. They can sometimes taste bitter though, so check this before juicing.
The healthiest leafy greens that belong in anybody's diet include:
Kale.
Spinach.
Arugula.
Collard.
Watercress.
Chard.
Romaine Lettuce. Avoid Iceberg Lettuce where possible – Romaine is tastier and healthier.
You'll be able to find many other types of leafy greens if you shop around. The examples I provided above will be available at any supermarket or grocer.
If you visit an Asian supermarket, you'll find other, more exotic leafy greens. These will be just as tasty and nutritious.
There are so many health benefits to juicing leafy greens that I barely know where to start. Among the key reasons to bring these ingredients into your diet are:
Leafy greens reduce inflammation. This lowers the risk of cancer and boosts your general immune system.
Leafy greens slow down the aging process – physically and mentally. You'll look younger and think sharper.
Leafy greens are pivotal to heart health, reducing the risk of stroke or heart attacks.
Leafy greens balance the sugars in your blood. You'll feel full for longer, and not have an energy crash.
Leafy greens contain calcium that ensures your bones remain strong.
As you'll see, there are plenty of reasons to start your day with leafy green juice.
How to Juice Leafy Greens
Once you have chosen your appliance, you're ready to make your juice. You'll need to ensure you do this properly. Leafy greens can be fussy ingredients.
Every juicer is different, so check your instructions carefully. Your particular model may have specific requirements. Most often, however, the following technique will see you right.
Choose a solid base ingredient to add to your juice. This should be a green vegetable that's high in water. Cucumber or celery is best.
Collect your leafy greens.
Examine the leafy greens. Remove any brown leaves, as these will be devoid of nutrition.
Chop your leafy greens. Take the time to do this properly. The smaller your greens, the better your juicer will handle them.
Choose an extra ingredient that will add flavor for your juice. I recommend lemon, but you could also use an apple.
Wash all of your ingredients thoroughly.
Feed half of your base ingredient through the juicer.
Once the juicer blades have warmed up, add your leafy greens.
If the juicer is struggling to process the greens, feed the other half of your base ingredient. This will help the greens through the process.
Once you have juiced your base ingredient and greens, juice your finishing ingredient.
Pour your juice into a glass.
Empty the juicer of any pulp.
Clean the juicer thoroughly ahead of your next use.
It may take a few attempts to master juicing leafy greens. Once you do so, however, the results will speak for themselves. Your body will thank you for your perseverance!
Wrap Up
This concludes my guide to finding the best juicers for leafy greens. If you can afford the Omega VSJ843QS, it's highly recommended. This appliance is definitely the best juicer for greens, and you'll soon start to feel the benefit of using it. Any model is better than none, though. Bringing leafy green juice into your diet will change your life for the better.