To energize your body, make the juicing simply fun, Omega offers many powerful and user-friendly juicers. Manufacturing all styles and purpose-based juicers such as Citrus, Centrifugal, and Masticating, Omega always makes sure the highest quality of their products.
The following Omega juicer reviews include a few of the best juicers that satisfy all your requirements.
Pick of the Best Omega Juicer 2021
How does Omega Juicer Works?
Omega juicer is equipped with a powerful auger. Its wide feed chute allows you to put larger slices of fruits and vegetables,
some whole fruits can be put directly in the chute. After properly assembling the machine, simply turn on it.
Put the ingredients into the feed tube, and add some pressure on the ingredients so that they can enter into the machine. The juice yield and pulp will be separated automatically.
Two different bowls will collect juice and pulp. After juicing your desired amount, you can use the reverse function to unclog and clean the juicer.
Pros of Omega Juicer
Available in a lightweight and convenient size
Relatively quiet in operation
Sturdy design and BPA-free health-grade materials
Efficient to extract more juice and retain quality
Versatile can make many items including the juice
Cons of Omega Juicer
Here's Our 5 Best Omega Juicer Reviews
Top Pick – Omega J8006HDS Juicer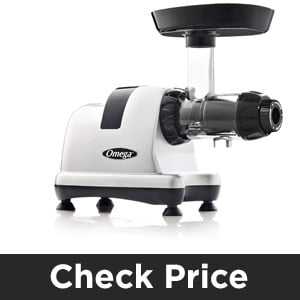 When it comes to picking the best omega juicer, I suggest going straight for Omega J8006HDS Nutrition Center.
This juicer is capable to offer what you desire from a top-quality juicer, not to satisfy only your juicing requirements but also to enhance the appearance of your kitchen.
You'll first fall in love with its glossy design. It is constructed with sturdy materials. Chrome exterior adds value to your kitchen. The horizontal auger is really a brilliant placement that improves the overall quality of the juicer.
This juicer features a dual-stage juicing mechanism that operates with a powerful motor. That's why you can always get the maximum
juice from any soft or hard ingredients. Auto pulp ejection enables the juicer
to work continuously.
You might be bored with many juice extractors that produce bothering noise. Well, Omega J8006HDS will always serve you quietly. Moreover, this is good for grinding coffee and making frozen desserts.
Good for:
Juicing wheatgrass and leafy greens.
Enjoying the natural taste and maximum nutrients.
Juice with a longer shelf life.
Budget Pick – Omega VRT350X Vertical Juicer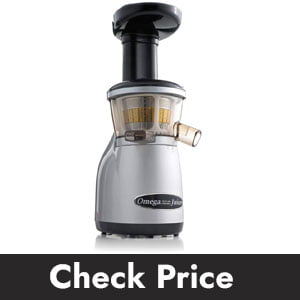 If you ask me to name one of the best juicers, then I, without any hesitation would answer Omega VRT350X as the best one.
This modern and efficient juicer is designed uniquely in a vertical shape, which doesn't take much space in the kitchen.
Most juicers process at 1,650 RPM to 16,000 RPM which causes the juice to degrade quickly.
But this juicer processes at 80 RPM, which restrains oxidation as well as aids to store the juice safely for up to 72 hours without any degradation.
This budget-friendly juicer is less expensive than other juicers. It is relatively easy to clean as it has an auto-cleaning system which increases its productivity and keeps the screen clear during processing.
This compact juicer is less noisy than other juicers and food processors in the market. It has an advanced noise
reduction system, perfect for those who like minimal noise from their juicers.
Good for:
Easy cleaning.
Budget-friendly juicing.
Saving power-efficient use.
Upgrade Pick – Omega VSJ843QS Vertical Juicer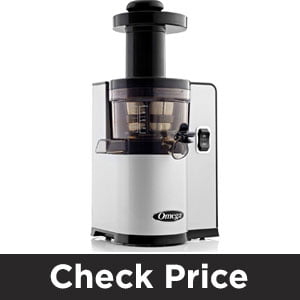 This omega VSJ843QS works at 43 RPM, which operates at a notably lower speed making it the most efficient juicer.
You can squeeze juice from vegetables, fruits, wheatgrass, or leafy greens giving you fresh and tasty juice, and this juicer delays oxidization and increases the juice's shelf life.
This juicer provides the highest amount of extraction and the healthiest possible juice, making it a top juicer in the market. The auto-cleaning system of this juicer helps to increase the juicer's efficiency and keeps the screen clear.
It features a twin-wing auger that powers the Automatic Wiping System (AWS). That rotates as the juicer operates, removing away any pump buildup from the juicing screen with the help of its silicone wiping blades.
Also, recommended a juicer for medical medium juicing John Kohler.
It keeps all necessary vitamins and minerals intake in the yield while providing tasty juice. This compact and nice-to-look juicer come with a 15-year warranty on its motor and all other parts.
Good for:
Minimal oxidization.
Auto-cleaning system.
Squeezing juice from any type of fruits and vegetables.
Omega NC800HDS Juicer Extractor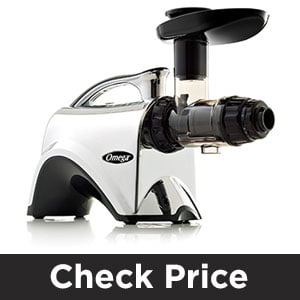 This quiet but powerful Omega Juicer NC800HDS is equally efficient in processing juice from a minimum amount of vegetables, fruits, wheatgrass, and leafy greens.
But it can extract the highest amount of vitamins, nutrients, and taste from them.
Its adjustable end cap has settings for maximum juice extraction and output.
This juicer not only processes juice but also grinds spices and coffee, extrudes pasta, whips up soy milk, mince garlic and herbs, and turns nuts into nut butter in a few minutes.
Its dual-stage slow extraction helps in extracting the juice with maximum efficiency by separating the juice from the pulp, giving healthy and nutritious juice. You can easily wash this juicer with soapy water immediately after using it with your hands.
This nearly perfect juicer comes with
a 15-year warranty and is equipped with a built-in handle, which makes it easy
to move around.
Good for:
Grinding spices and coffee.
Extracting the maximum amount of nutrients.
Long-lasting use, the 15-year warranty provided with the product.
Omega CNC80S Compact Nutrition Center Juicer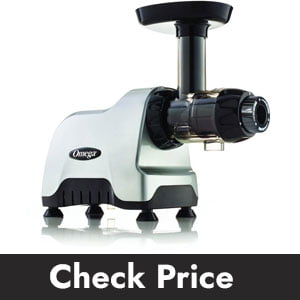 Though it is the last option on the list, it is still a powerful juicer with the ability to juice any vegetables, fruits, and wheatgrass.
This Omega Nutrition System features a low speed style to juice the most common ingredients and retains the utmost nutrients.
Like other slow juicers, it also runs at a slower speed only 80 RPM. The result is minimal oxidation and heat build-up.
This leads to an enhanced shelf life. You can store fresh juice for about 3 days without compromising the taste and vitamins.
With sturdy construction, the juicer is designed for frequent usage and to last longer.
The strong auger produces forces in a tight chamber that helps to squeeze anything.
It also works as a multi-purpose kitchen appliance. It can be used to make baby food, nut milk, soy milk, and pasta.
This juicer is faster enough to prepare juice for several members at a time. Clean-up is very much simpler. This is one of the best masticating juicers for travelers.
Good for:
Drinking healthy juice within a less prep-time
Preparing low-calorie snacks and desserts
Excellent juicing screens
How Do You Put an Omega Juicer Together?
You can effortlessly put together your Omega juicer by following the manual sent to the product. However, I'm giving you a quick overview.
With the help of a locking clip, connect the drum to the housing. Place feed chute on the guide.
Omega juicer generally comes in two options, juicing and mincing. To enable the juicing function, first set the auger and then juicing screen into drum. Now, put the end cap on the end of the drum.
To enable the mincing function, after inserting the auger into the drum, make sure to insert the blank. On the drum end, set the end cap.
Under the drum, place the waste bowl and juice bowl. Finally, the juicer is ready to use.
Make sure that you don't put any metal objects into the feed tube. When you need to clean the machine or change anything, turn off the machine first.
Omega Juicers FAQs:
Which is the Best Omega Juicer to Buy?
Most of the Omega juicers are incredible to offer you ease when juicing. But if you're looking for an earnest answer, then
I'll recommend you #1 Omega J8006HDS Nutrition Center. This is versatile and powerful to squeeze any ingredients
you like while preserving the maximum enzymes.
Is Omega Juicer Cold Press?
Omega manufactures various types of juicers that include cold press, citrus, and even centrifugal juicers. But Omega is
better-known for its top-notch quality cold press juicers.
Here, on this page, I have only reviewed cold press juicers that are healthier options than other juicer types of Omega.
Who Makes Omega Juicers?
Omega was initially known as Olympic Products, founded by Robert Leo. In 1987, the company gets the new name Omega Products Inc. From 1988, the company starts to manufacture all types of juicers.
Is the Omega 8006 a Cold Press Juicer?
Omega 8006 is a cold press juicer that runs at 80 RPM. Because of the low-speed system, yield stays fine and free from oxidation. As a result, you can store the juice comparatively for a longer time.
Is the Omega Juicer BPA Free?
Yes, Omega juicers are made of BPA-free materials. It is because users can always consume fresh juice. All the parts of Omega juicer that come in touch with foods are BPA-free which keeps the yield free from detrimental chemicals.
Is Omega Juicer Dishwasher Safe?
Clean-up is simply a breeze for most Omega juicers. All the juicer parts are dishwasher safe which allows you to
clean everything with ease.
Wrap Up
Now, you have a complete guide to choose the best omega juicer from some other good options. You're free to purchase any juicer mentioned above as they all are great to juice fruits and vegetables.
But I think Omega J8006HDS Nutrition Center would be a complete solution to your juicing needs. It is extremely efficient with dual-stage mastication. It is moreover very much user-friendly and simpler to clean.
Also Read: Omega NC800 vs NC900 – Is the Newer Version Worth Your Money?