Carrots are fantastic ingredients for juicing enthusiasts. They are packed with goodness and filled with antioxidants. Investing in the best juicer for carrots that you can afford means you'll enjoy a healthy lifestyle. The fact that carrots taste great is a bonus!
Not all juicers are designed to work with carrots, though. Tough root vegetables can dull and blunt the blades of some appliances. This is why I have decided to review the best juicers for carrots and beets.
What type of Juicer is Best for Carrots?
When shopping for a juicer, you always have two options. Masticating juicers work quietly and produce a higher yield from your carrots and beets. Centrifugal juicers are cheaper, work faster, and are usually easier to clean. It depends on your priorities.
I prefer cold press juicers for carrot and beet juice. The juice will taste better and contain more nutrition. However, I will recommend both types of juicer in my reviews below. This way, you can choose an appliance that suits your particular needs.
Omega J8006HDS Nutrition Center Juicer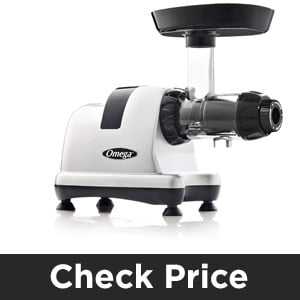 Ask me to name the best carrot juicer from the top of my head, and you'll get a fast answer.
In my eyes, the Omega J8006HDS is the best juicer for root vegetables, period.
This appliance will efficiently extract every drop of goodness from your carrots and beets.
The blades of this juicer operate at 80 rotations per minute. That's slow enough to prevent oxidation and bubbling, but not so slow as to become frustrating.
The Omega J8006HDS is slightly less efficient on soft fruits and berries but can handle them perfectly well when fed alongside tougher ingredients.
This juicer makes short work of root vegetables, though. If you're looking to bring carrot and beet juice into your life, it's impossible to look past this model.
If you still need convincing, this is also one of the more versatile juicers on the market. You can use this juicer to
make butter, milk, and desserts, in addition to carrot juice. Consider the fifteen-year manufacturers' warranty and you have a genuine market leader.
Good For:
Fresh, tasty, and long-lasting carrot juice.
Versatility in use.
Easy cleaning.
Breville BJE200XL Juicer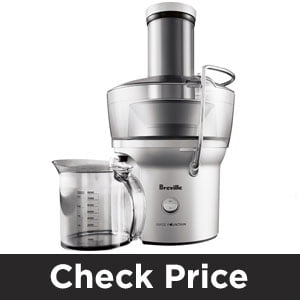 Breville has a formidable reputation in the world of kitchen appliances.
The BJE200XL does an admirable job of matching performance with an appealing price point, though. If you are looking for a budget carrot juicer, this is the model for you.
To be clear, this appliance is more affordable as it's a speedy juicer. This means that you'll sacrifice a small amount of nutrition from your ingredients when compared to a cold press juicer.
However, this model still offers very high performance. I would say it was among the best juicers of its type on the market.
This model has a wide feeding chute, so there is no need to chop your ingredients before juicing. Just feed them in, and wait a few seconds.
The results remain delicious, and froth is minimized and separated. This juicer is also a breeze to clean. You can complete a juicing experience in a matter of minutes.
This model has a warranty of just one year, but it feels strong and sturdy to the touch. If you are new to juicing, the
BJE200XL could be the ideal introduction. It's cost-efficient enough that you won't feel bad about upgrading after a year or two.
Good For:
Small kitchens – this appliance is very compact.
Fast and easy juicing and cleaning.
Budget-friendly juicing.
KOIOS Juice Extractor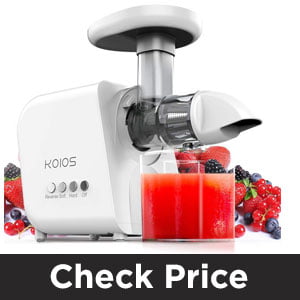 With so many different juicers available, the choice can sometimes feel overwhelming. If you are looking for a solid all-rounder, you can do far worse than this KOIOS model.
While there are juicers that offer more bells and whistles, this juicer has one job and does it well. Namely, extracting the maximum possible goodness from your carrots.
This juicer comes with two settings for different ingredients, labeled soft and hard. Naturally, you'll need the hard setting for carrots and beets. Flip this switch and you'll enjoy some of the most delicious juice I have ever tasted.
Just be aware that this juicer has a comparatively narrow feeding chute. You'll need to trim your carrots ahead of juicing.
This KOIOS juicer straddles the line between cost efficiency and high performance admirably. The motor is covered by a ten-year warranty too, with other parts protected for three years. There are cheaper juicers, and there are appliances with more features. This model sits neatly in the middle of the pack.
Good For:
Quality juicing without spending a fortune.
Regular use – this juicer can work continuously for around 20 minutes.
Versatility in choice of ingredients.
Breville BJE830BSS1BUS1 Juicer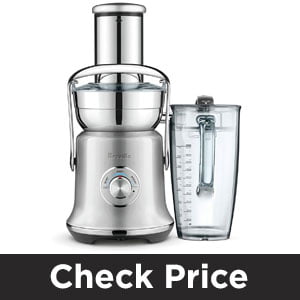 I previously discussed the Breville BJE200XL, and how that's the ideal introduction to carrot and beet juicing. If you're looking for an upgrade on that model, this is it.
As before, the BJE830BSS1BUS1 is a fast juicer. You would not know this upon using it, though.
This model offers the best of both worlds. It offers a nutritional yield and quiet performance comparable to a slow juicer but is as fast and easy to clean as any centrifugal juicer.
Perhaps more importantly, this juicer seems built for root vegetables. This juicer shreds and squeezes entire carrots and beets like they're made of paper.
In a matter of moments, you'll enjoy cool, refreshing juice that lasts up to 72 hours in the fridge. It looks great too, made of stainless steel and boasting a simple, elegant design.
If there is a flaw with this juicer it's the limited warranty. You will only be covered for one year. This makes the
BJE830BSS1BUS1 is an expensive investment if something goes wrong. Treat this juicer well though, and you have a great appliance on your hands.
Good For:
The taste of cold-pressed juice at elevated speed.
Modern kitchens – this juicer has a great aesthetic.
Upgrading an aging or underperforming appliance.
Cuisinart CJE 1000 Juicer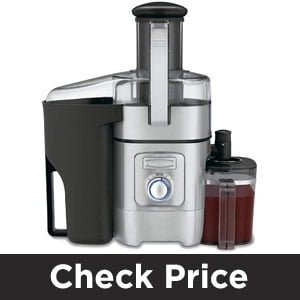 This juicer from Cuisinart can look a little intimidating at first. It's certainly large and bulky. Don't be deterred, though. This is a fine-performing centrifugal juicer that's easier to operate than it looks.
Perhaps the best thing about this juicer is the five-speed settings. If you plan to juice ingredients other than carrots, this will come in handy. You could even use it while juicing your root vegetables.
Get the ball rolling at high speed then gradually reduce the rotation velocity of the blades.
This way, you'll enjoy cool carrot juice without oxidation. This juicer is also built to last. The warranty will have you covered for three years, but the CJE-1000 will likely remain standing long after this.
You can regularly juice tough carrots without damaging the appliance's blades. What's more, this model is also one of
the most impactful at extracting and collecting pulp. If you're a carrot enthusiast, this will be hugely appealing.
Good For:
Strong, sturdy appearance and performance.
Collecting pulp for use in carrot cakes and similar recipes.
Mixing and matching juicing speeds for different ingredients.
SKG Q8 Juicer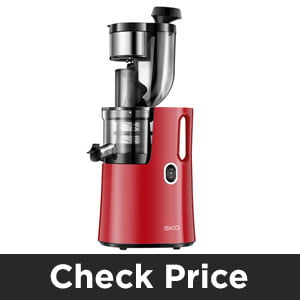 If simplicity is important to your juicing experience, SKG has you covered with this model. Everything about the Q8 is designed to take the fuss out of juicing carrots.
This appliance has a wide feeding chute, minimal parts for cleaning, and a well-designed spout to minimize spillages.
I'll be honest, some juicers perform better with carrots. The yield provided by this juicer is impressive, but it handles slightly softer fruits better.
However, the price point of this juicer considers this. The Q8 will not break the bank. Weighing up cost vs. performance is a tick in the box of this appliance.
Though, the biggest selling point of this model is how easy it is to use. Switch it on, feel an unchopped carrot, enjoy the juice. It's that simple. With cleaning also straightforward, this is a
great juicer for anybody looking to cut down on the amount of fuss in their life.
This juicer offers a two-year warranty as standard. SKG has an agreement in place with certain retailers to automatically
extend this to five years, though.
Good For:
No-fuss, no frills juicing.
Easy operation and cleaning.
Mixing carrot juice with other, softer ingredients.
FAQ
Can Masticating Juicers Juice Carrots?
As you will see from my reviews, several masticated juicers work well with carrots. You should always check in advance, before investing in an appliance.
Not all juicers work well with root vegetables. If you stick to one of my recommendations, however, you'll have no problems. A slow juicer will provide delicious, nutritious carrot juice at your leisure.
Also Read: Best Juicer for Celery 2021
Wrap Up
This concludes my insights into the best juicers for carrots and beets. I maintain that you cannot go wrong with the Omega J8006HDS.
As always though, the decision is entirely yours. The most important thing is finding a juicer that works with root vegetables. This will open up a new world of nutritious and delicious juicing for you and your family.