Juicing is becoming increasingly popular as a lifestyle choice. This means that many brands are vying for your attention – and your dollars. That's why I decided to write a blog dedicated to Hurom juicer reviews.
As always, deciding on the best Hurom juicer for you depends on your needs. I'll take you on a journey through Hurom's juicer range. Following my advice and you'll find the ideal appliance. Rest assured, Hurom is among the finest manufacturers in the marketplace.
Pick of the Best Hurom Juicer 2021
Top Pick – Hurom HH Juicer
Upgrade Pick – Hurom H-AI-SBB20 H-AI Juicer
How Hurom Juicers Work
Hurom specializes in slow juicers. This means that a Hurom appliance will work at a steady pace to juice ingredients. Don't be perturbed by this. When it comes to juicing, slow is always better. Fast juicers generate heat, which kills nutrients.
You'll need to assemble your Hurom juicer. You'll then feed chopped ingredients through the feeding tube. The appliance will crush these ingredients and release them as juice. Hurom juicers boast an extremely high yield, so your juice will be as nutritious as it is delicious!
Here are Our 4 Best Hurom Juicer Reviews
Top Pick – Hurom HH Juicer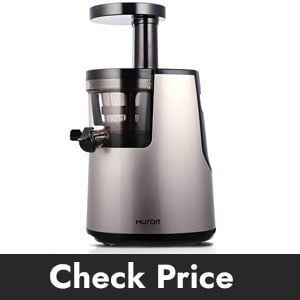 The HH model is the jewel in the crown of Hurom juicers. I consider this to be the absolute pick of the bunch when it comes to Hurom appliances.
The good news is that it stands up well against other manufacturers, too. I love this juicer, and I think you will too.
Available in two colors, wine or silver (I recommend the former – it looks distinctive and, dare I say it, classy), the blades of the HH move at just 43 rotations per minute.
That is an equivalent speed to hand-squeezing fruits, though naturally without the mess or physical difficulty.
This slow juicing bears multiple rewards. The yield and nutrition of the ingredients are through the roof, making this a great choice for health-conscious juicing enthusiasts. The motor is also virtually silent.
The HH is versatile, usable for leafy greens as well as
fruit and veg. You can also create nut milk and ice cream with this juicer.
With the motor covered by a ten-year warranty (two years for the parts), the HH
makes a fantastic investment for any kitchen.
Good for:
Versatility in juicing needs
Quiet operation
High levels of extraction
Upgrade Pick – Hurom H-AI-SBB20 H-AI Juicer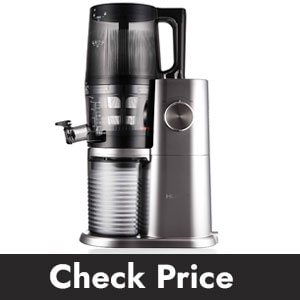 I think very highly of the HH model. I stand by my recommendation that this is the ideal juicer for any kitchen.
However, even the best can be improved upon. If money is no object, or you're looking for a commercial-standard juicer, the H-AI-SBB20 H-AI is the ideal upgrade.
Available in platinum, blue, or rose gold, this appliance is
packed with features. Among the most appealing is a range of strainers, which
enable you to control the amount of pulp in your juice. You can also choose a
strainer that opens the opportunity to make baby food, soups, or desserts.
This model also boasts a tilted pouring chamber, minimizing
the risk of messy spills. The blades move at 60 rotations per minute, ensuring
juice remains fresh.
Finally, it's worth noting that this is the first self-feeding juicer in the world. Juicing with Hurom appliances is always easier, but this makes it even simpler!
As with all Hurom appliances, this juicer is guaranteed for ten and two years for the motor and parts respectively. If you're looking to upgrade on the HH, this is the only real improvement.
Good for:
Varying levels of straining
Hands-free self-feeding
Commercial-standard juicing in the home
Hurom HP Juicer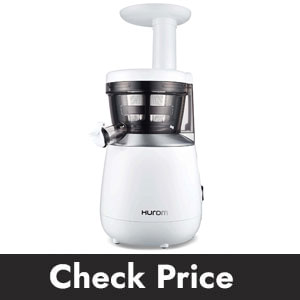 The juicers that I have profiled so far have been at the costlier end of the spectrum.
While no Hurom appliance would ever be described as cheap (and neither should they), the HP is certainly cheerful. This juicer is available in pink, mint green, and white, making it aesthetically striking.
Never mind looks, though. You'll want to know how the Hurom
HP performs. Well, I'm pleased to say that this is another winner from this
ever-reliable manufacturer.
The motor is almost silent, and the blades rotate
at just 43 RPM. That's great for retaining nutrients.
The HP isn't quite as effective as the larger, more expensive models when handling leafy greens, but if you're patient you'll soon get the knack. You can easily make kale or beet juice using the HP, and you won't need to manage to clog. If you do, the HP is very easy to clean.
The usual Hurom warranty applies here (ten years for the motor, two years for parts), making this a great starter model.
Good for:
Cheap and efficient juicing
Visually interesting aesthetics
Easy cleaning
Hurom H-AA Juicer
Finally, we have the H-AA. This model is again distinctive for its visual look. Available in black, white, or rose gold, this is a
sleek-looking appliance that will add a touch of grace to any kitchen. Hurom describes this as their flagship model due to its popularity.
In terms of performance, think of this as an appliance as a middle ground between the HH and the H-AI-SBB20 H-AI. The juicer works at a speed of 43 RPM so there's a high yield of nutritious juice, and it's just as quiet as the other models.
If there is a drawback to this juicer is that it can clog. Celery, in particular, will be problematic with the H-AA. If this is your
primary juice ingredient, you're better off looking elsewhere. For general day-to-day ingredients, however, this is a great little all-rounder.
Good for:
Consistent juicing
Sleek, appealing aesthetics
Control over the coarseness of juice
Hurom Juicer FAQs
Which Hurom Juicer is the Best?
As you'll see from my review, I cannot speak highly enough of this manufacturer's HH model. While you can't go wrong with any Hurom model, this appliance is the company's flagship for a reason. It produces high-quality juice with a minimum of fuss. What's not to love?
Is Hurom a Masticating Juicer?
Yes, all the juicers from the Hurom range are masticated juicers. This is a good thing. You will, admittedly, need to assemble and clean your juicer before and after every use. That's a small price to pay for the quality of juice – and high nutrition – provided by a Hurom appliance.
How Long does Hurom Juice Last?
The golden rule of juicing is that fresher is always better. Juice created in a Hurom appliance is no different from this. However, juice created in a Hurom model can remain fresh for up to three days if chilled. Just invest in an airtight container and store excess juice in the refrigerator.
Wrap Up
This brings my Hurom juicer reviews to a close. I hope I have conveyed how highly I think of this brand. While Hurom lacks the household name status of some manufacturers, they will never let you down.
Always keep an eye on Hurom appliances when looking for a juicer, especially if you can get your hands on the HH model.